8 min read
How Real-Time GPS Tracking Supports Contractors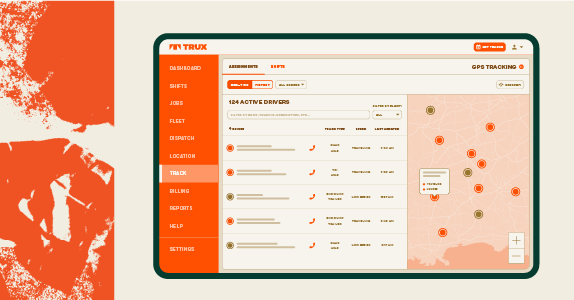 As a contractor, it's likely that staying ahead of the competition is one of your main priorities. That means leveraging tools for efficiency and productivity. One of the simplest ways to stay competitive is to incorporate real-time GPS tracking into your daily operations. This piece of technology can directly impact your business' efficiency and employee productivity.
But before we get into how real-time GPS tracking can support contractors and take their business to the next level, let's get down to basics:
What is real-time GPS tracking?

Simply put, the Global Positioning System (GPS) is a navigational system that tells you where you are and where you're going--anywhere on the planet. It requires a receiver (tracking device) and four or more satellites to pinpoint a location. Incredibly, from thousands of miles above the Earth, GPS can determine your precise ground location in only seconds.
There are two kinds of GPS trackers. The first kind is a passive tracker. It collects and stores the tracking information which then can be later downloaded onto a computer. On the other hand, active, or real-time GPS trackers, monitor an object's movement by transmitting frequent data updates.
These continuous updates provide highly accurate information. Depending on the kind of device used, the information includes not only the precise location, but also miles traveled, routes taken, idling time, engine stops and the vehicle's speed. In order to access this valuable data, users need to subscribe to a GPS tracking service.
The benefits of real-time GPS tracking for contractors

These days, anytime you jump into your car to head to a new or unknown destination, you likely use (and trust) your map app to display the best route. GPS enabled devices save you time, money and frustration. You can see these same benefits when you manage your construction business with the help of a real-time GPS tracking solution. Here are a few of the benefits for contractors:
Exchange Wasted Time for Increased Efficiency
By giving you more control over your operations, a GPS tracking solution saves you from wasting time in several areas, including scheduling, dispatching, en route, and in the back office. With the help of GPS software, managing your fleet of dump trucks instantly becomes easier.
Streamline Your Scheduling
When it comes to scheduling, it is significantly faster to do so with the aid of a real-time GPS tracking solution than if you use manual tools like spreadsheets or white boards. The person making the schedule leverages a single view of the project so they can easily create shifts. And in some cases, they can do this weeks in advance.
In addition to shortening the time it takes to create a schedule, you have the ability to plan ahead to use your work hours in the most efficient way.
Enable Fast & Easy Dispatching
Once the schedule is made, you can take care of dispatching in a matter of minutes because, again, digital processes have replaced the time-wasting practice of calling or texting to line up trucks to meet your project's demands. Through Trux's digital platform, drivers can be assigned without the usual back and forth waiting for confirmation.
After a truck has successfully delivered a load, the dispatcher instantly has that information and is able to reassign the driver. This kind of streamlined communication is possible with a real-time GPS tracking solution in place and makes the most of every minute you have a driver on the clock.
Often contractors find themselves running behind because they simply can't find qualified drivers to use as third-party haulers. If you need to beef up the number of trucks required to keep a project on schedule, it's a huge time saver if you use a logistics management tool like Trux.
PRO-TIP: The Trux solution gives you access to the nation's largest fleet of technology-enabled dump trucks. You can manage these hired haulers with the same ease and efficiency that you enjoy with your own trucks.
Save Time While Hauling
With the help of a real-time GPS tracking solution, you'll also save time for your haulers while they are on the road. With real-time GPS tracking, the dispatcher can see what's happening, as well as what is coming up later in the day. Not to mention, the driver gets more accurate start and end locations, making navigating to the jobsite a breeze.
Idling in traffic or taking a longer route can add time to a job. But another way that time is wasted during the hauling leg is idling in line at the pick-up or delivery locations. To avoid these bottlenecks, dispatchers can stagger arrivals. Knowing down to the minute arrivals is important for this. Dispatchers can also use the insights a GPS tracking platform provides to look for other ways to improve turn-around times.
Ease Back Office Stress and Confusion
Not only will you gain time while scheduling, dispatching and hauling, your back office team's tasks will be completed so quickly they'll have time for an extended coffee break. But most back office personnel use the extra time that a real-time GPS tracking software solution gives them to find ways to add value to your business.
Where do the extra minutes come from? Although hauling is just one line item for most contractors, managing the related paperwork can take up to 30% of the back office team's time. Think about how much time employees spend chasing down tickets, batching them, and sending out invoices. A tracking solution means the manual entry of all that hauling data is unnecessary.
Throughout the day, drivers upload digital tickets which must include accurate information. Real-time GPS tracking provides verified times that have been recorded digitally. From this collected data, invoices can be automatically generated and consolidated.
Save Now and Down the Road
Contractors who adopt a real-time GPS tracking solution quickly see how the technology eliminates some of the costs that they've previously had to eat. Someone in the supply chain has to pay for "business as usual" practices such as rounding up on timesheets or taking unauthorized breaks and payments sitting in Accounts Receivable for months because of misplaced tickets. And it's often the contractor.
Real-time GPS tracking means that as a contractor you'll have access to accurate data that makes those common practices a thing of the past. You'll know when a driver starts and ends a job to the minute--not the quarter-hour.
Geo-fencing shows you exactly when drivers enter and leave designated areas. Their routes are documented and saved, giving you verifiable information. It may not sound like much, but these small increments of time really add up at the end of the month. When drivers punch-in digitally instead of rounding, it can reduce trucking costs for hourly work by 2%.
And those times you've been unable to bill for work because a ticket is missing? Digital, or etickets, prevent that costly scenario. Drivers can upload etickets throughout the day, on their mobile devices, so nothing is lost in the shuffle.
Another way to cut out unnecessary costs is by using cycle-time analysis, made possible by real-time GPS tracking. Insights into time in plant, transit time, jobsite turn-around time and other data points can translate into improved workflows which can also mean savings. For example, if you can see in real-time that a job is over or under trucked, you can use this information to adjust the flow of trucks to the jobsite.
Lighten the Loads of Frustration and Stress
One of the benefits of real-time GPS tracking that contractors, dispatchers, jobsite supervisors, drivers, suppliers and customers agree on is how much smoother and in sync the workday feels when it's managed by a logistics platform.
Confusing or incomplete communication is a huge stressor. GPS tracking allows all who need to know--from the driver to the contractor, and everyone in between--to see the same detailed information at the same time. This bulk communication feature cuts down on phone calls, unnecessary trips and guesswork. It keeps everyone on the same page with the most up-to-date information.
Verifiable records take the stress and ill feelings out of disputes. Whether the questions originate from your own back office, a driver, or a customer, you'll have the proof you need to handle the situation with professionalism and restore trust as soon as possible.
Finally, no one wants to miss out on important events or feel like they're held hostage to the phone. Many tracking solutions have a mobile app so dispatchers and others can do their jobs from virtually anywhere.
Trux: A Real-Time GPS Tracking Solution

When it comes to real-time GPS tracking solutions, Trux is known as a straightforward and powerful solution. It is built to work for industries that rely on dump trucks. We know what contractors, fleet managers and material producers need the following things from a digital logistics tool:
Real-time GPS tracking
Historical GPS tracking
Easy scheduling with a single view
Drag and drop dispatching
Bulk communication
E-ticketing
Automated hauler invoicing
Access to over 28,000 qualified dump truck drivers nationwide
Cycle time analysis
Mobile app
Knowledgeable and friendly support from a team of experts
The best way to see if Trux's real-time GPS tracking can help your business is to see for yourself. We're happy to set up a no pressure, no obligation demo today. Contact us today!