All-in-One Dispatch Management Platform
Save time and money with simple tracking and management of your fleet
Get the control, visibility, and efficiency you need to dispatch faster, keep projects running on time and on budget, and scale your business.
Create and Manage Shifts
Create shifts for your projects days and weeks in advance
Communicate job-specific instructions to haulers
Select one or more truck types for each job
Select pay rates by the Hour, Ton, or Load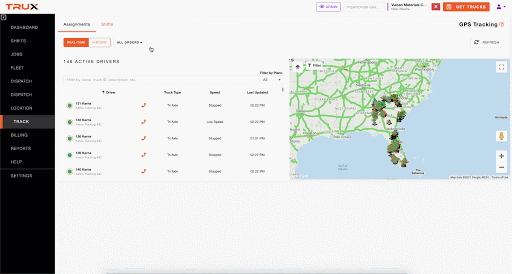 Drag & Drop Dispatching
Assign work to internal haulers and 3rd party Favorites with easy, drag-and-drop dispatching

Monitor shift status as haulers are dispatched

Instantly message individual or multiple scheduled and active haulers

Reorder shifts and reassign haulers with the click of a button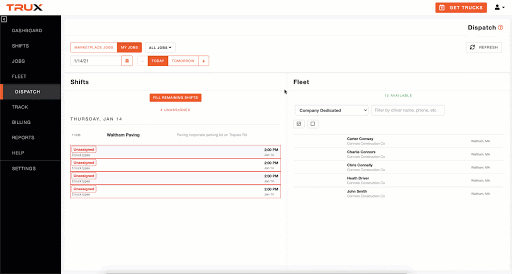 Real-Time GPS Tracking
See where all of your active haulers are relative to the job site
See full, time-stamped hauler route history for completed jobs
See where and when haulers punched in, punched out, and all geofence arrival/departure points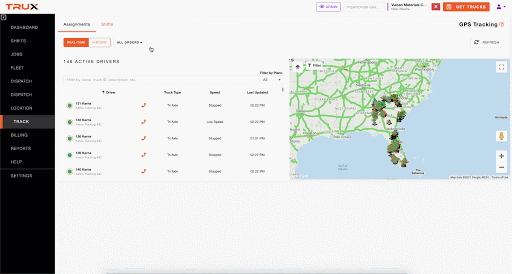 Digital Ticket Access
Access all loads slips as work is completed throughout the day
Eliminate the need for collecting and batching paper tickets at the end of the day
Download load slips to include with invoices
Export all of your completed shift data to use when invoicing customers and paying haulers
GREAT TEAMS DEPEND ON TRUX
"Because we use TRUX, I know that I'll be able to meet our customers' demands and I don't necessarily need to know how many trucks are available to me at that moment."
Mike Gagne
Dispatcher
"With a quick phone call and a two second process with TRUX, we added an additional $4,000 to our bottomline in a single day on a job we wouldn't have done before."
Mark Peach
Vice President
"TRUX has been most helpful to us in the dispatching fleets of trucks. With one single stroke of the keyboard, we can request and receive a sufficient number of trucking for our projects."
Chris Lynch
President
Looking for help with your dump truck logistics?
Improve scheduling , hauler tracking, and gain confidence in hauler earnings with TRUX Manage.