Unparalleled delivery transparency and job site productivity tools for your customers means shorter cycle times for your haulers and greater efficiency for dispatch.
ORDER CONFIRMATION
Keep everyone in sync and reduce the chance of errors, delays, and unnecessary additional communication with automated confirmation of:
material and quantity ordered

scheduled delivery velocity

estimated tons/loads per hour

scheduled completion time

exact delivery location address and visual drop zone verification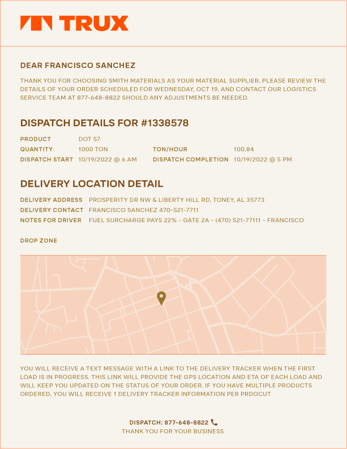 TRACK ORDER PROGRESS
With the Delivery Tracker, your customers can:
Track all deliveries from the moment the first truck punches in until the order is complete

Monitor the number of scheduled, in progress, and delivered loads/tons

View real-time delivery and job site key performance indicators

Call Dispatch with a single tap

Reorder additional materials in just a few taps
All from the palm of their hand and without the need to install an app or create an account.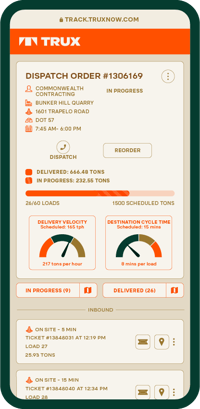 VIEW ALL DELIVERIES
View the real-time location and direction of travel for all In Progress trucks

View the driver, truck ID, truck type, license plate, and even color of every truck carrying loads to and from the job site

View ETA with our delivery truck tracker, running time on site, and full cycle time for each truck

View the delivery location of each load relative to the geofence/drop zone
DISPATCH SUMMARY
At the conclusion of each order, your customers will receive an automated email with a downloadable scale ticket report containing:
ticket date and time

quarry/plant location

product and quantity delivered

delivery location and time

purchase order and other reference items
Reduce the time and contact required to collect and reconcile scale tickets to invoices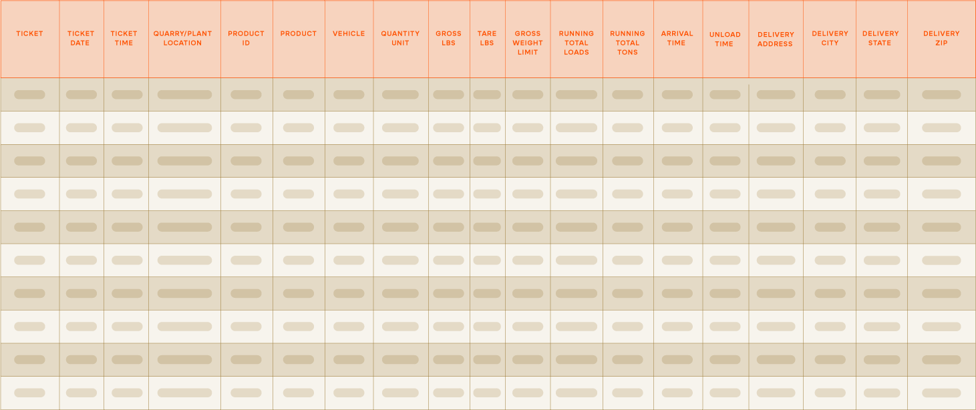 GREAT TEAMS DEPEND ON TRUX
"Having an idea of when the trucks are loaded and how long it's taking them to get here is helpful."
Foreman
"I can see where the inbound loads are, how many have been delivered, and where we should finish the day. That's really important information"
FOREMAN
"We can speak to the customer knowing they see what we see, and we see what they see, so both sides can stay in sync."
Dispatcher
Looking to deliver a differentiated customer experience?
Give your customers the ability to track their deliveries and improve project productivity with Trux.