8 min read
Top Tips For Finding Work On The Marketplace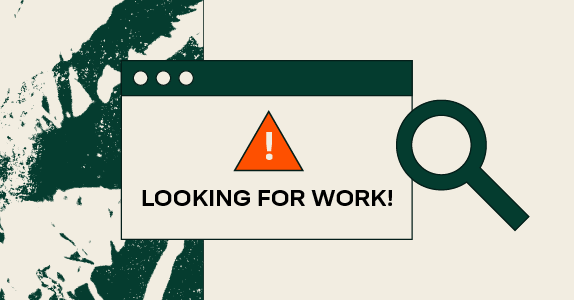 Facebook, eBay, Craigslist, and Uber are some of the world's largest online marketplaces. They connect buyers and sellers, riders and drivers, otherwise known as supply and demand.
In the US construction community, it's no secret that the Trux Marketplace is the largest of its kind. Contractors and material producers across the country post dump truck work everyday for Trux's network of over 30,000 drivers. Whether you are a fleet manager or an independent owner you can claim work on Trux that is a good fit for your schedule - putting you in the driver's seat. Dump trucks are expensive assets that do you no good sitting in a lot or making frequent deadhead trips, the Trux marketplace helps connect a fleet manager to available work, keeping their trucks busy and on the road - full of material.
Individuals with the most success accepting work have honed in on several successful approaches to making the most of the marketplace. And while success of leveraging marketplaces is generally high, ensuring your success can be achieved with a few key tips and tricks.
We've already tackled Trux Marketplace's best practices that contractors and material producers can leverage to ensure that their job postings are picked up by reliable drivers on the Trux platform. Now we're here to fill you in on how to succeed on the platform as a fleet manager or independent owner operator.
Securing work through the marketplace as a fleet manager or independent owner
As recently as five or six years ago, if you needed to find more work to keep your trucks on the road making money, there were a few tried and true options.
You could check out job board listings.
You could reach out to the contractors you had worked with in the past.
You could connect with a broker with the hopes they could find you that extra work.
As a fleet manager or hauler Trux makes it easier for you to find work. Trux has helped facilitate the delivery of over four million loads of bulk material in the United States, drivers have logged more than 165 million miles, and helped over 12,000 dump truck businesses streamline their operations and connect with more work.
With the Trux Marketplace, thousands of shifts are posted everyday and 90% of shifts are accepted by the first or second person to view them. With that in mind, here are a few tips to ensure you are successful on the Trux Marketplace.
set yourself up for success before you begin
If you are new to Trux, getting signed up is an easy process:
Download the app
Submit insurance
Share a copy of your W-9 so that you're able to get paid out via direct deposit (did we mention you get paid weekly?!).
If your insurance hasn't been submitted, you won't be able to claim jobs.
If you are a fleet manager, part of the onboarding process will include having all of your drivers download the app and connecting them to your account. We make this easy to do in the app, just be sure to take this important step before you start searching for work.
With all your drivers and trucks set up on your account, when work becomes available, you'll be able to jump on the opportunity (before someone else does) and assign shifts to your team.
If you aren't sure you've set something up correctly, or need some assistance using Trux to find work - our support team is always here to help: support@truxnow.com.

The

Trux Online Help Cente

r is another resource to look to for answers to your questions.
Build Relationships with Contractors & Material Producers
Although Trux makes it easy for a fleet manager to connect with local work right through the app, there is still plenty of opportunity for both sides of the marketplace to build relationships.
Pro Tip#1: Companies posting shifts are able to save particular haulers and/or fleets as "favorites".
This means that when the shift is posted, all companies that have been marked as a "favorite" will be able to view and accept the job for one hour before it is released for all local hauling companies to view and claim. If you're a hauler or fleet manager, talk to the contractors you enjoy working with to be added a favorite!
Be Consistent and Plan Ahead, When Possible
Ben Franklin is known to have said, "If you fail to plan, you are planning to fail". This might sound harsh, but as a dump truck fleet manager, planning ahead is essential for keeping your trucks on the road. Attempting to schedule your whole fleet's work for tomorrow, at the very last minute is never recommended.
We encourage material producers and contractors to post their shifts early - giving you plenty of time to plan ahead. As a hauler or fleet manager, you are certainly encouraged to accept work as soon as it becomes available.
That being said, flexibility is key. Here's how to stay ahead when it comes to accepting shifts:
It seems simple but always check the app for work in your area.
Contractors and material producers know that lunchtime is a prime hour for fleet managers and haulers to search for work. Many of them post their available work before 1pm.
Before hitting "accept'' give a quick glance at the description to make sure the shift is a good fit for your truck. Other than that, accepting a shift is as easy as pressing a few buttons on your mobile phone.
Be open to last-minute work. New contractors to the marketplace may post shifts for a new project, or weather could cause a job to get rescheduled - opening up a few new shifts.New and existing contractors are posting different work every day. In some cases, lead time could be under 12 hours!
Pro-Tip #2: Haulers can supplement their day-time posts by accepting night work -- it's out there, especially during paving and ice season!
Know Your Strengths -- and Limitations
Checking the details of a job will ensure that you're suited to do the work that is advertised. Showing up for a job that said "no pintle hooks" with pintle hooks is not how you want to start a job! Additionally, if it's an asphalt job, you'll need to make sure you have a vinyl tarp. Reading the job description will be sure to help you start off on the right foot with the contractor or material producer. Keep in mind, some jobs will offer training for haulers that are new to paving or a specialized skill - but don't assume you are a good fit if you've never performed that type of work.
We prepare people posting to the Marketplace to include the following details:
Job description
Specific location / exact address for start and end points
Type of material that is being hauled and whether or not it is being picked up or dropped off
Total approximate hauling distance for the job from start to finish
Total number of dump trucks needed for the job
Anticipated loads/tons for the day
Total hours of work expected
Number of days of work (if applicable)
A diligent fleet manager or independent hauler will ensure their truck is well-suited for every job that they accept on the Trux Marketplace.
Looking for more resources about the Trux Marketplace? Check out some of the content we've created to help you make the most of the marketplace:
How to Find Work For Your Dump Trucks
How Dump Truck Fleet Owners Benefit from a Digital Marketplace
3 Ways A Digital Marketplace Increases Visibility for Haulers
The Marketplace and Beyond: Business Benefits of Fleet Manager Software
Your day to day is hectic. You have a lot to oversee--from creating a schedule that works for everyone and dispatching your trucks to answering the "What's the ETA?" questions from your customers, and figuring out if you have the manpower and necessary trucks to take on more work. It's understandable that you barely have time to take a break, much less think about things like fleet asset utilization or invoices.
Along with gaining work for your trucks, when you accept work on the marketplace you also get:
Automated invoices: No more hours looking at timesheets and creating invoices. We'll do it all for you based on activity in the app.
Built-In Communication: You'll be aware of all changes in real-time directly through the app.
Part of the benefit of working through a Marketplace is streamlining your operations. Invoicing contractors is labor intensive. Trux eliminates the need to invoice contractors directly. Because your drivers will punch in and out of jobs directly through the app, we have all the information we need to put together an invoice for all work performed. We'll invoice the contractor or material producer for you - all you have to do is watch out for your weekly deposit!
If you are looking to combine the benefits of the Marketplace with a fleet management system software or a fleet optimization software, there are options out there for you. These will often include tools that allow a fleet manager to leverage fleet tracking solutions, dispatch and scheduling tools, handle digital ticketing, and even schedule shifts of your own!
What Are You Waiting For? Joining the Marketplace is Simple.
Contractors are confident in hiring haulers and working with a fleet manager through the Trux app. They know that Trux drivers will be insured and in compliance with DOT regulations. In addition, because any driver they hire through Trux will be equipped with GPS tracking and other helpful features, contractors can manage third-party haulers the same way they manage their own trucks.
A digital marketplace like Trux paves the way for relationship-building. You'll quickly know which contractors you like to work with and vice versa. A reputation that in the past would have taken many months to establish can be built much more quickly when you find jobs through this electronic method.
As a fleet manager or independent hauler, following these tips can help you claim more work and make more money. Schedule a demo with one of our Trux experts today for more information.