We built a dump truck app that gives you instant access to a wide range of jobs located in your area.
1.
Download the App
From your mobile device, tap this link to download and install Trux Drive. Open the app and select "SIGN UP" to get started. Don't worry...the app will walk you through it.
2. Send Us Your COI
Contact your insurance provider, have them add Trux Inc. as a certificate holder, and send a copy of your COI to insurance@truxnow.com. See below for insurance requirements.
3. Send Us a W9 and Voided Check
Email signup@truxnow.com a copy of your W9 and a voided check to set up direct deposit.
4. View Available Jobs
Once your insurance has been approved, you'll be able to search the Trux Marketplace for available jobs in your area.
5. Get Paid Weekly
Trux pays you weekly! No more submitting invoices and paper slips to contractors and waiting for months to get paid.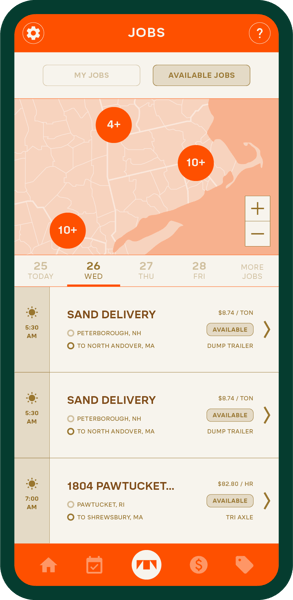 Frequently Asked Questions
What are your insurance requirements?
$1M Auto Liability combined single limit

List Trux Inc. as an additional insured in regards to the Auto Liability policy. Please make sure the additional insured box for the Auto Liability policy is checked.

Add Trux Inc. as a certificate holder with the address below:

Trux Inc.
PO Box 540230
Waltham, MA 02454
When and how do I get paid?
One of the major benefits of using Trux is that we pay you weekly for work you complete. Funds from Direct Deposit (ACH) payments will be available in your bank account by end of the day on your scheduled payment date.
Paper checks can be mailed upon request. They are printed every Tuesday. Estimated delivery time for USPS is currently 7-10 business days.
Where can I get a W9 form?
Click here to download a blank form.
START DRIVING WITH TRUX TODAY!
And join over 40,000 haulers already using our platform.