7 min read
Types of Dump Trucks
Dump trucks have been around for nearly 100 years. When they were first conceived, they didn't even have a motor. Now, dump trucks are loaded with complex machinery and designed to accomplish specific functions in construction.
If you've been researching dump trucks to add to your fleet, looking to become an owner/operator or to gain a better understanding of your construction supply chain, this guide to the different types of dump trucks and kinds of construction trucks will help you understand the unique features and functions of each. This article will focus on dump truck types in the US and include the different names of trucks used for each truck type.
What All Dump Trucks Have in Common
Most dump trucks have an open-box bed and operate by hydraulics. Dump truck manufacturers in the US include Mack, Peterbilt, Volvo, Freightliner, CAT, Kenworth, and International Trucks. When acquiring a new truck, you'll have to consider whether to buy used, at auction, or from a dealer. While there are different types of trucks, manufacturers allow for customizations for each type to get the specifications you desire.
Dump Trucks by Type
Overview: A standard dump truck has a chassis or base frame with a mounted bed. The front of the body contains a hydraulic ram that raises the bed. The back of the bed is hinged to the back of the truck so the front can be raised to dump material out. The body is accessible through a tailgate that swings up or down, depending on the truck's build.
Key distinction: The wheelbase tends to be low to improve maneuverability, and if this feature is essential, then the standard is the best choice. These dump trucks have front and rear steering axles, with additional axles for trucks that need to carry a greater load.
Where They're Commonly Used: These dump trucks are found in the US and Europe.
Transfer
(Truck & Transfer)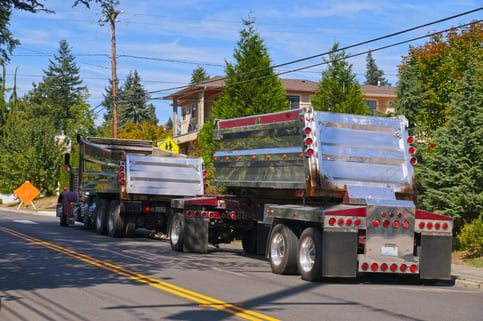 Overview: A transfer dump truck has a standard dump truck as its base and pulls a separate movable cargo container on a trailer. The separate trailer is then pulled within the body of the main truck, you can check out a video showcasing this ability here.
Key distinction: The transfer dump truck can carry a variety of common construction materials. The tractor gives the truck greater capacity without having to sacrifice maneuverability.
Materials: Gravel, sand, asphalt, snow, wood chips, construction aggregate, dirt.
Where They're Commonly Used: Transfer dump trucks are found all over the US.
End Dump
(Dump Trailer, Semi-End Dump) Truck
Overview: This truck has a tractor-trailer combination, and the trailer contains its own hydraulic system. The loads are weighted more on the container being pulled rather than the truck bed.
Key distinction: While these dump trucks can carry a large payload, this does make the truck unstable, limiting its applications, especially when the ground is uneven at job sites. The truck can be quickly unloaded onsite.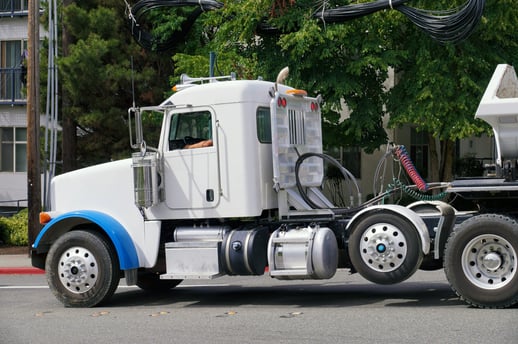 Overview: The side dump truck consists of a tractor pulling a semi-trailer. Hydraulic rams tilt the body onto its side, so material goes either to the left or the right of the truck.
Key distinction: Allows for rapid unloading, won't tip over while dumping like an end dump can, unless the dump is stopped prematurely.
Materials: Few material limitations, can carry anything from boulders to sand, to sludge.
Where They're Commonly Used: All over the US; however, in the Western part of the country, they can carry more weight, another advantage to this type of truck.
Overview: These hauling trucks are used for smaller loads, short distances. This is a popular choice in more urban or suburban areas because these trucks are easier to maneuver in tight quarters or down busy city streets, while still hauling a meaningful amount of material.
Key Distinction: They are lightweight, meaning they can help save on costs.
Materials: The tri-axle can't handle too many aggregates because the load capacity is small.
Overview: These big dump trucks have a trailing axle and load-bearing axle that allows for much heavier loads than other types of dump trucks while still meeting the federal bridge formula standard. Superdumps have become popular out west in the US.
Key Distinction: Can be rated as high as 80,000 pounds depending on length and axle configuration.
Materials: Very useful for asphalt and concrete paving.
Overview: Bottom dump trucks have dump trailers with a "clamshell" gate that releases material from the bottom, or the "belly," of the trailer.
Key Distinction: The clamshell design allows for precision when laying materials.
Materials: The bottom dump is used primarily for stockpiling, material transport, and paving.
Overview: The Double Bottom or Belly Dump is similar to the Bottom Dump but with the addition of an extra trailer to increase the amount that can be transported in each trip.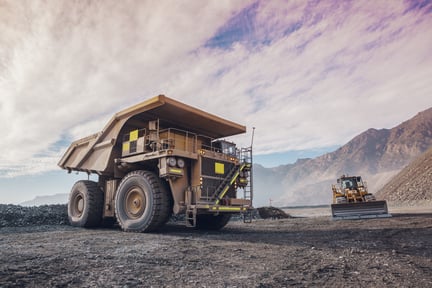 Overview: These trucks are heavy construction equipment with major differences from standard and other dump trucks that are used on highways. These are used primarily for off-road jobs like mining and heavy dirt hauling. In fact, the manufacturers of these types of trucks avoid using "dump truck" to refer to them, typically using "haul truck" instead.
Key Distinction: There are two main types of off-highway dump trucks, haul trucks and articulated haulers.
Getting a Dump Truck to Meet Your Needs
Now that you understand the different types of dump trucks, you may be wondering how to purchase one. You can find out how much a dump truck costs here, and learn how to buy a used truck here if you're looking to save on upfront costs.
Looking to hire someone with the truck you need? You can find a guide to finding truck drivers looking for work here.
If you own a truck, you need a trusted resource to connect you with work in your local area.
Trux's logistics platform offers a marketplace where you can find work suitable to your truck type. You can build your own schedule by looking at all the work available with rates so you know upfront what you're getting into.
Not only can TRUX connect you with work in your area but we can help you run your business.
TRUX takes care of creating invoices for work done through the app. TRUX pays haulers weekly for work performed; no more waiting to get paid. If you have a fleet, TRUX offers "Fleet management" tools to help manage all your trucks and drivers.
What are you waiting for? Get started today with Trux's logistics assessment.