8 min read
Managing Construction Projects: Back-Office Efficiency = Growth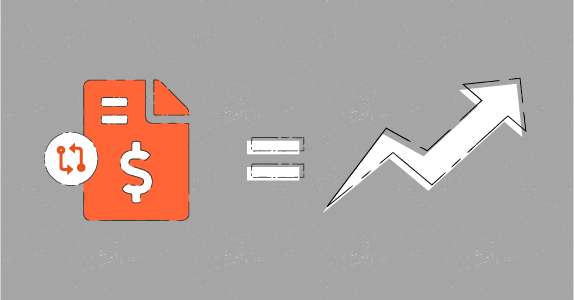 Managing construction projects is not just reliant upon the hard work of dispatchers, logistics managers, site supervisors, and others in the field. Even though productivity gains often focus on the customer-facing side of the business, there are significant improvements to be had in the back office.
The back office team is responsible for ensuring all documentation is accounted for, everyone gets paid on time, and that the company is being paid by their customers. All too often, the projects stay open for months, meaning the project managers do not have insight into daily cost data, haulers don't get paid, and the accounting team spends a disproportionate amount of time on billing.
In today's construction market, it seems that there is new software popping up constantly that tackles one particular problem. What is really needed is a holistic understanding of how the construction industry operates and a single solution that covers the needs of the field team, dispatchers, and the back office. Managing construction projects, with the aid of software, is a rising tide that lifts all ships.
In this article, we'll take a closer look at how leveraging logistics software increases efficiency in the back office, fueling growth for the entire organization.
Managing Construction Projects Becomes Easier For the Back Office With Accurate Documentation
To understand how logistics software can help you by managing construction projects, it is important to understand what is currently happening. If any of the following sound familiar, keep reading...
Paper and pencil and/or spreadsheets capturing employee & hauler time in the field
Back office time spent performing manual processes
Inaccurate ticket data or missing tickets
Work that you know you have completed going unbilled because of a lack of documentation
Poor communication between the field and the back office
AR instability
AP dragging out over months
These are just some concerns we hear from our customers seeking out construction management software to more efficiently run their businesses.
Getting a firm grasp on the data from the point of original entry is critical to back-office efficiency.
It really comes down to ensuring accurate data from the field gets in the hands of the back office team as quickly as possible. It sounds like an easy thing to do, but in practice is very difficult - even for the best in the business. That is why the top construction companies are managing construction projects with the help of logistics software.
Logistics software makes data collection in the field easier for all stakeholders. Some of the key ways logistics software accomplishes these goals are:
Precise hauler/driver punch-in and punch-out records
Digital scheduling and dispatching
GPS verified hauler location and route information
Digital ticket uploads (throughout the day)
And automatic hauler invoice generation
By tracking hours, jobs, loads, and cost in real-time, the field teams can prepare and manage more efficiently and the back office team gets instant access to the data they need to bill customers and pay haulers.
Changes To Expect When You Introduce Construction Logistics Software
Anytime you implement new software, there will be changes to your process. The good news is that when you commit to implementing construction logistics software, the changes you and the team will see should be welcome.
The easiest way to quickly understand what changes you should expect is by looking at the construction project management process flow chart below. We outline how customers typically operate before software implementation and how they operate after implementation. In the construction project management examples below the differences are clear.
BEFORE: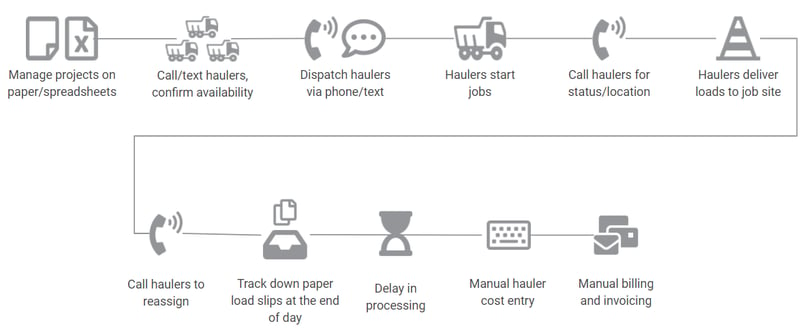 As you can see, in this construction project activities list (specific to hauling logistics) the process before relies heavily on manual inputs and disjointed communications. Disparate spreadsheets make accurate data collection difficult and if that sheet of paper is misplaced, you don't have backup records.
Relying on text messages and phone calls can be confusing for dispatchers, foremen, and haulers. When it isn't clear where or when to be at the job, frustration can grow for everyone involved.
Most importantly, there are added steps in this process specifically around finding all the appropriate paperwork and load slips at the end of the day. These manual steps the back office needs to take slow down their operations. Hauling is just one line item for the back office team, but managing hauling paperwork can take up to 30% of their time.
AFTER: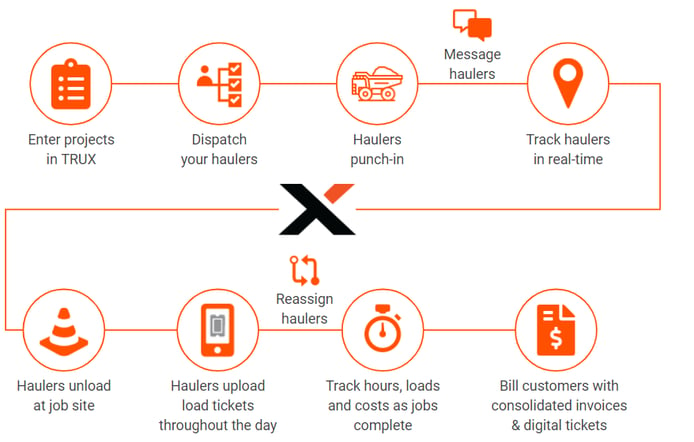 After implementing a construction logistics solution, the same process flow chart becomes simple. This is because the manual data entry is taken care of by the platform itself. Eliminating the need for paper and spreadsheets ensures that data is accurately captured and instantly stored in the cloud.
In addition, the steps for the back office team leverage more automation. You gain efficiency by removing the need to track down the paperwork and automating hauler invoices. Your back office team will retain control and can verify all information, dispute any shifts (when needed), and can even pay your haulers directly. They just won't have to put on their detective hat to do so.
The reality of managing trucking invoices is often far from ideal. Starting with a better method for managing the data collection and paperwork is key to improving trucking logistics and creating back-office efficiency.
How Does Construction Logistics Software Translate to Growth?
Let's take a quick look at how managing construction projects with software can translate to growth for the business overall.
Changes will first be felt by dispatchers. Dispatchers are responsible for ensuring that scheduling is optimized and with logistics software they can plan days in advance, ensure trucking volumes match the needs of the job, and quickly reassign drivers when needed.
Next, the teams out in the field will feel the impact. Site supers, foremen, and drivers will see the changes in a very visible way. Everyone on the job site should know what trucks are assigned to their project, be able to view real-time tracking information and know exactly how long drivers are punched into the job. That is true for drivers that work for your company and any drivers you hire.
It is important to note that while there are changes for drivers, most drivers are excited about the changes. Punching into and out of their shifts digitally means there is no guesswork. The number of hours they worked is clear and verifiable. They can trust they will be paid for every minute they worked. There is no question about whether they are really on the job.
With real-time tracking, if there is traffic that is delaying them, the jobsite contacts can't assume they are grabbing a coffee. They won't have to prove they are actually where they should be because the platform will tell key contacts exactly where they are. Throughout the day, they are able to upload load slips directly to the app on their mobile phone...meaning no more stress about missing one load and not getting paid.
How do these changes out in the field directly impact managing construction projects in the back office and fuel growth? With the right construction management software, you can:
Access all loads slips as work is completed

Eliminate the need for collecting and batching paper tickets at the end of the day

Download load slips to include with invoicing

Export completed shift data to pair with load slips for invoicing your customers

Export Estimated Earnings data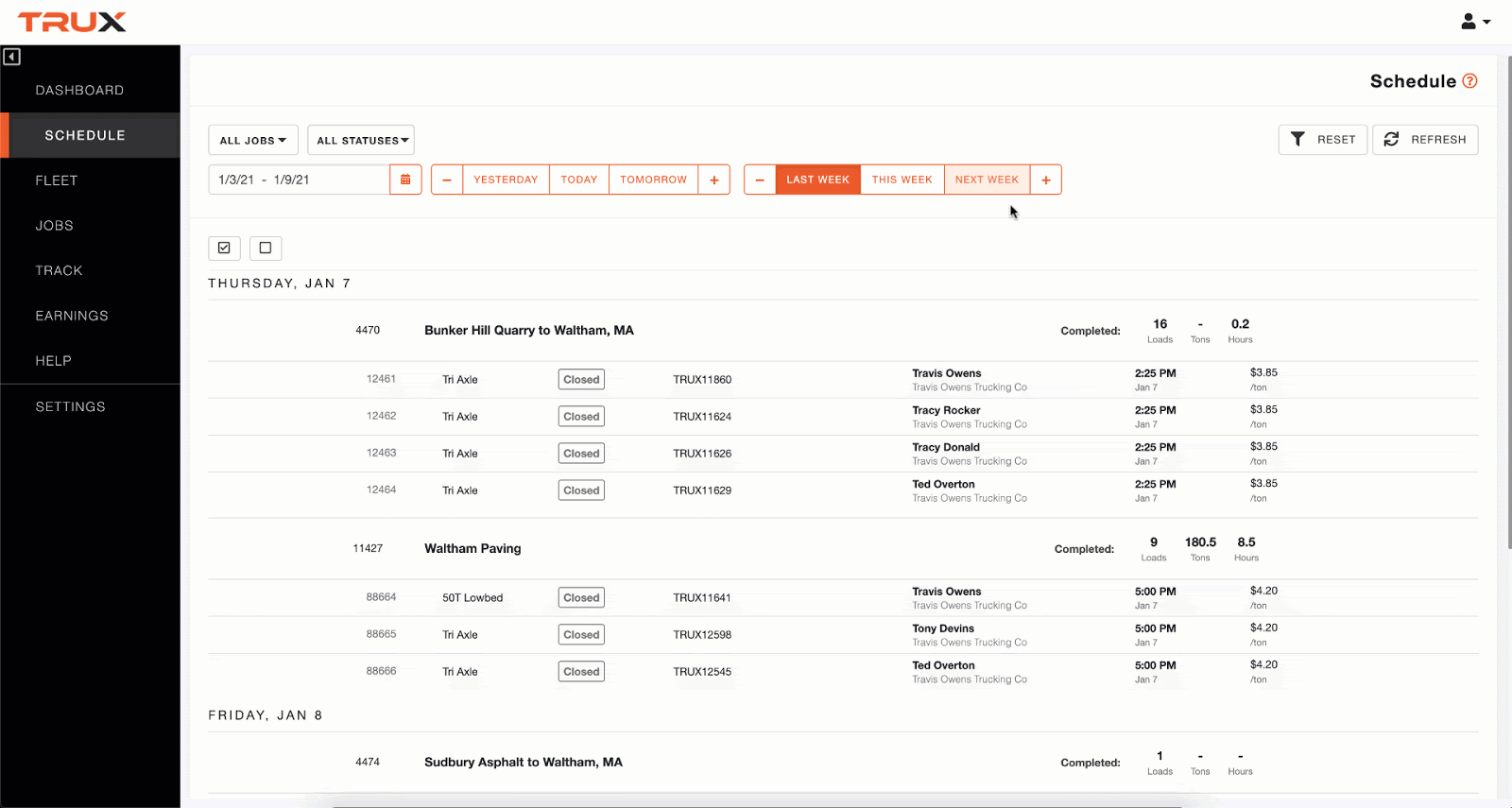 The time saved by your accounting team may surprise you.
Receiving consolidated invoices and digital load slips can save the back office team 728 hours per year. These significant time savings benefit the bottom line and allow the back office team to focus on other aspects of their job.
In addition to the direct time-savings, you can also realize savings on invoice overpayments. There are many contributing factors to invoice overpayments including not having digitization of records, time getting rounded up to the nearest quarter-hour or hour for haulers, etc. Exact punch-in times prevents rounding and can reduce trucking cost by 2% for hourly work.
Everything we mentioned in the section above fuels growth by saving the back office 30 minutes per driver per week. What about the incremental business you can take on by operating more efficiently?
While the exact amount of new business will vary from company to company, if you are looking for a way to leverage your existing team and perform at a higher capacity, logistics management software could be a key driver of success.
The back office and the field rely on one another to get the project done and keep the client happy. In this article, we are exploring how the two can work together to leverage efficiency in the back office to help the entire team grow. If you would like to learn more about how to be an effective construction project manager check out the remainder of this series.
When it Comes to Managing Construction Projects, What Should You Take Away?
If there is anything that you should take away from this article, it is that the teams in the field, the haulers, and the back office need to work together. Everyone on the team has a role to play in creating more efficiency.
The back office in particular benefits from the added visibility and accuracy that logistics management software provides. The back office will appreciate that they are able to stay in control of the process and have better data to work with.
If you think that your team could benefit from software to help when it comes to managing construction projects, look into a complete logistics management solution. While there are plenty of tools out there that help with one aspect of project management or invoice management, there are only a few that can help streamline the entire process.
Schedule a call with TRUX today or download our FREE guide to more efficient hauling logistics to learn more about our logistics management software. We work with customers nationwide delivering better management, more visibility, and easy access to data.