4 min read
Become More Efficient with Automatically Generated Hauler Invoices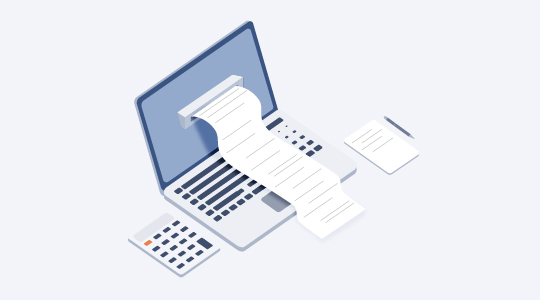 Advances in technology are compelling many construction professionals to rethink their 2021 strategy and look for ways to leverage the latest software to improve efficiency. According to recent research, 55% of engineering and construction firms were "actively seeking new technology solutions". So, what could becoming "more efficient" mean for your business? For many construction companies, it means going paperless where you can, improving asset utilization, accessing real-time & historical tracking data, digitizing scheduling & job site communication, and automating the generation of hired hauling invoices. While it may not be flashy, using tools to automatically generate invoices for hired hauling can make a big difference in the efficiency of your business.

Your Construction Business Can't Afford the Status Quo
Manually processing hauling invoices has worked for decades, why change now? The costs associated with supporting manual invoice processing are likely more than you think. The exact dollar amount will vary based on your particular business; however, it is essential to consider both direct and indirect costs. Make sure to include items like printers, ink/toner, paper, and the cost of storing paper invoices. It is important to acknowledge that there is more cost than just the human hours needed to intake, process, and remit an invoice.
You can calculate exact costs for your business; however, recent research suggests the cost of processing a single invoice can be up to $40.00. If your business is active 200 days out of the year and you typically utilize 5 haulers per day - your business could be spending $40k per year on people power processing invoices alone. That figure doesn't take into account any of the indirect costs associated with processing invoices or when things go awry.
The real risk to your business comes from the instances that are outside normal operations. In an ideal world, all invoices come in on time, with complete data, and your team can proceed with processing as normal. However, what happens when a hauler submits an incomplete invoice or submits an invoice late? Your team will likely need to conduct an investigation to determine whether the hauler is actually owed additional payment, consuming valuable time. If your project is already completed and it turns out you owe a hauler money for work that was done, you can't go to your end customer and ask for additional payment. The owed amount is going to be coming out of your profits. A gamble that is not worth taking and can have impacts on your overall margin for the project.
Finally, there are times where you may be unintentionally double-billed for work completed. There are dozens of reasons why this might happen but, in all likelihood, there was a duplicate record, and the hauling company unknowingly invoiced twice. These can be difficult for your team to catch but can add up quickly.
What Does it Mean to Automatically Generate a Hauler Invoice?
After crunching the numbers, it is easy to see that there is still room for improvement in the current manual invoicing process. But what does moving to automatically generated hauler invoices look like? What will it mean for your team and the haulers you work with? The good news is that with the right technology in place, it is an easy transition to make. Your team will love automated invoices because it allows them to stay in control while reducing risk. The haulers you work with will love it because it saves them time and money.
Mobile apps are making it easy for haulers and the contractors or material producers they work with to collaborate. It is this same technology that allows for the automatic generation of hauler invoices. When hired haulers work on your projects, they punch in digitally, perform the scheduled work, and then punch out. This information is stored digitally and at the end of the week, an invoice is automatically generated by the app for work performed. Your team receives one digital invoice and is able to stay in control of processing and remitting invoices while cutting down on the manual work. Since all the work is logged digitally, you are able to verify information right through the app.
Haulers also benefit from working through an app. They won't have to worry about tracking down paperwork from their drivers, scrambling to find missing information, or putting together an invoice to send to you. It cuts down on the work they need to do to get paid and allows them to manage their fleet more effectively.
Added Perks of Moving to Automated Invoicing
When you utilize an app to help with automated invoicing, there are a few key perks you can expect to accompany the offering. The three most valuable additional perks are listed below:
Increased real-time visibility without any installed equipment. When you use an app with your company-owned vehicles or the trucks you hire you won't have to install expensive equipment - all that is needed is a mobile phone.
Better job site communication. Message directly through the app, making sure that everyone on a given job gets the same message at the same time. This is particularly helpful when weather forces job sites to shut down or a staging area changes at the last minute.
Access a marketplace of dump trucks. Certain apps also provide the added benefit of access to a marketplace of dump trucks, allowing you to hire haulers when you need them!
You can explore these perks further by evaluating the full benefits of trucking logistics software.
Get Ready for a More Efficient Year
Take time to evaluate your current process and just how much each invoice is costing you to process. If you find yourself in need of a solution to help automate your hired hauling invoices consider TRUX. TRUX is helping construction companies across the country automate invoices, digitize job scheduling & communication, and providing real-time tracking for all your hauling. The best way to determine if a digital solution is right for your company is to connect with a TRUX team member today.