7 min read
What The Cloud Means for Construction Technology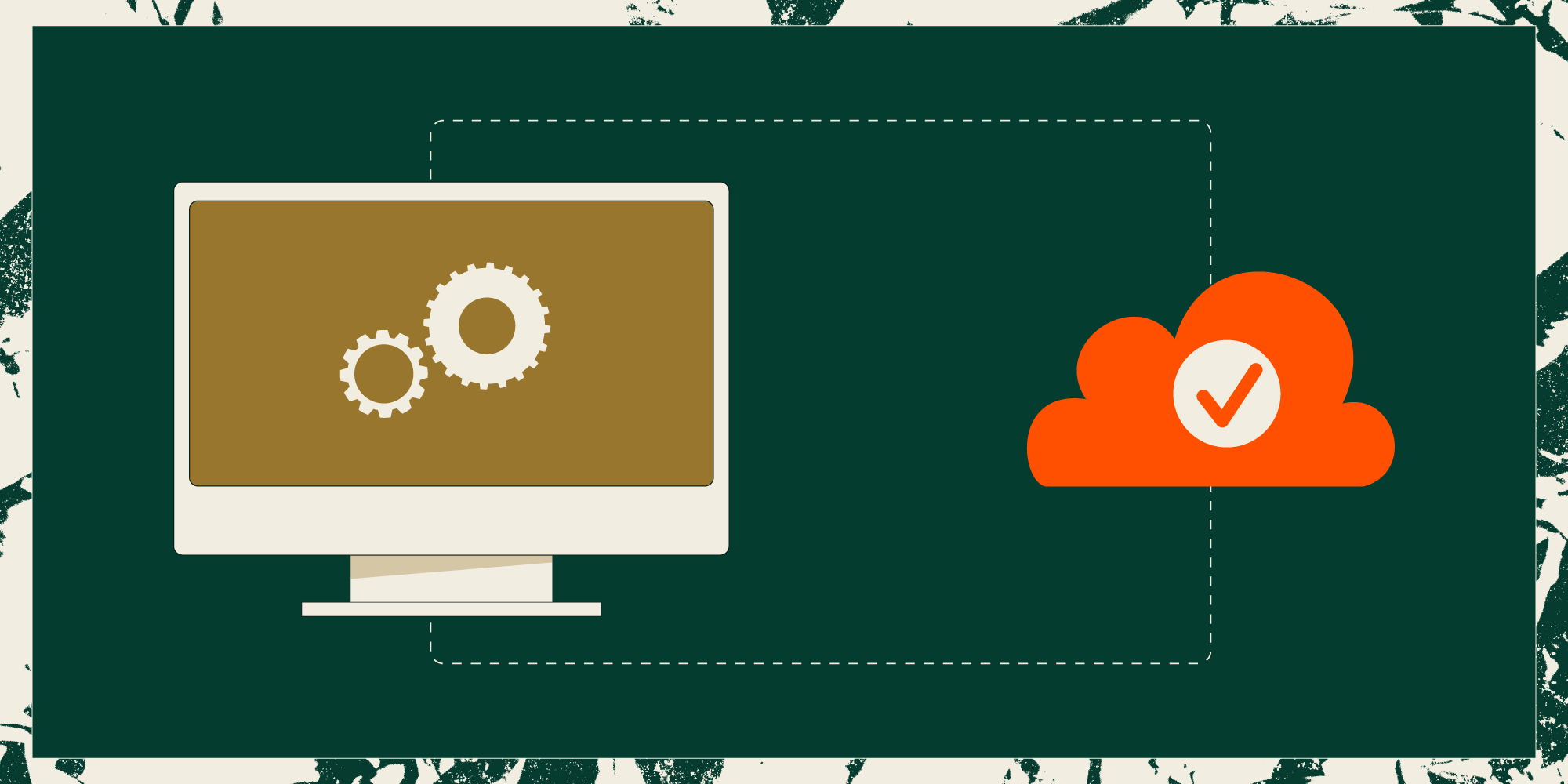 If you're in construction, bet the first thing you think of when you hear anything about a cloud is "It better not rain and slow us down." But put that cloud in the context of construction technology and there's definitely a silver lining -- almost literally. Cost savings is the number one benefit to using cloud-based solutions for construction technology. There are several more advantages that we'll discuss in this article as well.
We've all heard about The Cloud, but just in case there's any question about what we're talking about, here's a definition: The Cloud is a secure, internet-based computing and storage resource which allows you to access, manage, process and store data and programs in cyberspace rather than from your computer's hard drive.
So instead of downloading applications or programs onto a physical computer or server, the cloud gives you direct access to what you want through the internet. If you've ever posted a picture on Facebook or sent an email from your phone, you have used cloud services.
Construction technology has evolved ever so slowly. From manual processes that rely on pen and paper or whiteboards to spreadsheets on a desktop computer, the beginnings of construction technology were humble.
Eventually, a number of the bigger construction industry firms, contractors and material producers modernized their operations with some software or other legacy systems.
A legacy system is an older or outdated technology or software application that continues to be used because it still has value to the organization and functions as it was originally intended. The problem with legacy systems is that many become obsolete and are no longer supported or maintained. They also are not easily scalable. Many construction industry companies leverage legacy systems.
The Cloud vs. Legacy Systems for Construction Technology
The year 2020 served as a catalyst for much change, including the move most businesses were forced to make in order to accommodate a largely remote workforce. TechJury reports that 6 out of 10 companies had started using cloud-based services by 2020.
Other data suggests that the number is currently as high as 90%. Whatever the number, the important thing to note is that all analysts agree the use of cloud computing will continue to rise dramatically over the next few years. Adoption of cloud-based services for construction technology and in the construction industry will only continue to rise.
So how do cloud-based services impact existing construction technology? From the perspective of those who are using digital technology already, mainly material producers, construction firms, and heavy civil construction companies, the changes look a lot like benefits.
Increased cash flow
If you use a larger legacy software company for your construction technology needs, you know you have to maintain and host that software yourself. That means in addition to the cost of the physical hardware, you have to hire a full-time employee(s) to ensure everything consistently works without any glitches -- slowing down your construction projects is not an option! Your IT team also has to perform updates as new versions of the software become available.
The benefit of moving to cloud-based SaaS solutions for construction technology is that the responsibility for optimal performance no longer falls on the user. This means you'll spend much less on maintaining the software--especially now that SaaS companies are typically developing solutions that are much less complex.
Cloud-based construction technology companies are providing more of a consumer product/service with support built right into the service plan, including automatic updates when bug fixes are pushed out--which actually happens every two weeks for most SaaS companies, not once per quarter or once per year.
Easier integrations with other solutions
As your construction company or trucking business grows and the business environment changes, there will most likely be the need to adopt other solutions to meet specific business challenges. Integrations with other cloud-based solutions are simpler because of their shared vertical nature.
For instance, a medium-size dump truck fleet business may want to add a dispatching management solution to its arsenal. If the dispatch platform they're considering is cloud-based, they'll find it easier to add other cloud-based services down the road.
It's important to note here that many new construction technologies (that are cloud-based) can be layered on top of legacy software solutions. Not all cloud-based services or SaaS solutions are aiming to take the place of legacy software.
Flexibility to adapt to changing conditions
Cloud-based solutions are ideal for companies with fluctuating or growing demands. It's very easy to quickly scale capacity up or down. That's a favorable feature especially during uncertain times brought on by labor shortages or supply chain issues.
More affordable to get in the game
Without the overhead cost--the hardware and the people to maintain it--smaller construction management companies and construction firms can start taking advantage of the benefits automated digital technology can bring to their team. Many Saas providers offer pay-as-you-go services. This means the only expense to getting started is the subscription cost and the cost of a device.
Automatic updates
As mentioned earlier, because the servers are offsite and the software is maintained by your provider, all things technical, including regular and security updates, will be taken care of for you. It's an out of sight, out of mind situation that most businesses using construction technology appreciate greatly.
Ability to work from anywhere
Is there anyone who doesn't love a little more freedom in their life? With cloud-based technology solutions, depending on the demands of your job, you can work anywhere as long as you have internet access. That's a benefit that was necessary not too long ago during the early part of the COVID-19 pandemic and one that many employees are looking for today whether for safety concerns or an improved work/life balance.
Of course, the majority of construction work must be done at construction sites, the plant, the roads, and everywhere else in between. But some jobs, like dispatching and back-office functions, can be tackled from anywhere -- at least part of the time.
Enhanced communications
With your teams having access to the same information in real-time, the opportunity for missed messages and confusion is pretty much eliminated. A whopping majority of problems within an organization can be traced back to communication breakdowns. Not only will everyone be up to date, but the communications are stored so that messages can easily be referred back to.
Heightened security
What happens if your teams or you work from laptops and those laptops are stolen or lost? Not only have you lost expensive equipment, you've also lost valuable data and potentially progress on complex projects. With a cloud-based solution, everything is stored online so you can get to it regardless of whatever happens to your machine. This kind of cloud-based backup saves time and expense when it comes to disaster recovery.
BONUS: Want to learn more about how cloud-based technology is the future of construction technology? Check out our podcast episode with Clay Bowman, Sales & Marketing Director at TacInsight and Fast-Weigh.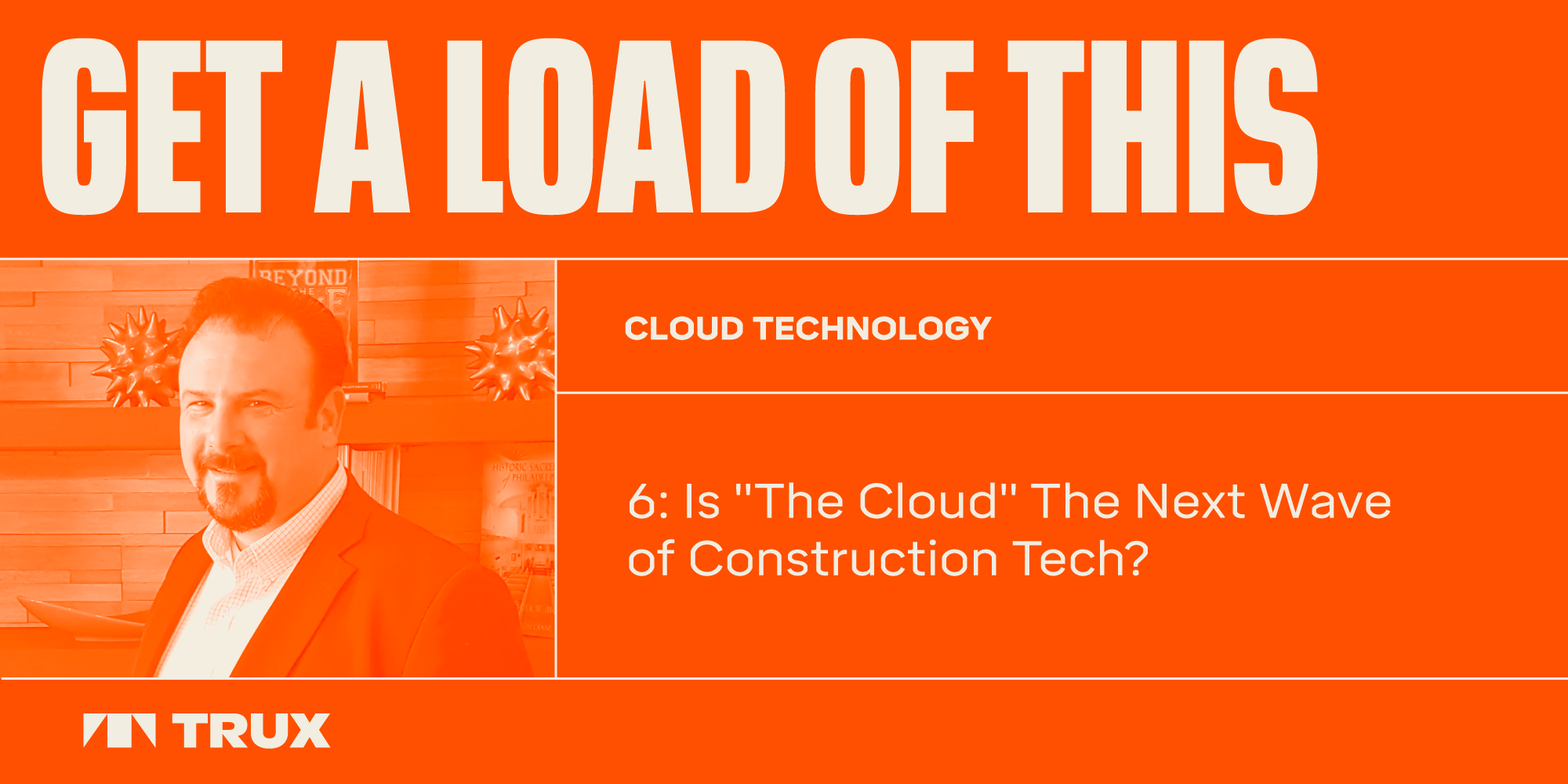 What Trux Means for Construction Technology And Your Construction Projects
Let's take a look at how Trux, which is a cloud-based dispatch management platform built especially for dump trucks, can transform operations for material producers, contractors and fleet owners.
Real-time visibility
Giving your dispatcher the ability to have real-time visibility into your trucks' whereabouts will rock their world--in a good way. With each driver equipped with GPS tracking via their smartphones, dispatchers can quickly react to changing conditions, rerouting drivers around road work, weather or unexpected changes at job sites or the construction project.
To prevent bottlenecks at loading sites or construction projects, your dispatcher can leverage construction technology to stagger job site arrivals. They can easily handle change orders and make sure you're getting the best asset utilization possible for your construction equipment.
Additionally, you can provide your customers with access to your system so they can see their delivery's ETA for themselves. This transparency elevates your customer service and can differentiate you from your competitors.
Accurate data
GPS tracking also gives you valuable data you can count on. The information you collect will be reliable and contain fewer errors. Use it to monitor cycle time at the plant, in transit, at the job site and in transit. You'll have actionable cycle time analytics on your own trucks and third-party haulers to inform your decision-making.
Centralized communication
Trux allows dispatchers to message in bulk, communicating updates and changes quickly so all parties can switch gears. Messages are stored in the cloud which is useful if a driver needs to double-check instructions without scrolling through a string of texts or calling your busy dispatcher.
eTicketing
Another benefit of the Trux platform is that an eTicketing feature is already built-in. The software captures all the necessary load information. Drivers simply upload the digital ticket throughout their shift. Both drivers (who may not be the best at keeping up with paper tickets) and the back office will thank you knowing that sorting and batching at the end of the day is no longer necessary.
Learn more about how efficiency is improved even more when your invoices are automatically generated and consolidated using data from these digital tickets.
With industry experts predicting that eTickets will be standard by the end of 2022, it's a smart move to get ahead of the curve.
Customer support
Customer support is just an email or phone call away. And Trux also publishes Help Articles that many of our customers find useful.
Get a preview of our customer support and how it would be to work with Trux by talking to one of our experts. They love to talk about how construction technology is moving the industry forward and learn about your latest construction project.