17 min read
Ep. 6: Is The Cloud The Next Wave of Construction Tech?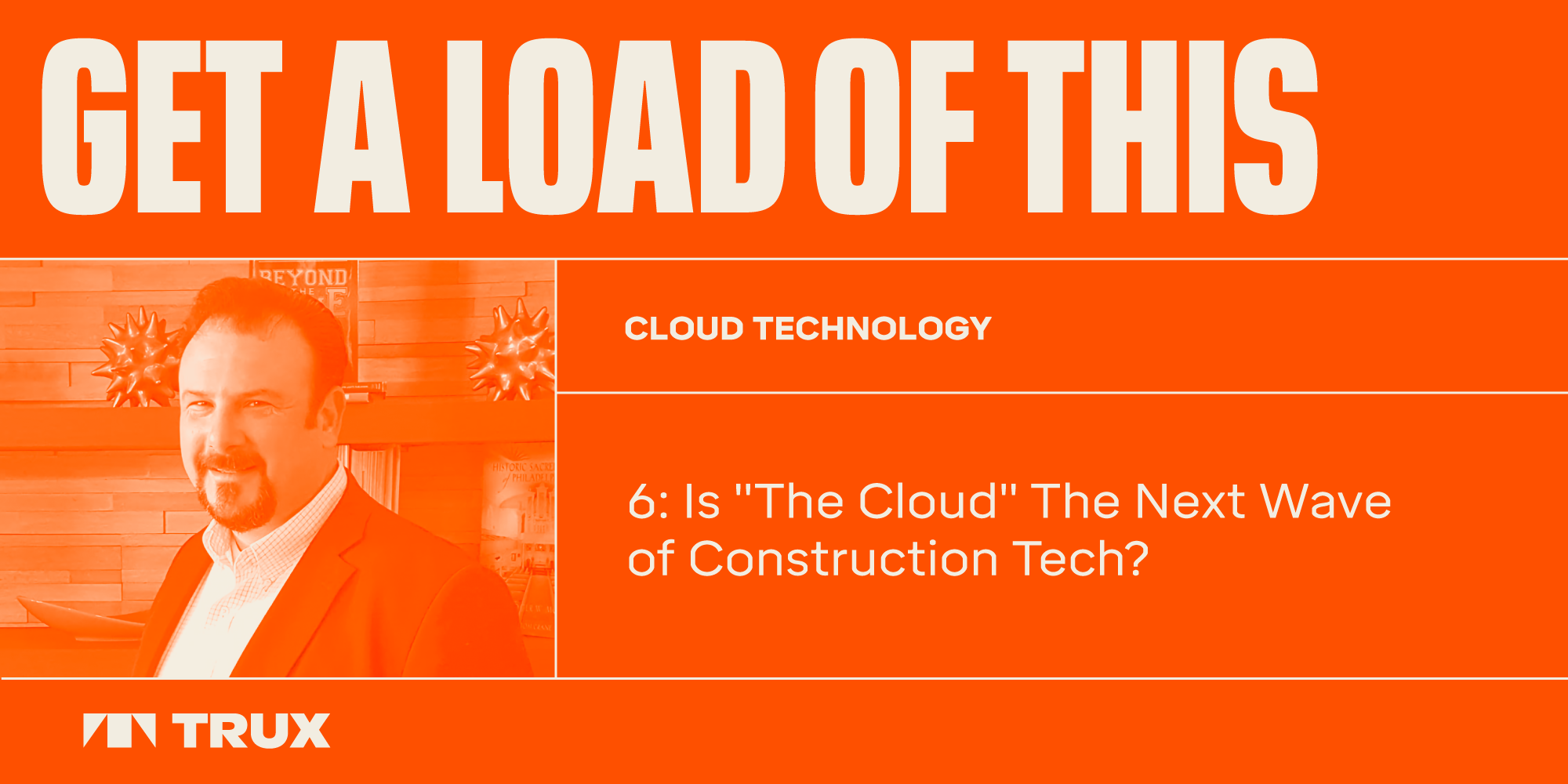 Clay Bowman is the Sales and Marketing Director of TAC Insight & Fast-Weigh.
episode 6:
Is "the cloud" the next wave of construction tech?
with Clay bowman
Clay has built his career on helping construction professionals understand and leverage technology. Technology has come a long way in the last few years. Clay joins us to talk about how legacy software is transitioning more and more to "the cloud" and the impact that has on users.
Tune in or read the transcript below to find out how the cloud is changing the way tech is evolving for the construction industry (transcript edited for length and clarity).
---
Can you introduce yourself and tell us who you are and what you do?
Clay: My name is Clay Bowman. I live in the Missouri Ozarks, and I've been working in the technology field of the construction materials business since 1998. I saw technology first introduced to this industry, and I've seen it evolve. I started with a company in 1998 called Command Data. I ended up working for that company, which eventually became Command Alkon, all the way up to 2014.
I've always been in construction materials software. I've been so motivated to stay in this industry. I've worked for other technology companies , specifically in construction materials, and today I'm the director of sales and marketing for a company called Fast-Weigh. The product is Fast-Weigh and the company is called TAC Insight. TAC stands for trucking, aggregate and construction insights. I love it.
What are some of the differences that you see between the legacy software that's on the market and the cloud-based platforms, similar to Fast-Weigh?
Clay: That's a good question and it invokes a lot of thought about the industry, because we owe where we are today to these pioneering legacy platforms. These platforms changed the way people did business and, and some of them are still operational and in existence today, they're very powerful.
They [legacy software] have the ability to automate across multiple lines of a business. As we move the needle forward, it's coming at a price. When I look at legacy technology today, and I think about what we're doing over here at Fast-Weigh, it's hard to believe that in 2021, there are only a handful of cloud platforms that are truly automating businesses today.
As an industry, we have painted ourselves into a corner. Technically speaking, I'm really happy to be here at Fast-Weigh, working on this cloud platform. The delivery that we've been able to provide is completely modern. It's been built from the ground up. The owners of Fast-Weigh had an old legacy system. They love this industry so much that they wanted to be a part of it, and they wanted to make a mark at the same time. They wanted to say, "Hey, look, we can continue developing this older technology, or we can move this thing forward," and that's what they did. They started with a single line of code and we've built it from there over five years.
What impact do you think your end-users have had since that switch to cloud-based technology?
How are you seeing it translate into the day-to-day lives of your customers?
Clay: I think it's transformational. The hard part though is actually helping customers understand what that transformation means to them. I can't tell you how many times I've engaged with folks that have been trapped in these legacy methods and they can't seem to find their way out.
It was so groundbreaking for construction businesses to start using software to begin with that many companies and individuals may not even know that there's another way of doing it.
Clay: I think it's based on education, so I'm big on education, and I'm big on consulting. I don't really like the straight sales perspective. We're in an era of technology where consulting, or counseling in sales is so important because people have to be educated and they have to be ready to have that conversation.
I believe we're on the precipice of a true technological revolution in the construction materials industry. When you look out on the horizon, you see some of these players in the marketplace that are automating systems with cloud technologies and they have very pervasive systems that have incredible outputs. We are in a position to replace these legacy systems, but it's not happening yet. That wave is building and we're marching toward that.
People have evolved from thinking about pen and paper to Excel spreadsheets, and now software comes into the mix, especially cloud-based systems.
As an industry, we're slowly peeling back the layers of possibility for technology. What is one of the areas of business that people say they're having trouble with when it comes to technology?
Clay: The first thing that comes to mind is a customer of mine that I had back in Texas. The gentleman's name was John Gladwell. He had a large trucking business down in Texas. Every time I'd visit John, he would say, "you know, Clay, all we know how to use is the big cheap tablet and a crayon." That was his mantra. "We're tired of using the big cheap tablet and the crayon."
When you walk into operations today that are automated with legacy platforms, it's amazing to see how much paper is still around. The evolution of digitizing processes in the construction industry has been very interesting. The same company was averaging 2,000 daily transactions back in 2015. That's a lot of transactions and they had terminals all over the state of Texas. But they were still bundling all of these tickets. Bundles of tickets, sat at the terminal. Managers would then verify from the dispatch system that everything was correct. They would get all the tickets aligned and send them back in these mailboxes.
There would be an army of people in the office typing these tickets into their system to record the date, the transaction, and the dispatch system. So much time was wasted. What's amazing is using the cloud back then, we were able to streamline that entire process. We were able to actually digitize the entire dispatch system using a mobile application in 2015.
We squeezed the average days of billing on 2,000 daily transactions from 10 to one. We digitized the whole process. We were able to take pictures of these tickets instead of bundling them up and re-keying them. It's amazing how technology can truly impact a business if it's thought out in a vertical way, not in a horizontal way. With a horizontal approach, it's harder to move forward, but if we go vertical, it's easy to move that information around. That's always been my philosophy and approach here at Fast-Weigh, and that's exactly what we've done.
We've built all of these accoutrements to the software platform. For instance, you've traditionally had to go outside of the software to do something else. As a user you may need to dispatch, or need to track a truck, or you even may need to digitize your marketplace. So that's what we've done here. We've thought it through from the beginning and built a platform so that we can automate this industry on one single platform. It doesn't mean that everything we do is the best, but what it means is that everything we do is vertical.
What is important about the digitization of the industry is the ability to integrate. For instance, if I have a great scale and ticketing solution, but you have a great dispatching solution and the customer has made an investment, I don't want to force the customer's hand to change anything. What I want to do is I want to take my vertical solution and integrate it to your vertical solution so that they can both work hand in hand and give the customer what they want in the most economical way.
One of the narratives we hear is that construction companies and the industry as a whole are lacking technology and that there's nobody catering to the base.
There are many solutions that are focusing on only one portion of the business, meaning the whole industry has to evaluate different types of technology to serve different portions of their business. Taking that vertical view of things is a really interesting way to look at it.
Clay: Absolutely. It comes down to which one you choose to run your business with. You have all these different solutions to choose from. Which one are you going to pick? And the one that you do pick, does it have the ability to connect with others?
At Fast-Weigh, we're a Microsoft shop. We're a Microsoft Azure platform. All of our developers are Microsoft certified. It's where we've made our home. I call it the Coke / Pepsi divide of our world. Microsoft's the Coke, and Amazon is Pepsi. We've gone with Microsoft and it's paid off for us because of the ability to open up RESTful APIs. It gives us the ability to say, "What piece of data do you need from Fast-Weigh? What piece of data do you need from the dispatch system?" We would love to be able to tell you what's coming to the scale and update that properly and, and get it into your system. That's the beauty of Fast-Weigh and how it was built in the first place. These RESTful APIs are powerful. It doesn't matter what piece of data that you're looking for in our system. We can get it to you and we get it. We can get it to you effectively and efficiently too.
The company's name speaks to our ability to get a truck on the scale and off the scale. But, that isn't the most important thing. The scale and ticketing piece of our software is designed for throughput. Some of these facilities I've been in recently are absolutely amazing. I saw 700 - 800 loads come in in less than an hour in one facility. It really requires a lot of thought, but it's amazing.
What's amazing is the processes that are built around those kinds of places. You have a legacy piece of software and there's a lot of manpower that makes that work because there aren't pieces or components that are tied together to make it all work seamlessly. I was impressed with these operations that I was in. To actually make that operation happen every day? Hats off to those guys and the whole industry. But, we can achieve those results in a much more streamlined environment with something else.
Automating parts of this industry doesn't mean getting rid of anyone's job. We now have an opportunity to help people grow in their career, grow in their knowledge and expertise in the industry, and make impacts in different ways.
Clay: Do you want to bring every wrench in your tool bag or do you just want to use a couple? You know which is easier. I have all these wrenches and I have to turn all these different pieces of this technology to make it work every day. But what happens when you free up the use of that? What happens to the cost of efficiency?
That's the one thing that I have tried to counsel people through my entire career, because even in legacy platforms, it's all about efficiency. This is going to make you more efficient. How more efficient? That's always the question. How do I articulate efficiency into a dollar? How much money is that going to be saved? My company is interesting because it's different for everyone.
When you look at the legacy discussion and when you look at what it takes, not only to buy it, but then after you purchased it, what it takes to implement, that's hard to quantify. Companies have said, now we have software, and a contract, and everybody is excited, but now you have an industry or a company that doesn't have any real skill in technology, right?
The options are that they have to become experts in technology, or, you hire an entire team that's surrounding this technology so that they can implement it and support and keep it moving forward. Companies have to outsource that, and either option is extremely expensive. There are advantages to both, but the actual cost of implementing a client server or a legacy platform is exorbitant.
What is amazing to me about Fast-Weigh is what we've been able to do with the conversion of some of these situations. I think it's unprecedented in our industry to see large operations that are converting over at breakneck speed. It comes down to the ability to move information. Can I move information from one platform to the next, did I build a platform from the ground up that can do that?
We have amazing integrations with ERP. We are a top 16 Viewpoint Partner, and of course, Viewpoint is a pervasive piece of software in our industry. But what's amazing about that is that the information in Viewpoint lives simultaneously in Fast-Weigh. As soon as you change a price or adjust a project or add a customer, it updates in Fast-Weigh simultaneously. The same is true for the other integrations we perform, whether it's Microsoft dynamics or JD Edwards, or the list goes on and on.
Recently, something monumental that we were able to achieve was our integration with a tax compliance software called Avalara. It's huge because we spent a short couple of months developing a very complex and sophisticated integration to this platform that basically frees up companies from having to chase down taxing authority. It goes up in the cloud and it hits all the tables, and everything's correct. This type of technology is the future, right? It is changing the industry. Like I said earlier, the wave is cresting. I see a lot of software companies out there, like Fast-Weigh. I say a lot, but only a few that are building these products. We're very, very excited for the industry's future.
What do you think is going to be the tipping point? What's going to be the thing that pushes the wave over the edge?
Clay: How do you describe that? I think it will be like a brush fire. It starts small, and then it spreads very quickly when the wind picks up. Companies have to be willing to understand the inefficiencies that they're trapped in first, but they don't look at that on a daily basis. Most people are just trying to get through a day. Others are just trying to look at the numbers and make sure everything's in line. [Companies] get the information they want, but they don't understand what that information is costing them.
Do you want to wear weights around your feet and walk around all day? Or do you want to free yourself up and take a little of that weight off and be a little freer? It's all about technology, and what is that? What is the use of a legacy system costing you from an efficiency perspective?
Here at Fast-Weigh, we can walk through that with you. We do a good job of understanding what it is. This goes back to what you were talking about earlier; you have all of these different components, but you have to have a core system, right? But then maybe you have two, three, four or five other components that you've added on, maybe even a reporting system.
If you want a comprehensive reporting system that gives you dashboarding and all this wonderful information, the costs that are involved in that add up. The upkeep to get that kind of information is costly on a legacy platform. With Microsoft as your BI experts, you get charts and graphs and dynamic information delivered in a dynamic view. It's just part of the evolution of this technology. There is a cost benefit to that. There's a cost benefit to getting that information at your fingertips, because it's more economical than bolting it on to another platform.
The barrier to entry can be difficult for acquiring a large legacy system, especially if it requires ongoing maintenance -- it can weed out some people from having the business intelligence tools they need to effectively manage their business. But with integrations, the barrier to entry can be much lower.
Clay: We don't need the canned reports. We need information at our fingertips. We need information here in our hands, now. We need to know much was shipped out of quarry 26 today. Perhaps you're concerned about that quarry , and you're keeping an eye on it. You know you have to do a drill report at the end of the day. Whatever it is, it all goes back to the brush fire that we were talking about earlier.
The reason that we're not going anywhere is because only a handful of producers in our industry are actually using those systems on their legacy platforms. It is such a heavy lift to get it in there not only financially, but also to maintain it and to become an expert in using it. That's what's holding us back. The technology itself is holding us back.
Once technology hits that threshold where people say, okay, you know, we need this. We're going to keep having these conversations where people are looking, looking for what's out there.
This is how we get the word out. We do podcasts. We talk about it.We try to help people understand that things are changing. Recently we engaged with a customer where we sold a cloud-based application, Fast-Weigh, but they were adding ready-mix to their business. They came to me for that recommendation. I'm not going to recommend a legacy system. When you see those types of technical partnerships that we're engaged with on the ready-mix side, it's important that they can work with us in the same respect.
There are so many things that can happen with new technology in regards to the movement of data and optimizing the movement of trucks. Also, what about replenishment? What about the ability to know that I have this ready-mix plant, this ready-mix plant and this ready-mix plant, and now these two pieces of software are tied together, so I know over a Fast-Weigh that I need to fulfill that load, by this time, so that they have enough material to get through the next few hours of their day.
These are all the questions that we struggle with because we don't know the answers. We're always making phone calls. We're always texting, and these technologies are going to change the industry. They're going to completely rewrite it.
Not only is technology pushing the industry forward, but the inefficiencies and frustrations are pushing it forward too. People are actually trying to find solid solutions that can be utilized everyday, not just hypothetically.
Clay: It's an evolutionary thing. eTicketing is a two-phase situation. The first phase is understanding what eTicketing is and where it is now. These electronic systems have been out since Windows 95, so we have an eTicket already, right? So yes, we already have an electronic ticket, but then we print it. We need to be able to put that into the marketplace and do something with it. The reason that you can't is because you need another piece of technology to go into the database and grab that electronic ticket and actually make it feasible for use in today's world. That's why Fast-Weigh is so different.
Fast-Weigh is the ticketing passway. The ticket is already there. It's already distributed, distributed in the field by the Fast-Weigh system. The customer needs the ticket, so if I have a relationship with a trucking company or a third-party company, they need to be able to log into my web portal or my system to get that ticket. Why do I need to go chase tickets down and try to scan them and email them? Those days are over with our system.
The customer simply has access to their tickets. Our client just gives their customer access to our web portal. And now they [customers] have access to every ticket they've ever done. That's the first phase. Can we get there? It's already built into Fast-Weigh. We've been doing it since we released this product five years ago, but the next phase is, can we actually get that eTicket out in the field? Can we digitize it and move completely away from paper?
I ask this question in almost every demo: what do you think, is it achievable? Are you willing to be the change agent that makes that happen within your industry? There's another brush fire, right?
DOTs are requesting eTicketing. But, we're not seeing a lot of movement there. I believe Washington state was making a requirement of it. They were the first ones to legislate it and actually make it mandatory. We're doing business there in the ticket market, but it's interesting -- it launched and now it's died off. It's going to take someone regionally, or even a small producer to say: I'm done with paper. This is the way we're going. The big challenge is the driver at the end of the day. Drivers are catching up with technology. They're getting there. You've got the guys with the flip phones in the past that said, I'll never use one of those smartphones, but today, they're using smartphones. It's just a matter of time. We'll get there.
As more companies adopt technology, they're forcing drivers' hands. But technology has its own benefits for drivers. Drivers are punching in and out digitally, and they're beginning to feel more comfortable with that type of technology. Slowly, I think things are starting to shift with haulers.
Clay: Do you know where those tickets end up though? It usually takes a phone call to find those tickets. They end up in the bottom of the cab, or in the back of somebody's truck. At the end of the day, they blow out the window. There's only a few guys that are organized with Fast-Weigh. So if you didn't know this, we actually have an app that the drivers can use. Every time they go across the scale, they have a full transactional record of every ticket they've ever done. No coffee stains. It hasn't flown out the window.
With Fast-Weigh, haulers can go back a year and look at the tickets they did on a particular day, a year ago, if they wanted to. It creates transparency, which is important. I think that's the way you bridge the gap with drivers. eTicketing creates layers of transparency and trust.
A few rapid fire questions …
Is there somebody in the industry that's been a mentor to you, or has helped you along the way?
Clay: My first sales mentor was Don Janney. Don was a career ready-mix dispatch manager who moved into the software business. Don was an amazing guy. He helped me understand the industry, and he helped me understand the challenges. And then, I had the privilege of blowing him away a few times.
There's another guy though, his name is Tom Wentz. He's not from our industry, but he's a sales trainer, and he has a simulation that he does for salespeople. He taught me, it's not about selling, it's about trust. It's about counseling and understanding and asking questions. Nobody likes to be sold, so it's really about understanding and asking questions -- trying to help.
What keeps you in the construction industry?
Clay: I have a degree in hospital administration -- go figure. I've been in this industry since I joined it in 1996 with a chemical company. When I left my career over at Command Alkon, I found my way to Trimble, and eventually found my way to Cortex. I've always strived to stay in this industry. You make friends here. There's nothing like the construction industry. People say that all the time that the people are so genuine. They are so down to earth. It's just a pleasure to do business in this industry.
What's the one piece of technology that you could not do your job without?
Clay: The one piece of technology I couldn't do my job without is my laptop. It would have to be my laptop because that's where we make it all happen. Whether it's CRM information or doing a demo, or even right now on this Zoom call. I would be lost without my laptop. I love my laptop. It's my first Microsoft Surface laptop and it's awesome.
If there was one part of your job that you could automate, what would that be?
Clay: Can you automate my travel? I'm not a million-miler yet, but I'm close. I think it's harder than ever to travel. Traveling used to be enjoyable. I'll be honest with you. I used to enjoy it. I used to love to go on the road. It's really not one of my favorite things anymore, but once you're actually engaged in the field where you want to go, it's worth it.