21 min read
Ep. 2: How Labor Shortages Impact the Need for Technology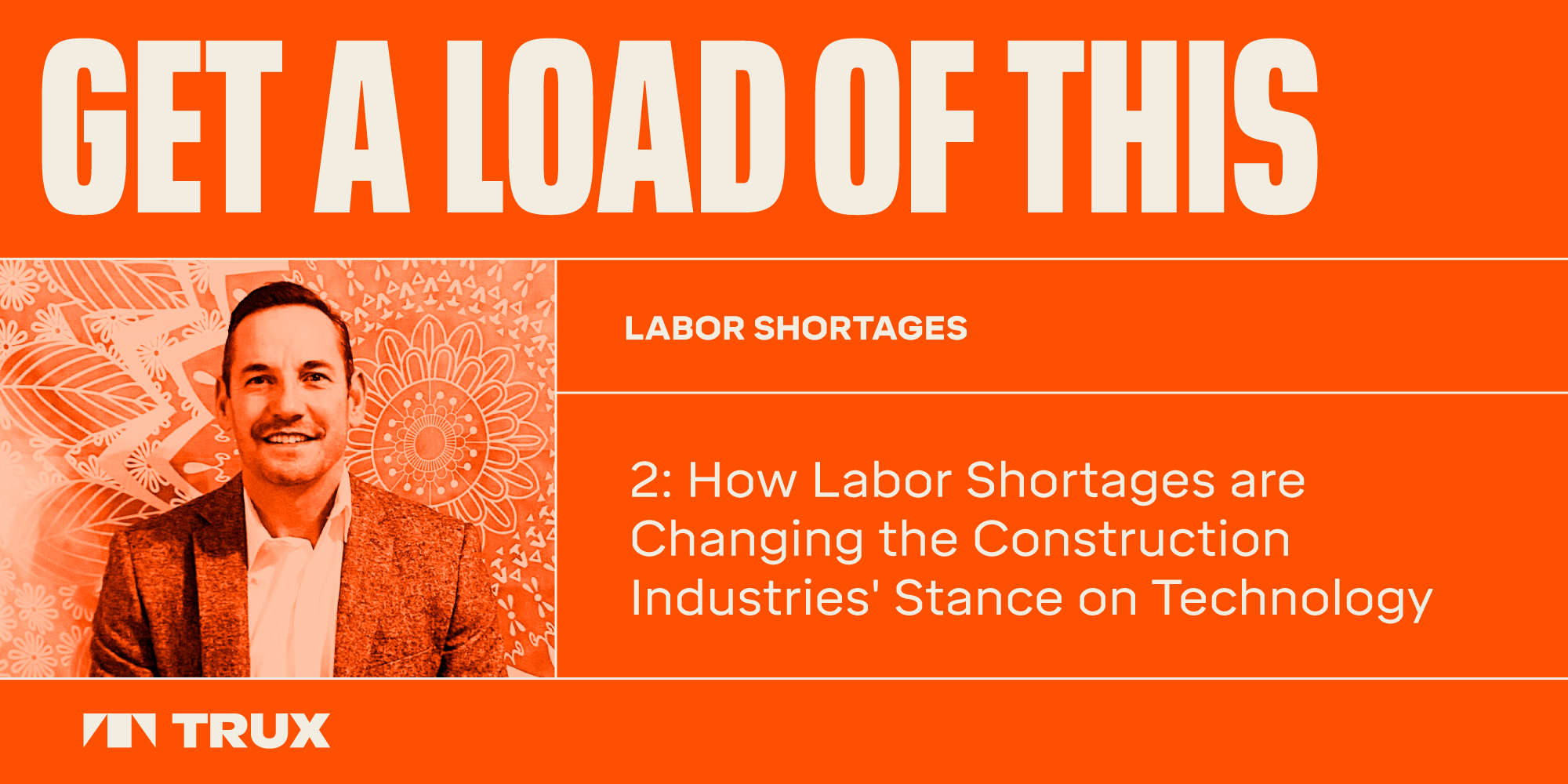 Jason Waddell is a General Manager in the mining and aggregates industry with a wealth of knowledge about the people, operations, and challenges in the construction world. He's worked for several large companies and worked his way up from his start in the industry as a general laborer to his position today as a GM.

episode 2:
How labor shortages are changing the construction industries' stance on technology
With Jason waddell
Jason joins us today to talk about one of the topics on everyone's mind - labor shortages. He's seen this challenge first-hand and is able to give his views on what it will take to draw new talent into the industry - including leveraging newer technology.
Tune in, or read the transcript below, to learn more about labor shortages in the civil construction industry and how to combat them (transcript edited for length and clarity).
---
Can you tell us about your experience in the construction industry, and how you got here today?
Jason: Thank you, Elizabeth. It's an absolute honor to be here. I don't want to tell you the date that I started because time has passed pretty quickly. But I got into the aggregates industry, like a lot of people -- I tried to do too many things too early.
I tried to be a student athlete, and the funny thing about the college I went to was that they wanted you to put the same level of emphasis on the student side as the athlete side. And unfortunately, that led me to needing a job. I started like a lot of people. I started as a general laborer at a rock quarry in North Georgia for a company of Martin Marietta.
Over the last 20 years, that role has grown, up until what's recently been the GM position for Stone Point Material, which was acquired by Arcosa Aggregates in April of this year.
I've been through a lot of different career paths. Early in your age, you think that your career growth is going to be linear. It is not. There are a lot of lefts and rights, but mostly aggregates related, with some asphalt. But it's been a great 20 years and I've enjoyed the ride so far.
As we look ahead, now is the time period where people are planning for 2022.
what are the top things that you're thinking about for next year and are they different from what they would have been a year ago or two years ago?
Jason: Sure. I think when we think broadly we get stuck thinking about our tree in the forest, but when I think broadly, I think about the IIJA (Infrastructure Investment & Jobs Act). You had Michelle Stanley from NSSGA (National Stone Sand & Gravel Association), on for Episode 2 of last season -- I think [IIJA] is something that's on the forefront of everyone's minds, and we'd like to see longer term infrastructure spending or funding at the federal level and the state level. That way we can plan for the long term.
Part of my role at the company in the industry is getting out and communicating that. We'd like to have a long term plan as it relates to the micro-level. I think there is a jobs element there, right? There's a labor constraint issue we're trying to get through, and we're trying to stay in front of that. And, we're trying to retain people and grow people.
They want to be a part of what we're trying to build. Those two things stay on the forefront, right? Until there's some kind of reconciliation or some kind of resolution. The other part of it, I think locally, is that we're trying to be good stewards of the industry. How do we stay on top of that? That's the piece I would say from an industry perspective, that we're doing a lot better at.
You had Aaron Witt on the podcast last season, and he's doing a good job through social media, promoting our industry, the construction aggregates, and asphalt ready mix industry. I think that's something that stays on the forefront that hasn't always been there.
A lot of times we hit back in the dark corners and just want to do our business and be left alone. Right now we're trying to get out in front of people and show people that it's awesome to do what we do, whether it's construction, asphalt, aggregates, or ready-mix. So those things stay in the forefront, but people are there all the time. I mean, it doesn't matter if it's today, next week, or next year -- you're always trying to grow your people.
What are some things that you think may be key to helping relieve some of the pressure on the industry stemming from labor shortages?
Are you doing anything now? Or do you have something you want to try?
Jason: We're playing catch-up from the great recession (if that's what we want to call it). I think a lot of investing in our current staff and investing in future staff got put on hold because everybody was looking at ways to cut costs and keep the people that they had on their roster intact.
And you did touch on it -- the trades in high school. We've gotta get out and make an impact and show people that somebody like myself, a general laborer, can grow into something else. We're starting to get better at it, but there are other disciplines that we could bring people into: HR, engineering, marketing, and sales.
It's not just boots on the ground all the time. That is a big component of what we do. The other thing is making technology, or allowing technology, to make our industry cool. I think you're starting to see companies using simulators and giving people the real world experience that you're seeing either through academies or universities. I think we need to do that. Sometimes I think we get lost in the fact that we've got to control costs and that's an expense. [Training] may not always have the return that other projects have, but I think we've got to make it cool again, right?
I don't subscribe to the generations XYZ or whatever, or think they're lazy or anything. I just don't think we've connected the way we need to connect with them. We're just coming out of the doldrums and we just haven't related to enough people to connect with them. I would say that by being in the aggregates industry, we could connect society and civilization through projects. We can enhance public safety. I think we do great things. And we have some of the greatest people doing these things. I think we're playing catch up in a lot of ways to get that message out.
You make an interesting point about technology -- so many young people who are entering the construction industry are so used to technology. That could be a bridge to meet people where they're at.
Perhaps that's an opportunity for the next generation of construction leaders to make an impact -- with technology. could it keep the industry invigorated?
Jason: I was speaking to somebody that's in my age group yesterday -- I was getting my oil changed in my truck and they asked me what was the stuff underneath the truck? It was limestone --I work in the mining industry. They said, what do we mine here? There are rock quarries five or six, right around. And I just thought wow, so not only are we not getting out and talking about the industry enough, because there are not just young people who don't know about it, it's people in my age group too. There are older folks who don't know either. The comment "what do we mine?" and you're like, wow, well, you know, give me a couple of minutes, I'll share that with you.
I think people are doing better, but as you mentioned, there's Generation X and others that have come a long way with technology, while still doing some of the skilled craftsmen jobs. I think that combination is pretty neat, to see that it's only going to grow. They're only going to grow in their careers and they're going to be in leadership positions. We've always been a little behind, in my opinion, than other industries, but I think, I think it's just a matter of time.
I've heard that you're a mentor for people in the industry and also have been mentored by others. Is there a component of that mentorship that helps make people feel comfortable at whatever point they're at in their career, but also help them see avenues for new opportunities that they might not have been aware of?
Jason: I think we're progressing right in a lot of ways and mentoring and coaching was kind of a check the box thing. Like you had your coaching discussion this year and it usually came around performance evaluation time. I think it's starting to shift. You've got some excellent industry stewards right now that are coaching and developing people because they want to. And in a lot of cases, it's not only people that are direct reports to them. It's just people that work in other companies sharing their story.
When there's a sense of frustration, whether you get boxed in through corporate America, or you just don't think you're progressing as fast as you want to, I think more people are becoming comfortable with their value or the knowledge that they have. You've had a couple of people on your podcast, by the way, they're excellent stewards of their industry and the industry as a whole, and they're growing people. It's important to grow people that either replace you so you can move out, or you can move up.
Absolutely. It's about looking at mentorship differently -- it's not a mandatory box for one of your direct reports to tick off, it's about honest, mutual conversations between people about an industry that they're passionate about.
They can hear how you think about things, the success that you've had, and the ways that can help them in their life & career.
Jason: The other thing I think we're starting to see, and I can speak for middle Tennessee and Western Kentucky, is that we're getting out in front of high schools. Also, we have a university close to here -- MTSC, Middle Tennessee State University, and it has a great concrete management program. Dr. Heather Brown, who's now IMI, has done a fantastic job with that. You get a lot of questions when you get in front of people who see the success you have now. They want to know how long it takes to get there? And you just have to be honest, it wasn't easy. When I share with people that I started as a general labor, because sometimes you have to tell the whole story for them to believe you, but we all start somewhere.
When you meet somebody for the first time, you get a snippet of them today, but you don't really know the whole background. And I'm very candid with them. It takes time. A lot of the time I wanted it to move quicker. I had things to work on. There was good coaching and bad coaching, good mentoring and bad mentoring. And that happens. At the end of the day there's nothing I could say or do, I can only assist. I think of everything like a bowling alley. I'm just the bumpers that are out to keep you from throwing the ball in the gutter, how you throw the ball and handle your career, that knocks down the pins. That's ultimately up to you, but I'm here to help.
People want to know why they do what they do, and people want to know that somebody cares. And to move up, in a lot of ways, you have to have a good mentor and you have to have a champion. And if you get both of those, because of the things that you bring to the table -- skillset, personality, behavior, etc. -- you can move mountains. It's pretty nice.
Revisiting the technology side of things that you were talking about... There are a lot of different options for technology in the industry. Is the goal to solve challenges, or get flashy technology that can move you forward?
Is technology a way to maximize the resources that you currently have today? Even if it's not something that you can see a direct ROI from.
Perhaps it's bringing in technology to save dispatchers two hours a week or giving haulers the work they need to stay busy. is there always bottom line component?
Jason: There are a couple of different avenues to pursue. I think we're in a fantastic time, as it relates to technology. If it's adding something to an existing piece of equipment, if it's software related and it makes more efficiencies from a dispatch standpoint or just collecting data -- the technology is out there and I think it's great to use.
My only concern is I think right now we don't always understand the data. We don't know what we need or what technology could do for our strengths or weaknesses, because in a lot of cases, the economy has been pretty strong and we're still maximizing shareholder value or earnings or margins, or however you want to look at it. It takes discipline to continually stay on the forefront of what's happening, whether it's inventory management, direct dispatch, or pieces of software or technology on equipment to make grading or paving more efficient. Or even drone technology.
We have all those things on the table, but some companies don't know what they don't know. Do we know that a certain software could get us more turns? Okay, what does that mean? Do we even produce enough to get those more turns out the gate? So I think we're in a fascinating time period for technology, and I think it's only going to get better.
The other piece that is unbelievably interesting that I think maybe we're just now getting into is the end-user experience. How can technology be used at an asphalt or aggregate or ready-mix plant? How come I can track my pizza on my phone, and I know when my Amazon package is going to come, but where's my rock?
I think we're getting there. And as more people do it of course, I think there's a cost benefit and the cost will eventually get to a point where more people do it. But yes, I do think we don't explore technology enough. And then we usually just pick one thing at a time. We have to be very careful. There's a whole lot of layers right. But I think you should pick one thing, whether it's some kind of dispatch opportunity or if it's plant automation or equipment operation.
I think of utilization for what I would call hard assets, your equipment. I think we're ahead of that because we're exploring. The lead time to get new equipment is so far stretched out whether it's plant or mobile. I think we're already doing that as it relates to making the job easier. I think that as the issues arise from the local level, whether it's your office managers, sales reps, sales managers, or production managers, I think they have to be the ones to bring that up these things to me, because if I don't know, there's a problem, well, I've got a hundred other things I'm managing.
I think we're embracing innovation more. And I think we're at a fantastic time. It's just a matter of do we have the data to support any kind of technology? And how is it going to assist us long-term or short-term? And as far as long-term, I don't think we always have the data because we don't always know what to look for.
As more technology becomes available and the more curious people get about different areas of their business, the more they can optimize certain pieces. Like you said, start with one area that you need to work on and find a tool to help you there.
Jason: The other piece of it is it's a pretty tight knit community. So if a VP of one operation has success or a publicly traded company has success, we need to get those successes out, especially in the aggregate industry. There's not a whole lot of things that separate one core business from the other.
But sometimes that stuff doesn't get out because it's a competitive advantage for one. And so you get caught up in that, but I think testimonials throughout the industry really move the needle because there's a lot of mutual respect in our industry. Period. AndI think that that helps. So if somebody has success and they talk about it, whether it's through a social media platform or just word of mouth, which I'm still a big fan of, it starts to resonate. And then you go, oh man, hey Mr. CEO -- can we try this? You know, well, what's the cost? They're having a lot of success, but here's the copy. I just think there's that element as well. And you gotta be willing to roll the dice a little bit. And the technology is out there. It's only getting better. It's a very exciting time.
We've talked to people that are having a really hard time finding new dump trucks and finding parts for dump trucks. Fleets take a lot to maintain and supply chain issues may be pushing companies into that danger zone -- is this actually losing the business money? how do you think about that?
There are two theories that we've come up:
1.) There are people who are now starting to see losses in this area, and they don't think they can sustain it so they may start to let go of some of those assets and rely more on hired haulers.
2.) Or if they're a construction company, they may try to push more on their suppliers to deliver material rather than pick up material. But it's also an opportunity where companies say -- we're not losing money yet. We know we're up against challenges. We just need to double down on this and really make this a priority. Maybe we find a way to get more data points here. We bring in a technology solution, or we do something else to reinvigorate this area of the business and we decide to make it a differentiator for ourselves.
Can you poke holes in my two theories or can you offer any other thoughts of where the industry might be headed?
Jason: That is a great question. I can say being a part of three particular companies, one publicly traded, one privately held, and one private equity, they all have different viewpoints on either owning your own fleet because there are risks that are associated with that.
And then you have to keep people in seats. There are repairs and maintenance associated with that, and there's insurance. So there have been times I've worked for companies that were more risk averse and they did not want to be in trucking. One accident. That's all it takes. It just ruins their whole level of comfort of risk. Now I have also worked for another company that wanted to grow their fleet because they wanted control. They wanted to control their in-house trucking. If you can control the rates, you could lower or raise it depending on what kind of jobs you need to get , but you could control the throughput either to asphalt or paving and construction.
And then I worked at another company that looked at it as a negative revenue situation. And what I mean from that is it was not a profit center, but also if you delivered it, if you use third party or in-house haulers, you would pay your in-house trucking center. If it was third-party, you would pay their truckers . So they will help you next week. But it may take you 30 to 60 days to collect on the total bill. So there is no one standard answer; it has to do with the leadership and their commitment to how they see the vision going forward.
I will tell you there's a finite pool of people willing to get in the seat and drive. We can buy hard assets all day long. We can't get people in the seat to drive. So I think there are platforms out there, Trux being one of them that does enhance it, but it doesn't really grow the overall pool of trucks.
I think we have to get people interested in driving. I'm sure everybody's commented on wages, and it makes it difficult if you do evening work, if you do DOD related work. It's hard to get people to drive at night. So if you have a bunch of great ideas, I think you're on par with the strategy, that piece of it really goes to the CEO. A CEO's willingness to accept the risk. And I think there's a lot of different companies that view it differently.
I do believe in having a good third party network, but also, I'm a fan of having your own trucks, especially if your vertical GP controls some pieces of it. I think it's whether it starts with 5, 8, or 10, however it builds. I just think that's adding trucks to the overall market pool and so on. So I'm a fan of it, but sometimes those decisions are made above me. And once again, it all goes back to senior level leadership's ability to work with the risk factor.
That's a great point about who companies are ultimately responsible to; Is it a board? Shareholders? That all makes a really big difference in how you think about how you're going to spend your money, what you're going to invest in and what areas of the business that you want to focus on.
You added in a whole new component to consider. Thank you.
Jason: The vertical piece is where the biggest component of that comes into. Is it aggregate ready-mix or asphalt, and if it's asphalt for paving and construction, what do you want to control? And I think identifying those companies you could kind of see their strategy, but buying equipment, although it does have a lead time, isn't always the biggest issue. Trying to keep people in the best equipment to get the utilization, and to do what you want to do from a business and a strategic business initiative.
To wrap things up, I have a few rapid-fire questions for you …
What do you think is the biggest challenge that people (as individuals or as an industry) are up against right now?
Jason: I think you probably hear it 100% of the time. It's the labor piece of it. We touched on it at the beginning, but the second piece of it we've also covered it. I think we need to have a long term funding mechanism in place.
There are states that have implemented a state funding mechanism, but we still need some long-term funding with the IIJA or whatever the case may be, so we can plan. We want to hire people. We want to buy equipment. We want to have large or small cap-ex projects that go through to enhance automation, technology, efficiency, optimization.
We want to do all that stuff there. There's no part of our industry that doesn't want to grow. Personally, I think it's professional development. How can I continue to get professional development so I can continue to coach and develop my team? It gets harder and harder to do when you have so many inputs coming at you, that that kind of falls back and you do the day-to-day putting out the fires.
I would say from a safety perspective, that's something that's always on the forefront to get better at. I think many companies have world-class safety, and yet we still see the fatalities. I think we're at 27 people this year that have been injured or are no longer here. I think we have to continue to explore. And that's me too, with 68 or 69 direct reports, how do we, how do I, stay on top of the curve from a safety perspective so I can keep my team safe.
I think those are some of the biggest challenges from an industry perspective. And for me professionally, I would say, I try to get better. I'm not the finished product I want to be, but how do I get there so I can help finish my team too. They're great. I don't want to just exist and I don't want them to exist. I want them to buy in, have passion, have the purpose and the "why." At the end of the day, it's all about people and the front line is the bottom line. So how do we continue to grow them?
Couldn't agree more. In five years, where do you see the industry? What do you think the biggest changes are that you might see in five years time?
Jason: I believe the technology standpoint is going to continue. We're going to continue to try to attract people, but technology is going to create some creative destruction from a human capital standpoint. The second piece of it, I would say, I think you're going to see continual market consolidation. When I first started, there was a lot of independence and the NSSGA they do a great job, they track this. I think we're going to continue to see the big publicly traded companies consolidate. I also think you're going to see a more vertical integration, whether it's asphalt ready-mix because at the end of the day, from an aggregates perspective, everybody's looking at avenues to move aggregate, right?
So whether it's through ready-mix asphalt or paving and construction, I think you're going to continue to see that. I don't think it's going to be a Coke, Pepsi world domination thing, but I do think we are going to continue to see market consolidation and we're going to see less and less mom and pops.
And if the regulatory environment doesn't change, we're not going to see small businesses pop up, like what we have in the past. I just think the permitting issue is going to get harder and harder. And like I said, with the consolidation, we're going to have less and less awesome companies out there doing great things. So that's just my two cents on that.
If there's one thing that you could tell somebody that's considering a career in construction or bulk materials or aggregates, what would that be?
Jason: From personal experience? I would say patience. But at the end of the day, I think the best lesson I got, the best mentoring I got was you are in charge of your own career. Darin Matson, the CEO at Rogers Group Inc. He's phenomenal about saying that. You gotta think he's gotta be pretty comfortable in his own skin to say that to his team, because he doesn't want to lose anybody. He's got some stellar personnel, but you are in charge of your own career. So map it out, realize it's not going to go the way you want. Have a plan, but put it in pencil because you're going to have to erase things.
Totally fair. Two more questions... The next one is - where do you go for industry resources and what are the publications or the outlets that you trust for industry insights?
Jason: I read just like probably everybody else does in the aggregate side of it, Pit & Quarry. NSSGA without a doubt. I'm actively involved in it. I think what Mike Johnson and that team does on our behalf is phenomenal. Also, you have ARTBA. They have some publications that really help with the road building transportation side of it.
You could have all that stuff, but I think you've got to have the desire to consume it. And it's one of those things: you can take a horse to water, but you can't make it drink.
You can get them delivered to your house, but I would say the biggest thing is, as you're coming up, don't ever turn down anybody to be in your network because you could pick up a phone and call somebody. I could talk to somebody inTexas, or Arkansas or California, and say "Hey, what's going on there? What are you hearing?" That happens a good bit. Be open to growing your network because I truly do believe, although it doesn't always count toward financial gain, your network is your net worth.
Final Question: If you could see someone interviewed on this podcast, who would it be and why?
Jason: Brandon Lindsey at Hoopaugh grading over in Charlotte, North Carolina. He also has a podcast. I have a lot of respect for Brandon in the aggregate space, but I think how he's been able to pay it forward is impressive. He also has the Dream on 3 Foundation, which I think is wonderful. That foundation gives young people opportunities to meet athletes and do Make-A-Wish type activities.
I think somebody like that, who's not only a steward of their company, and a steward of the industry, but a steward of a bigger picture. I think that's pretty special. And there's a couple other folks, I think I'd like to see where they are now. I'm a huge fan of the former CEO at Martin Marietta, Steve Zelnick. I think he'd get a kick out of this podcasting. Those are just two off the top of my head that I think would prove some value for the end user.
Love it. Any parting words you want to say? We really do appreciate you coming on today.
Jason: I'm honored and humbled. I would say a message to people that don't really know what we do or how to get into it -- just have a desire to learn, and you could go anywhere you want to go, whether it's aggregates asphalt, ready-mix, paving and construction construction in general. Have a willingness to be open, to learn and recognize that whatever you think your timeline is, an opportunity will dictate some of that. That's what I want to leave with all the viewers.