If you're interested in elevating your project productivity, you might evaluate whether a construction productivity software is going to help improve the logistics and operations of your construction company. Before you get started there are a few key questions you should ask yourself:
Will the platform help with real-time project management?
Will the software improve tracking and accountability?
Do you need a web-based or on-site solution?
Real-Time Project Management
Secure Third-Party Trucking Through a Marketplace
Using a marketplace to source third-party trucking can save you valuable time, finding the trucking you need without ever having to pick up the phone. Using a marketplace to source third-party trucking has huge advantages; however, you should ensure that any vendor you consider has reputable & compliant haulers. Want to make the most out of your job posts to secure the best trucks?
Communicate to All Haulers At Once
Is rain headed your way? You want the construction productivity software you utilize to give you the tools to message all trucks and drivers with a click of a button. TRUX offers a bulk communication tool that allows you to instantly alert everyone on the job with changing job site conditions. If there's rain, instantly send a notification to your haulers that the shifts are canceled. The tools you choose should help you remain agile and resolve problems in real-time before they become larger issues.
Keeping Track of Third-Party Haulers
With GPS technology, you can keep track of third-party haulers, material and job progress. Think about what that could do for your preparations.
Plus, with construction workflow management software, you can easily identify pain points in your projects using cycle-time reports. Cycle-time reporting helps track each event of a third-party truck's cycle from when they start to when they complete each load. With the push of a button, dispatchers can instantly:
Identify holdup in order deliveries
Discover trucking inefficiencies (over/under trucking) in real-time before it becomes problematic
Determine if a job is over or under truckage
How It's Done
With construction productivity software, you can identify problems in your projects using cycle time reports.
Cycle time reporting keeps track of each event of a trucker's cycle from when they start to when they complete each load.
The figure below demonstrates the six data points captured for each load, from taking the first load to site departure.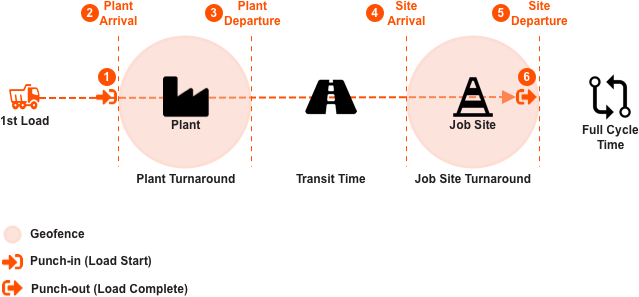 As a result, you can effectively closely track and manage each leg within a trucker's cycle time. Cycle time reporting allows for a more efficient way to keep track of loads, reducing costs and maximizing profit.
Web-Based or On-Site Solution
Construction productivity software allows you to gain insight on your workflow, records, projects and invoicing. This helps operationalize your business, keeping things on track and running smoothly, whether at your home base, job site or quarry. TRUX has the versatility of using a web-based or mobile-based solution. As you evaluate your options, you want to ensure you have access to web-based and mobile functionality.
This table illustrates a few key ways that construction productivity software helps elevate your productivity:

Depending on your role, having software on your person can really impact your ability to perform. Having a mobile solution means you can access tools to improve productivity anytime or anywhere.
Working in the office? A construction productivity software also allows you to keep all your files in one place so you don't need to scramble for files. Plus, it allows you to digitize records and sort by Job ID.
Bring TRUX Along
Now that you have an understanding of the questions you need to ask before evaluating a construction productivity software it is time to decide if bringing on a software partner is right for you. If you are looking for real-time project management, tracking & accountability, along with a platform that offers the flexibility of a web-based and mobile solution then we recommend you connect with our knowledgeable team today. TRUX could be just the tool your team needs to improve productivity.