9 min read
What to Look for in a Digital Dispatch Platform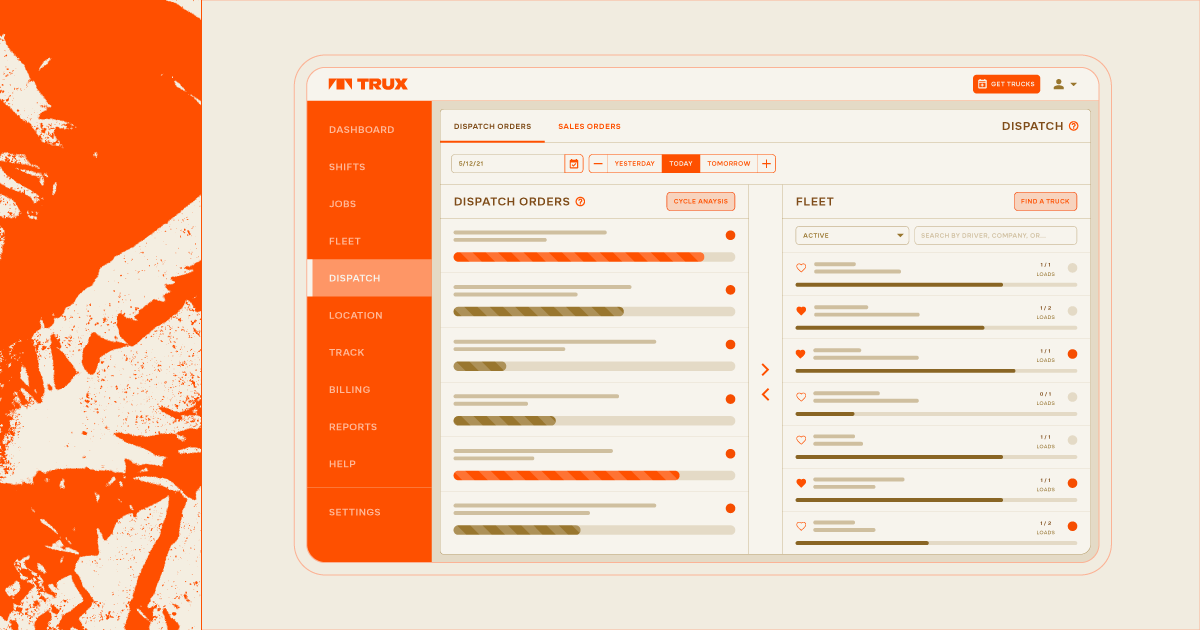 Is your company thinking about leveraging a digital dispatch solution to streamline your trucking and business operations but you're not sure where to start? What are the truly helpful features for your business versus the bells and whistles that make a software solution appear robust, but in reality are not all that useful?
In this article, we'll cover eight questions you should ask while you're comparing different solutions for your business. Armed with the answers, you can weigh your top contenders and be confident in your final decision.
Solutions Built Specifically for Dump Trucks
Before getting to the essential questions, we want to offer one caveat: if your business relies on dump trucks, make sure the digital dispatch solutions you're considering are designed specifically for dump trucks.
That may seem obvious, but the truth is there are platforms on the market that were built for other types of trucking or fleet management and later "retrofitted" for dump trucks.
Sure, a basic digital dispatch solution can help your company schedule and dispatch more efficiently, but there's specific methods of dispatching and organizing a schedule that not all platforms aren't equipped to handle. One size doesn't fit all when it comes to dispatching dump trucks.
So assuming you've confirmed that the digital dispatch platforms on your list are bonafide dump truck platforms, here's what to look for –
1 - Does the platform include a real-time tracking feature to ensure loads are delivered on time?
GPS tracking in real-time helps dispatchers effortlessly keep tabs on all active trucks--without a string of calls to drivers' cell phones or texts to find out where a hauler is.
Dispatchers can see a detailed view on a map of precisely where each truck is in the lifecycle of a job. This means they'll have the information they need to keep customers, job sites and others in the field up to date with accurate ETAs and confirmation of deliveries.
With GPS tracking, you'll be able to see what routes were taken and if any unauthorized breaks or diversions from the route occurred. Each completed job's route is documented, time-stamped and stored in the cloud for easy access. Your business can leverage records to help with your dispatching operations' efficiency.
In addition, users can set up geofences that are specific to their particular needs and situations. It's important that this basic feature is included in the dispatch solution not only for the increased visibility it provides with real time tracking but also for data collection. Data integration makes life a whole lot easier for your back office team. (More on this in question 7...)
Trux takes this tracking feature to the next level with its delivery tracker. It's one thing for the dispatcher to have accurate info at their fingertips, it's a whole new ball game when you eliminate the need for customers and contacts at the jobsite to check in with dispatch about orders.
The delivery tracker automatically tracks all critical points from when the order is placed to delivery: an order confirmation goes out after the order's been placed; when the hauler punches in a link is sent to track the order's progress and at the end of the day a dispatch summary is sent for the day's activities.
2 - Is the scheduling/dispatching tool clear, precise and easy to use?
Let's face it, almost all digital tools for creating a schedule are better than using whiteboards or spreadsheets. And the same goes for dispatching. Anything has to be better than the daily grind of making phone calls or sending texts and waiting for the replies to trickle in.
But not all digital dispatch platforms are built the same. Here's where you'll want to drill down and study the nitty-gritty details. Take a close look at how the scheduling tool functions:
At a glance is it easy to understand?

Are there fields for everything you normally input and maybe additional ones that make the job description more helpful to your drivers?

Is there a place to include special instructions about a delivery like directing the hauler to a specific gate or to check-in with a specific contact at the jobsite?

Does the platform allow load stacking?

What about bulk reordering?

Is it user-friendly and easy to learn?
Additionally, find out if the platform makes these important tasks more efficient for your employees and your business operations. It should only take a few clicks. You want a digital tool that has built in automation, eliminating repetitive, tedious steps.
The Trux all-in-one dispatch management platform uses drag and drop technology which really overhauls the dispatching process. Dispatchers can quickly and easily assign internal and third-party haulers, monitor shift status and instantly communicate any changes in real-time--to an individual or an entire group through the app. And with just one click, they can reorder shifts and reassign haulers.
3 - Does the provider have a detailed method for implementing the new system?
You're right to expect help from your platform provider. But you need to make sure before you sign a contract that the kind of onboarding support included lines up with the expectations of your company.
How hands-on and immediate is the support they offer?

How long will it take to complete the setup?

Is training for your teams and haulers included in the purchase price?

What does continued support look like after the initial onboarding?

Does the company offer live support throughout implementation?
Most providers will fall into one of two levels of support: self-onboarding or white-glove onboarding with live support. If your team is small, already fairly tech-savvy and has been involved in the process of evaluating the digital dispatch platforms, you may be fine with a more hands-off approach. That way you can take things at your own speed, and also save time.
Just be aware of some potential challenges like longer wait times when you do have questions, less buy-in from your own team--including your haulers--and a longer process of discovering all your new software's features. The slower pace means you probably won't be able to leverage all the features early on.
You'll pay a little more for white-glove onboarding, but many businesses find it's worth the extra expense.
Instead of fending for yourself, you'll have a dedicated account manager, SWAT team support during the critical first few weeks, help from someone with an in-depth understanding of the heavy construction industry, a dedicated effort to get all your haulers onboard and scheduled reviews with your account manager.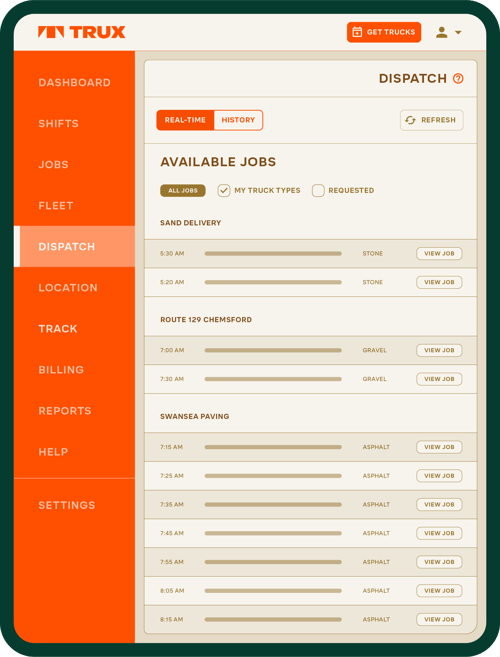 4 - Does the platform provider also have an established truck database and network of haulers?
These days, especially with the current labor shortage, it's important to make sure the platform can connect you with a pool of insured, reliable, qualified and available drivers. As the nation's largest technology-enabled dump truck marketplace, Trux ticks the box here.
With Trux, not only will you have access to over 36,000+ haulers who've been vetted, but you're also able to manage these hired haulers the same way you manage your own. Mobile apps like Trux make it easy for haulers to accept work and find more jobs.
You'll have the same visibility into their location in real-time and historically. You'll be able to communicate through the platform's built-in messaging system. They'll even receive their payments through Trux.
5 - Will the solution provide readily available data for decision-making?
Up until recently, many heavy construction companies had to rely on gut feelings or broad guesstimates to make important decisions. Thankfully, more and more companies are recognizing the need for accurate and detailed data in decision-making.
As long as you're making the jump to digital technology, you should make sure the platform you select will provide your company with consistent and reliable data. Even the smallest adjustments can make significant differences in efficiency and productivity when they're based on your own accurate data.
Trux's dispatch platform captures six data points for each load. This dump truck cycle time analysis pinpoints exactly where delays are occurring so you can make the correct adjustment. Without cycle time analysis you can't know whether a slow down happened during the route, at pickup or somewhere else.
Cycle time analytics can help you identify your best performers and uncover what's happening with your worst. For more on cycle time reporting, this article is a quick read. Curious about more customized reporting? Talk to a team member.
6 - How good is the tech support?
After onboarding, questions will still arise. It happens. Make sure the digital dispatch solution you choose offers tech support. This could come in the form of a chatbot, it could be that someone will return your phone call in a few hours, or it could be live assistance during business hours.
You'll have to decide how important immediate personal support is. (Here at Trux, we have live tech support during most working hours from a real nice human being who knows the heavy construction industry and the Trux solution.)
The questions you've asked so far in your evaluation process are essential ones. You can think of the final two questions as nice-to-haves. They deal with features that will certainly simplify things for your back office but aren't critical for the dispatching function.
7 - Will the dispatch platform help with billing & INvoicing?
A dispatch platform that is able to take the data from digital load slips along with digital punch-in and out data from each hauler, whether that is through an integration with the ERP systems you have in place, or through file, saves your back-office time and hassle. It also helps cut costs.
There's no more sorting and batching tickets at the end of the day. No more tracking down a missing ticket or missing information. And no more manual entry--which means far fewer errors.
Invoices are automatically generated (a great way to save time!) and consolidated using an accurate, efficient and paperless process. Jobs can be closed out earlier and haulers can be paid sooner. Customer satisfaction also increases when you can promptly provide an invoice – it can save time and cut down on confusion.
8 - Does the platform have an insurance compliance interface?
Insurance is a complicated, costly and confusing necessity. If you can find a digital dispatch solution that makes the initial account setup and renewal processes seamless while still providing top-tier insurance, you better give it a second look.
This is a feature that will save you time, trouble and money from this point forward. Collecting driver information and insurance information doesn't have to be a hassle.
Trux is pleased to have collaborated with REIN to offer easier, faster access to the world's best insurer's services, reducing project delays, interruptions and risk.
Trux: The Answer to Your Quest for a digital dispatching solution
We encourage you to explore possible digital dispatch solutions and service dispatch software with these eight questions in hand. They'll provide a starting place and an even playing ground for comparison.
But at the end of the day, it's important that you feel comfortable with the people and companies you're talking to. Take the time to speak with a few people connected with each solution. Get a real feel for the integrity and personality of the team.
We realize that this article pretty much puts Trux in top place within the dump truck logistics industry. That position is a result of age and agility.
We've been at it longer than the other guys. And we take what our customers say to heart, making changes to meet their needs when we can. Customer satisfaction is at the center of what we do. Let us know how we can help lighten your load today, giving you more control over your business.
Still unsure if a logistics and dispatching solution is right for you? Take our quiz to find out today.