7 min read
Dispatch Trucking Software Elevates The Role of Dump Truck Dispatcher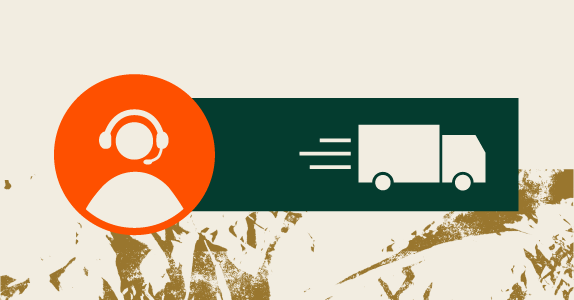 With dispatch trucking software at their disposal, dispatchers at materials companies and large construction firms can easily and efficiently multitask, problem solve, and dispatch trucks quickly.
In this article, we'll take a look at the very real demands of the dispatcher job and how truck scheduling software can help dispatchers perform in their roles with consistency and excellence. We'll also see how trucking dispatch software can provide opportunities for dispatchers to take on more responsibility and add value to their organizations.
The Demands of the Job Before Dispatch Software
Anyone who's ever had to do the work of a dump truck dispatcher, knows it's not child's play. Whether the job is done from an office, job site or the inside of a pickup truck, it can be chaotic and hectic. It requires mental agility, resilience, decisiveness and tact.
More than ever before, today's dispatchers work under stressful conditions and juggle a variety of ever changing conditions. A dynamic dispatcher needs to display mastery of the following skill set:
Interpersonal Skills: Dispatchers are responsible for relaying critical information between customers and truckers. They have to work independently and make decisions on the spot while providing excellent customer service and maintaining good working relationships with truckers and other key personnel.
Time Management Skills: A successful dispatcher needs to be able to plan ahead to make sure materials are delivered according to schedule. They must be able to multitask and prioritize at a fast pace and work well under pressure.
Scheduling Skills: The job of a dispatcher requires both big picture thinking and attention to detail to schedule large numbers of people and trucks and organize all the moving pieces quickly and efficiently.
Technology Skills: It's becoming increasingly important that dispatchers are equipped with computer skills for recording information and creating reports.
Product Knowledge: Material producers and construction companies prefer dispatchers who have knowledge of paving, concrete, aggregates, construction materials and trucks. It's also beneficial to be up to date on transportation requirements and regulations.
Many of these skills come more naturally to some people. A few can easily be learned and the rest are usually honed through experience. But all of these necessary skills can be enhanced and supported through the use of dispatch software.
What is Dispatch Trucking Software?
Dispatch trucking software is a type of digital technology that simplifies the tasks involved in the management of hauling jobs. From creating a schedule, to processing invoices, it is a tool that gives you smoother workflows, increasing your efficiency and productivity.
Although there are numerous software solutions built especially for material producers and other players in the construction field, most of them include these basic features:
GPS tracking in real-time
Coordinated messaging between all relevant parties
Digital ticketing
Order delivery tracking
Cycle time analysis
Mobile application for working remotely


Trucking Dispatch Software Lightens the Load
By integrating a digital solution into your plant operations, you'll see your good dispatchers become super dispatchers in just a few short months--it could take even less time. Imagine you have the best hole-digger in the world. They work like a machine with a shovel. But what happens when you equip them with a real machine? No person digging with a shovel can come close to the power of an excavator. That's what dispatch software does for you--gives you power and efficiency.
Communicate with Confidence and Immediacy
At the heart of the dispatcher's job is the ability to make sure that everyone has the information they need--when they need it. Dump truck drivers and customers alike. With dispatch trucking software in place, dispatchers can quickly provide job details to all the parties concerned simultaneously. Instead of a string of text messages or phone calls, dispatchers input all the necessary information and send it out. It's easy for drivers and job site supervisors to access the well-organized info through their smartphones.
When the inevitable changes pop up--whether they're due to severe weather, traffic or road conditions or something truly unexpected--dispatchers are able to reroute or adjust schedules knowing everyone has been alerted and has received the same information. This bulk communication feature reduces confusion and the need to message individuals separately with the same information.
In addition, your customers will appreciate how the dispatch software makes it possible for you to give them the most up to date info. There are a number of solutions on the market which make material delivery transparent. This feature provides value in two significant ways. One, the customer has the data they need to run their jobsite more efficiently. The second benefit is that dispatchers are relieved from having to constantly answer the phone, freeing them to focus on keeping that material moving.
This kind of elevated customer service can serve to differentiate you from your competitors. You become a preferred supplier to work with largely because your dispatcher is efficient, accurate and professional.
Make the Most of Every Minute
Truck scheduling software allows dispatchers to plan ahead with ease--and not just by a day or two. Some dispatchers are able to plan weeks out. Because software replaces white boards and other manual tools with a comprehensive view of current and upcoming jobs, dispatchers have more control and insight when it comes to planning. The software helps them to prioritize and handle multiple tasks with much less effort and stress than managing all the demands using only time-consuming, inefficient manual methods.
Even with plans in place, things are bound to veer off schedule. That's when dispatchers who use trucking dispatch software are best prepared to respond. Because of GPS tracking in real-time, dispatchers will know precisely where trucks are and their ETAs. Unforeseen circumstances don't have to result in late deliveries. Dispatchers can reroute, reassign, and reorder with just a few clicks, keeping everyone in the loop at the same time.
Create Schedules that Work
Centralized scheduling is a simple process with dispatch software. You'll be able to meet all the demands for your products, days and weeks in advance. Within a single portal, you can create shifts, select the number of trucks needed, provide any special instructions to the driver and assign drivers.
The best part of scheduling with dispatch trucking software? All the above can be accomplished in a matter of minutes, instead of the frustrating juggling act that could take hours of your valuable time.
Would you like to add more efficiency in your scheduling and dispatching by using load stacking more often? This task is much simpler when you're using software. You can schedule the order of the loads and leave clear instructions for your driver regarding the expected duration of each job. You'll have more control to make sure your driver transitions seamlessly from one job to the next.
Another way to leverage the power of having real-time insights into your schedule is to stagger your dump trucks' arrival times. With the insight real-time GPS tracking provides, you can make this a "standard operating procedure."
These days dispatch solutions are not as clunky and confusing as they were in the past. In recent years developers have focused on building platforms that are extremely user-friendly with the specific needs of dump truck hauling jobs in mind. For example, the Trux Deliver features drag and drop technology in a single view to make dispatching a simple, straightforward task.
Dispatchers can work just as easily from a desktop or a mobile device which allows them to stay connected wherever they are. For most dispatchers, this added flexibility is worth the short amount of time it takes to learn the new system.
You may be thinking: " But what about my drivers? They're not always up for change..." Put those worries to rest. A whopping majority of drivers welcome the addition of trucking dispatch software, especially the solutions that allow them to use their smartphones or tablets.
Maximize Your Value with Dispatch Software
After you start using your new solution, it won't be long before you'll find you have more time on your hands. You'll also have loads of reliable data. More and more contractors and material producers are leveraging data to solve their most pressing business problems.
You can add value to your organization by using this newfound time and data to identify trends that will lead to increased efficiency, higher rates of productivity and improved safety.
Partner with a Pro
A skilled dispatcher plays a pivotal role in plant operations. The job can take on even more importance when the role is supported through technology built by an industry insider--like the Trux solution. We provide material producers and construction pros with one of the industry's most powerful and reliable platforms for managing every aspect of dump trucks and hauling jobs.
Trux features:
GPS tracking in real-time
Material order delivery tracking
Drag and drop dispatching
Job detail fields
Easy bulk reordering
Schedule planning
Instant communication between all parties
Digital ticketing
Automatic load slip and invoicing
Automatic compliance management
Cycle time analysis
If you'd like to know more about how Trux's dispatch trucking software can elevate your role as a dispatcher, the best way is to connect with one of our logistics experts here at Trux. You can schedule a demo to see for yourself how the platform can take you from where you are to where you'd like to be.