Lighten Your Load With Our All-In-One Trucking Dispatch Software

Trucking logistics software to dispatch vehicles remotely, send drivers updates, and track materials in real-time.
TRUX TRANSPORTATION DISPATCH SOFTWARE FOR TRUCKING COMPANIES ENABLES MATERIAL PRODUCERS AND CONTRACTORS TO HAUL MATERIAL MORE EFFICIENTLY, WHILE DELIVERING A DIFFERENTIATED CUSTOMER EXPERIENCE.
Drag
& Drop Transportation Dispatching Software
Monitor and manage dispatch order progress to ensure all haulers are fully utilized

See which loads are in progress and which haven't started

View which orders are on-schedule or at risk of falling behind, and give your team the tools to take action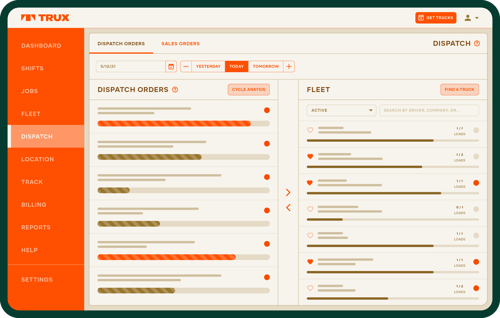 Active Order Management
Assign orders based on haulers' actual utilization and capacity

Monitor order progress in real-time and adjust as needed, when needed

View trucker cycle times for all loads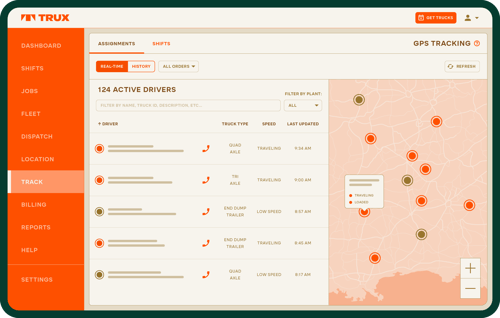 Cycle Time Analytics
Track company-owned and third-party truckers on the clock

View truck location and relative speed, time-stamped route, current traffic conditions, load status and more

Monitor cycle time at the plant, in transit, at the jobsite, and round trip
GREAT TEAMS DEPEND ON TRUX
"Because we use TRUX, I know that I'll be able to meet our customers' demands and I don't necessarily need to know how many trucks are available to me at that moment."
Mike Gagne
Dispatcher
"With a quick phone call and a two second process with TRUX, we added an additional $4,000 to our bottomline in a single day on a job we wouldn't have done before."
Mark Peach
Vice President
"TRUX has been most helpful to us in the dispatching fleets of trucks. With one single stroke of the keyboard, we can request and receive a sufficient number of trucking for our projects."
Chris Lynch
President
Looking for help with your dump truck logistics?
Improve scheduling, hauler tracking, and gain confidence in hauler earnings with Trux.