Unparalleled delivery transparency and job site productivity tools for your customers means shorter cycle times for your haulers and greater efficiency for dispatch.
TRACK ORDER PROGRESS
Track delivery from the moment the first truck punches in until the order is complete

Monitor the number of scheduled, in progress, and delivered loads/tons

View real-time delivery and job site key performance indicators

1-tap access to call Dispatch

Reorder additional materials in just a few taps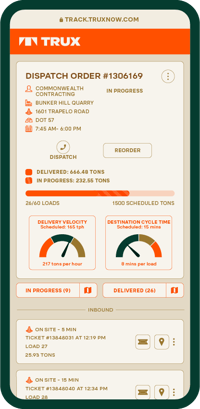 VIEW ALL DELIVERIES
View the real-time location and direction of travel for all In Progress trucks

View the driver, truck ID, truck type, license plate, and even color of every truck carrying loads to and from the job site

View ETA with our delivery truck tracker, running time on site, and full cycle time for each truck

View the delivery location of each load relative to the geofence/drop zone
ACCESS SCALE TICKET DATA
View and download E-Tickets and scale ticket data for digital proof of delivery

Add inspection notes, comments, and reject individual loads from the job site

View destination cycle time, arrival time, delivery time, and delivery confirmation from each load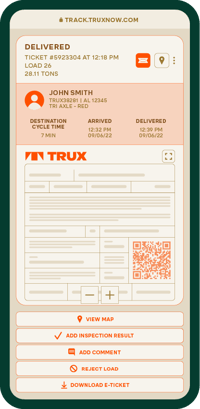 JOB SITE PRODUCTIVITY TOOLS
Monitor hourly delivery velocity throughout the day to ensure job site readiness and reduce congestion and hauler wait times

View hourly destination/job site cycle time to improve efficiency and throughput

Make decisions in real-time with access to project data at your fingertips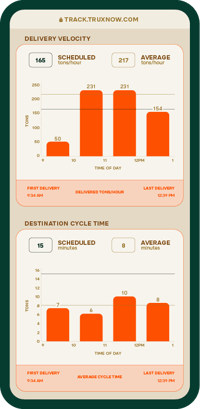 GREAT TEAMS DEPEND ON TRUX
"Having an idea of when the trucks are loaded and how long it's taking them to get here is helpful."
Foreman
"I can see where the inbound loads are, how many have been delivered, and where we should finish the day. That's really important information"
FOREMAN
"We can speak to the customer knowing they see what we see, and we see what they see, so both sides can stay in sync."
Dispatcher
Looking to deliver a differentiated customer experience?
Give your customers the ability to track their deliveries and improve project productivity with Trux.