8 min read
Top 8 Reasons Dump Truck Dispatchers are Burning Out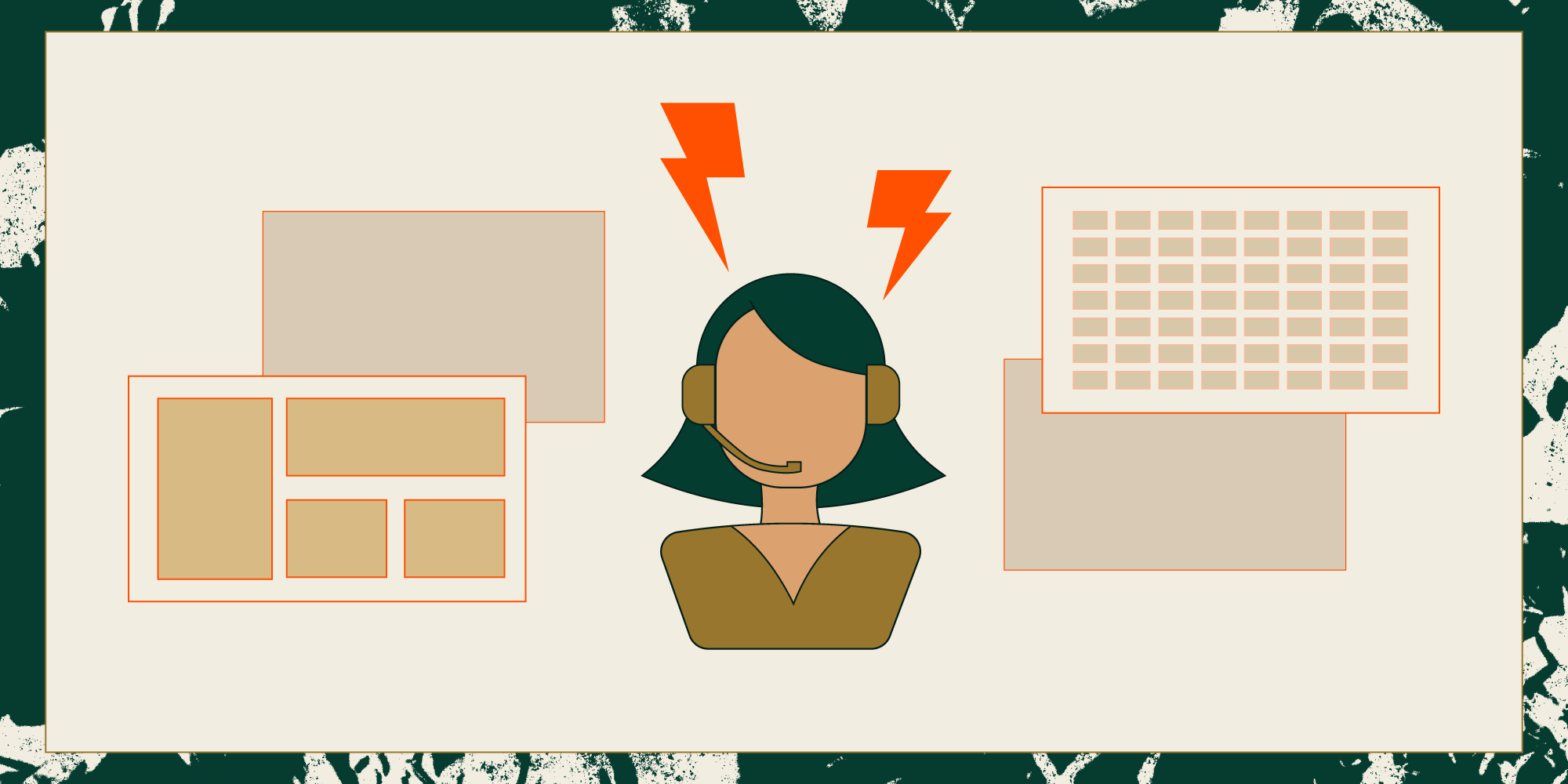 You've no doubt already felt the impact of the skilled labor shortage this season. All across the country, fleet owners and material producers--any business with a truck dispatcher at its center of operations--are holding their collective breath hoping their truck dispatcher simply holds on. Truck dispatchers are possibly the employees who have felt the most day-to-day stress from the lack of labor in the construction, trucking, and freight industry. During the few months construction shut down before it was deemed essential, the construction sector lost more than one million workers. Although almost 80% of those have either now returned or been replaced, the industry is still struggling to fill the gap and truck dispatchers are understandably burning out.
The job of a truck dispatcher is challenging (that's just a nice way of saying difficult!). It's also an indispensable role in your trucking company operations. Truck dispatchers are the glue holding everything together and keeping operations running smoothly.
Truck dispatchers need to coordinate with drivers, field crews and sales teams. A truck dispatcher also plays an important part of customer service.
As the commander of the communication hub, and as a key player in the logistics industry, a truck dispatcher typically works between multiple monitors or computers, with a phone in hand -- usually a radio in the other. There might even be a couple of people in the dispatch office chomping at the bit to talk to them.
The world of truck dispatching is a chaotic environment and often, when something goes wrong, all eyes look to the dispatcher first.
Is it any wonder your truck dispatcher is overwhelmed? In this article, we'll examine the top 8 reasons dispatchers tend to burn out. More importantly, we'll offer some suggestions on how to support your truck dispatching team to make their work easier and more efficient--and to keep them excited about their job.
Top 8 Reasons Truck Dispatchers Are Feeling Burnt Out
1- The pace of the job is frenetic
The dispatch office moves fast in the trucking industry. It has to keep up with orders, changes to those orders, trucks on the road, managing efficient routes, and weather and route disruptions. Effectively monitoring all those moving pieces so haulers can deliver loads creates a high-stress environment for a truck dispatcher.
Most dispatchers thrive on this level of activity because it's part of what attracted them to the job in the trucking industry in the first place. However, it can be something that contributes to burnout if they aren't able to take time off.
2- Time off is difficult to schedule
Many dispatchers struggle with taking an extended break, whether it's a bonafide vacation or simply a long weekend, because their role is crucial. Rarely does a company have someone who can fill in for them for more than a short time, especially during peak season.
When the trucking season is in full swing, a truck dispatcher often feels pressured to make sure everything runs like clockwork so everyone else in the organization can perform their jobs without added stress.
3- Working remotely is not practical
Dispatchers have to have eyes on information that's typically located in the dispatch office on a whiteboard, load board, or on various spreadsheets. They also need to be able to quickly answer questions from customers, drivers and jobsites, handle change orders and deal with issues and other tasks that come up.
For most dispatchers, that means they are tied to the copay office. Unless they enjoy carrying around a file cabinet's worth of information. And when something needs to be handled after hours, it means the dispatcher has to leave whatever they're doing and go to the company office.
4- Providing accurate answers is next to impossible
A truck dispatcher gets hit with a barrage of questions all day long from customers, foremen, drivers and others in the trucking and transportation industry. When is that load getting picked up? How long till your guy shows up with that delivery? Hey, the gate is closed, is there another way to drop off the loads?
Most of the time, the truck dispatcher has to guess or make some calls to get accurate estimates and for keeping records accurate. Even though the truck dispatcher isn't to blame, this inability to provide answers about deliveries can lead to feelings of inadequacy and job dissatisfaction.
5- Communication breakdowns happen frequently
All those questions we just talked about? Part of the problem is that they come at the truck dispatcher from different sources. It's a job in itself to keep up with text messages, answer voicemails, and participate in in-person conversations all at once.
Then factor in the need for a truck dispatcher to send information about change orders, additional loads, missing truck drivers, alternate routes, weather and other updates. Juggling all these communications can leave dispatchers frazzled by the end of their shift.
6- Manual processes are inefficient
Unless a company has added some kind of software or digital technology, dispatchers spend quite a bit of their time creating schedules with whiteboards or spreadsheets. They then have to call drivers, leave voicemails or send texts to fill the schedule.
When changes enter the picture, many truck dispatchers face the task of contacting everyone who needs to know. All these manual and paper-based processes can be time-consuming and frustrating.
7- Complaints come from every direction
Truck dispatchers often find themselves taking the heat for plenty that really isn't their fault. They're the ones who hear from disgruntled customers when a truck arrives later than expected, potentially interrupting a supply chain. Drivers may vent at the dispatcher because of long wait times.
But when dispatchers are working without visibility into their trucks' whereabouts, there's just not much they can do about it. Being the fall guy can wear even the toughest down eventually.
8- It is difficult to take the time needed to celebrate the wins
This last reason truck dispatchers are burning out is related to the one above but slightly different. While it's true that in many organizations the dispatcher gets an earful, it's a double whammy because many organizations don't have time to celebrate when things go well.
A lack of recognition from a company supervisor or business head is partly because at the end of the day the job of the truck dispatcher is to make sure that loads are picked up and delivered on schedule.
It's easy to forget how many obstacles a dispatcher has to overcome to make that happen consistently. A career in truck dispatching is often thankless, and many companies don't recognize how hard it is to have consistent success in a dispatching role.
How to Lighten the Load For Your Truck Dispatcher
You really can't afford to lose a good dispatcher, especially when it could be a lengthy and costly process to find a replacement considering the job search, training and the inevitable mistakes a beginner's bound to make at the beginning of their dispatching career.
The search for a truck dispatcher alone could take months due to the labor shortage -- especially if you're looking for a truck or freight dispatcher with industry experience. It makes sense to take some time now to find out how these 8 burnout factors are actually affecting your current truck dispatcher.
Most likely they won't be experiencing all of them. Number 8 you can take care of right away by expressing your appreciation and taking some steps to build a culture of appreciation. And thankfully, there is one solution that can address the rest--trucking dispatch software with real-time GPS tracking.
Here's how this powerful and versatile digital tool can help lower the burnout threshold for your truck dispatcher.
Slow the pace
It's inevitable that the pace of work for a dispatcher is going to be faster than many other jobs--in construction or otherwise. But having dispatch software in place will give your dispatcher the tools to work and communicate more efficiently.
For example, drag and drop dispatching significantly reduces the time it takes to get all your trucks lined up for the day.
Take time off
A digital trucking logistics platform helps in two ways. First, because the software makes the job easier, the need for a break can usually be delayed until peak season is over.
Secondly, the dispatcher's schedule will allow time to train a backup person who can fill in while your dispatcher takes some much needed R & R.
Work from anywhere
Most platforms will offer a mobile app which makes it possible for dispatchers to finally perform their jobs on the go--from the office, home or their kid's soccer game.
They'll be able to easily create a schedule, dispatch trucks and handle change orders from their phone or tablet, regardless of where they are. This one feature makes a huge difference in a truck dispatcher's work-life balance and work environment.
Answers at your fingertips
Because of real-time GPS tracking, dispatchers will know precisely where your trucks are. They'll be able to alert job sites or the plant that a truck is about to arrive. Plus, many solutions allow your customers to log in and find out ETA's for themselves, eliminating the need to even call the dispatcher.
Bridge communication gaps
A logistics platform like Trux includes centralized communication. A truck dispatcher can easily communicate to an individual or in bulk so that everyone who needs to know, knows.
The messages are stored and organized in such a way that finding a message sent hours ago is simple. Archiving messages like this also is useful if you ever have a dispute to resolve.
Goodbye to manual processes
Those whiteboards, pens, paper and spreadsheets used to create your load boards and schedule? Things of the past. Phone calls to drivers and then waiting for responses to fill the schedule? Also gone. The tasks that used to take hours can be checked off in a matter of minutes when your truck dispatcher uses digital technology.
What's to complain about?
Because the dispatch software provides real-time visibility, most of the things people complained about will fall by the wayside. Dispatchers can stagger arrivals to reduce wait times for drivers.
Crews at the job site will know when to expect a truck and can be ready for it. And customers will appreciate having access to updates about their deliveries.
Fire Up Your Truck Dispatcher with Trux
Most freight dispatchers, truck dispatchers, and independent freight dispatchers are aware of the benefits of trucking dispatch software and they're just hanging in there until they get to use it themselves at their current trucking company. An already successful truck dispatcher will find trucking dispatch software a breeze to learn.
Want to know more about how you can turn your dispatcher's potential burnout into enthusiasm and a renewed excitement about their job? (Other employees and your bottom line can benefit as well.) Give us a call to learn how Trux all-in-one fleet dispatch management can transform your operations.