7 min read
Is eTicketing in the Trucking Industry Here to Stay?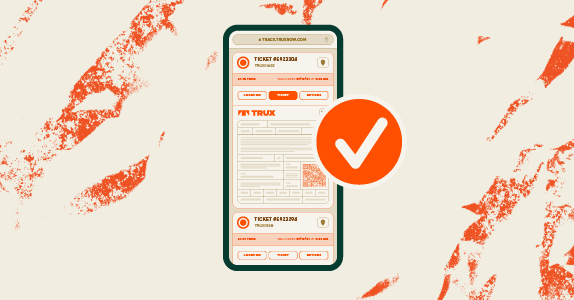 The after effects of COVID-19 aren't over. Businesses across all industries are still adapting to evolving mandates and state regulations originally set forth to prevent the spread of coronavirus.
eTicketing is one of the adaptations that construction companies in more than a dozen states were forced to adopt in order to load and receive materials. Read on to understand why eTicketing is almost certainly here to stay.
Starting in the middle of 2020, material producers, truckers, and contractors had to scramble to meet new requirements for contactless ticketing and eTicketing, set forth by the DOTs in Alabama, Florida, Iowa, Kentucky, Minnesota, Missouri, North Dakota, Pennsylvania, Utah, and Virginia. The states of Georgia, North Carolina, South Carolina, Tennessee, Indiana and Washington followed soon after, making eTicketing (as defined by each state) a standard requirement for DOT compliance.
As much as everyone wishes that the pandemic would just go away, the truth is that even if it magically disappeared tomorrow, the demand for eTicketing would remain. For starters, as early as 2016, one of the states listed above issued specifications about their plans for eTicketing. One by one, other states began to explore alternatives to paper tickets and developed pilot programs. Then COVID hit and fast-tracked the need to find safer ways of exchanging load tickets.
Now that a little over 30% of states in the country have invested time and money into policy-making and the technology to accept digital tickets, it's not likely they will ever go back to paper - at least in certain applications. Not only because eTickets make social distancing possible, but in the last year or so, the DOTs have experienced first-hand the benefits of eTicketing.
Businesses involved in construction materials transport are joining the states in saying farewell to paper tickets, and hello to eTicketing, for many of the same reasons. Even though it was out of necessity that construction businesses and material producers became early adopters, these businesses quickly learned that eTicketing is good for business in a number of ways:
eTicketing increases efficiency
Digital ticketing reduces errors and fraud
Replacing paper tickets with eTickets is cost-effective
Going digital with eTicketing improves the customer experience
Material producers, haulers and others in the heavy construction industry operating in states that have not yet revised their DOT regulations regarding paper tickets may wonder if it's worth the effort to make the switch. The answer is yes. Right now, most regulations only apply to HMA; however, discussions are already taking place for aggregates and concrete. Trends indicate that more states will require eTicketing, or some type of digital load slips. So it's a smart move to be ready when the time comes.
We have a webinar for that! Watch it today.
---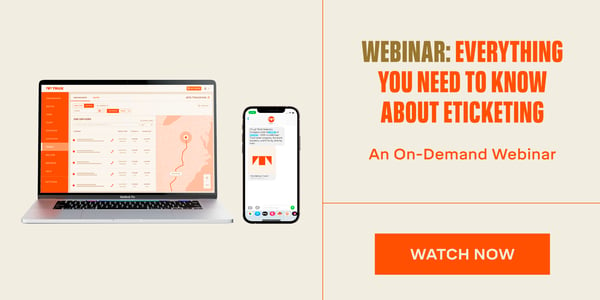 ---
Beyond the need to meet state requirements for eTicketing is the need to stay competitive. Even if your state will allow a picture of a paper ticket to be emailed as a substitute for an actual eTicket, you'll find it difficult to stay ahead of your competitors who have made the leap to digital solutions. They're streamlining their operations, taking on additional projects and providing customers with better service.
eTicketing is the Ticket to...
Replacing paper-based tickets with digital versions transforms the way you do business--in the plant or quarry, out on the road, at the construction site, and in the back office. Quite a few trucking logistics platforms offered their eTicketing feature for free or at a greatly reduced price during the height of the COVID-19 pandemic. That certainly helped some construction companies in the interim to meet compliance. But it's in the implementation of a comprehensive logistics solution that you'll see the full value of eTicketing and digital ticketing.
Digital Ticketing and eTicketing Leads to More Efficient Operations
Speeding up workflows enhances your efficiency. Think about a paper ticket's journey beginning at a plant. A driver pulls onto the scale. They get out of their truck and go into the scalehouse. They are handed a paper ticket with handwritten information scrawled on it. They get back into their truck and drive off to the jobsite. They get out again, write down the load information, and hand it off to someone for a signature.
At the end of the day, the driver tosses their collection of tickets into a bin in the back office. Someone else sorts through the tickets and batches them. And it's likely that a couple of tickets may have been lost somewhere along the way… It's exhausting to recount all of the steps (let alone take them), and it's highly unlikely every step goes off without a hitch.
With eTicketing, much of the information is captured through software and GPS tracking. To complete the ticket, when a driver arrives at the jobsite, they simply take a picture of the load. The approved person at the site uses their phone to electronically accept the load. All the necessary data is uploaded to the cloud where it can be easily accessed throughout the day. eTicketing allows drivers to simplify many steps.
It may not seem like a lot of time, but those few minutes saved by not having to exchange paper tickets quickly adds up. And that doesn't include the time saved by eliminating the need for the back office to sort and batch. eTicketing saves time for haulers and back-office employees.
Cutting Out Paper Means Fewer Errors
Even though your team is made up of dedicated professionals, it's a fact that no human is perfect. Manual paper-based processes--whether it's simply handing in a ticket, filling out a timesheet or entering information into your accounting system--provide plenty of opportunities for costly errors.
It can take hours to find a missing paper ticket. If it's not found, that presents a costly error. You won't have the information you need to create an invoice. It can take weeks to resolve the conflict, holding up payment. Or, worst-case scenario, you might have to absorb the cost yourself. These situations just don't occur with eTicketing. The invoicing data is easily retrievable because it's already been uploaded into the system. Better yet, with a full logistics platform in place, the software will extract the data it needs to automatically generate invoices and even consolidate them.
The common practice of drivers rounding up their time to the next quarter-hour is not exactly an error, but it is an inexact calculation that makes your hauling costs more than they need to be. Most eTicketing solutions include a digital punch in/out feature for your drivers. Not only does this accurate documentation mean you pay for actual time worked, but it also means you'll have easily accessible records from your eTicketing solution if there's ever any dispute regarding a particular job.
Even with every ticket turned in on time there will still be times that mistakes happen while manually entering information into the accounting or ERP system. The way to avoid these errors is to let software, especially an eTicketing solution, take care of the task.
eTicketing Helps Preserve Profit Margins
You might not realize how much manually processing hauler invoices, instead of being able to rely on eTicketing, is actually costing you. There are direct costs like printers, paper, ink/toner and the cost of storage to factor in as well as the human hours needed to sort and batch, perform data entry and then create and send out invoices. Many of these costs disappear with eTicketing. Recent research indicates that the cost of manually processing a single invoice can be anywhere from $12 to $40. Depending on the number of haulers you use and the number of days your business is active, you could be spending $40,000 per year on labor costs just for processing invoices.
Another area in which you'll save is fuel costs. Because of the GPS tracking feature of digital solutions, your dispatcher will be able to optimize routes and schedule their arrival times to eliminate unnecessary idling. Again, at first glance, the time saved might seem insignificant, but read this article to learn how idling and other factors impact dump truck fuel consumption.
Digital Solutions Improve Customer Service
Like the majority of Americans, your customers have gotten used to placing an order and knowing when it's scheduled to land on their doorstep -- looking at you Amazon and Domino's. That same expectation for transparency has trickled into their work life. They place an order for bulk material and want to know when it will arrive at the jobsite. Without a logistics platform in place, the customer has to call to get an ETA on the load. Many times the best the dispatcher can do is give a guesstimate.
In today's market, being able to pinpoint ETAs will differentiate you from your competitors. You'll be able to give your customers precise times and updates regarding their orders, often by giving them direct access to the information they need to have everything ready at the jobsite. eTicketing helps make this possible.
Trux Delivers eTicketing and More
It's important to keep in mind that all eTicketing is not the same. If you use dump trucks in your business, then make sure you take that into consideration when you start looking for an eTicketing solution. Many solutions were originally developed for other types of trucking and then retrofitted for dump truck users.
That's not the case with Trux. As the leading dump truck logistics platform for material producers, contractors and haulers, our digital load slips not only meet DOT compliance but they were designed with a solid understanding of the needs of the heavy construction industry.
If you'd like to know more about eTicketing In general or how to improve your efficiency, cost-effectiveness and customer service, give us a call. Or schedule a no-pressure demo.