8 min read
Can eTicketing Create ROI for Construction Companies?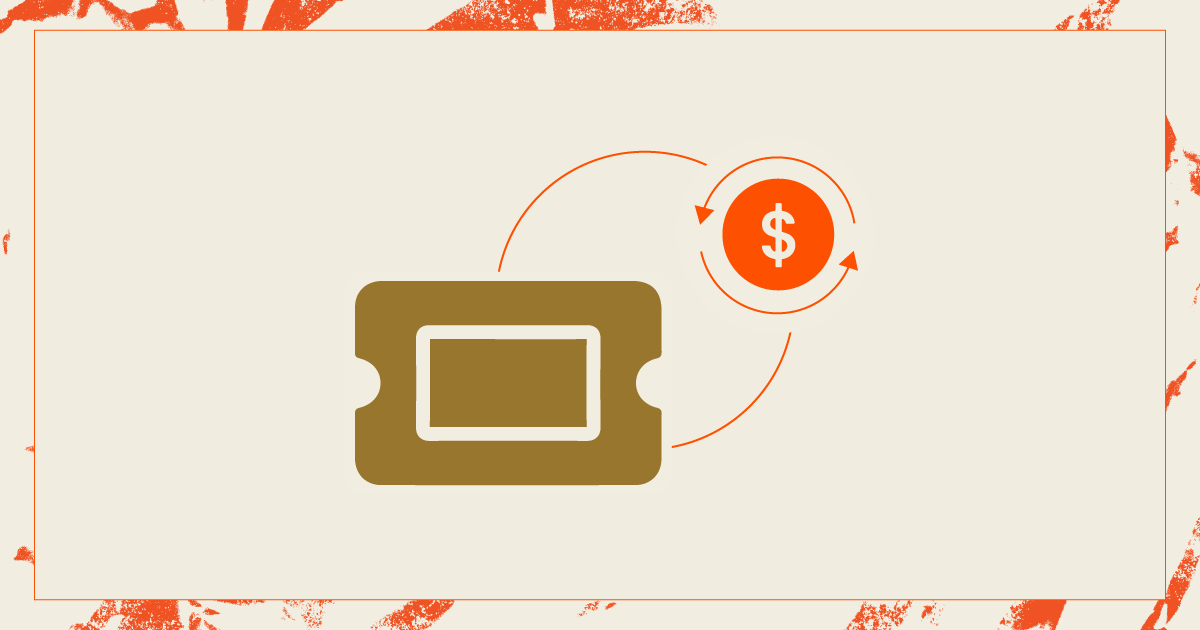 There's a load of benefits to eTicketing. Many of the advantages for the construction industry are obvious. Streamlined compliance with state DOT guidelines is effortless. Errors and fraud are greatly reduced. Double entries are a thing of the past. Accurate data for analysis is right at your fingertips. Project management is streamlined.
And of course, in a world that's still dealing with COVID-19 and all its variants, eliminating the need to exchange paper tickets increases safety. (eTickets also provide a layer of protection by keeping drivers in their trucks out of harm's way.)
But one of the results of using eTicketing in the construction industry that should get the attention of contractors, material producers and fleet managers right now is this: proven ROI for construction companies.
To realize any of the benefits of eTicketing means companies in the construction business have to make the move from using traditional methods of creating and managing load slips to leveraging eTicketing technology--which costs money. However, the investment can actually pay for itself as well as help your business in other measurable ways. (If you're ready to get right into the ROI, you can skip to here.)
Before we get into how the use of eTickets can provide quantifiable ROI value to your organization, it's helpful to understand the current state of eTicketing in the construction industry, how your team might use them, what eTickets are and how they differ from digitized load slips.
State DOTs Pave the Way for eTicketing
Right now at the end of 2021, about 30% of states in the US require eTickets and many more are in the process of creating their own state guidelines. Because there is no standard in the regulations surrounding eTickets, it's no wonder that construction business owners, contractors, and haulers are confused.
The chaos is helped a bit by the fact that local associations, construction technology companies and even some construction companies are actively working with DOTs to create their rules/regulations. And although there is a lack of clarity for eTicketing's use beyond DOT projects, there is increased pressure at both the local and national levels to adopt eTicketing in 2022.
With that timeline in mind, now is an ideal window of opportunity to learn all you can about this new technology. So, what is an eTicket exactly?
eTicketing is simply an electronic document showing data about a load, such as order information, the driver and real-time status. It's important to understand the difference between an eTicket, which is actually created through a system that's integrated with your internal systems, and a digital load slip which is basically a photo of a load slip that's then uploaded.
There are other key differences between eTickets and digital load slips:
eTickets
State DOTs set the rules regarding what's required
Applies to Hot Mix Asphalt (HMA) currently; aggregates and concrete in the future
Summarizes details of a load
Provides location and verification of completed load
Allows integrated and non-integrated options to in-house ticketing systems
Provides the ability to accept or reject material
Digital Load Slips
No governing body to set rules
Applies to any contractor or producer that uses load slips
Provides a digital transcription or image of the ticket
No need for integrating with in-house ticketing system


How eTicketing Helps Heavy Civil Construction Companies
These days any eTicketing software you consider should save you time and effort operationally by allowing seamless collaboration between dispatch, haulers, job sites and others in the supply chain.
As a business owner, you also want a technology solution that enables you to better serve your customers, who are growing accustomed to the kind of last mile logistics that make it easier for them to operate without hitches. And ultimately, you want a technology that will create a return on investment and cut costs for your construction company.
The benefits of eTicketing are both direct and indirect, and they have different impacts on owners, construction workers, field workers, haulers, contractors, and clients. The direct benefits include compliance that you don't have to think about--the solution automatically aligns with state DOT guidelines. Unlike manual methods of entering data, eTickets reduce errors and instances of fraud, eliminate double-entries and significantly improve the accuracy of your data.
And with all that accurate data capture you gain business intelligence for deep analysis. Indirectly, eTicketing brings value by improving visibility for all parties (including customers), providing real-time data and reporting, creating a single "source of truth," producing significant potential savings in time and costs and improving efficiency.
Let's take a quick look at some of the inefficiencies that most contractors, material producers and fleet managers, unfortunately, experience every day. Did you know that roughly 95% of hauling is taken up by deadhead miles? That dump trucks are underutilized by approximately 40%? That too much time is spent just waiting--whether it's a trucker waiting to load or unload or a contractor waiting for delivery? That dispatchers waste about 40% of their time communicating back and forth via phone and text with haulers and customers about the status of a load rather than taking and filling orders?
All these issues can be turned around, and an overall increase in productivity can be seen by using Trux's construction management software which has an eTicketing solution. The Trux solution is compatible with most state DOTs but also works for contractors who want improved efficiency and productivity.
Here's how it works.
Order Confirmation
As soon as your order comes into Trux and is created, an Order Confirmation email is automatically sent to all relevant customer contacts. This ensures that the order's been scheduled correctly and that all the details are correct, including:
Material and quantity ordered
Scheduled delivery start time
Estimated tons/loads per hour
Expected completion time
Construction site / delivery location
This first step keeps everyone on the same page and reduces the chance of error and unnecessary rework.
Delivery Tracker
When the first load of your order gets underway, you'll get a text message with a link to our Delivery Tracker which remains live for the duration of the order. You can go about your business knowing you'll receive automatic updates which allow you to monitor:
How much of your order has been delivered to the job site
The number of trucks carrying your order
The scale ticket number, quantity and load time for each truck
The real-time location and direction of travel of loads in progress
The hauler's name, truck type, truck ID and ETA of each load to the delivery location
Imagine how your day, as a project manager, construction worker, hauler, or dispatcher would improve by not having to play phone tag to keep track of your orders….
Confirmation and E-Ticket
As loads get delivered to your jobsite, the location and times are recorded and a contactless eTicket is generated which allows you to:
View the exact location of each delivery with respect to the jobsite drop-zone or geofence
View the eTicket uploaded directly from the scale
Enter and view optional inspection results and notes and reject loads if the quality or temperature is unsatisfactory
The days of missing or inaccurate paper tickets are gone. Instead, you can count on being in compliance and having reliable data.
Dispatch Summary
When your order is completely delivered, you'll get an automated email with a downloadable scale ticket report that includes all scale data for the loads delivered, including:
Ticket date and time
Quarry or plant location
Material and quantity
Delivery location and notes
This final step in the process greatly reduces the time and effort needed to collect and reconcile scale tickets to invoices.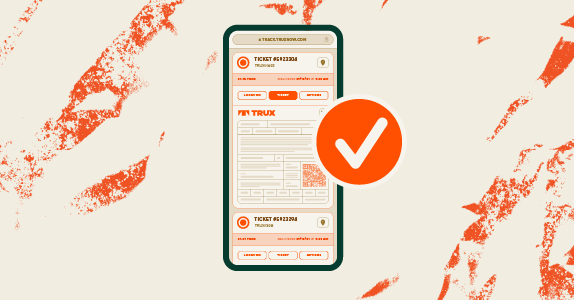 Unlocking ROI
Finally, we get to the truly exciting part--the bottom line. The quantifiable benefits to your construction business come from leveraging an all-in-one-platform that extends beyond eTicketing. A complete logistics platform like Trux gives you additional functions to improve operational efficiencies, scale for growth and realize ROI:
Dispatch and Schedule
Using a dispatch-centric platform with drag-and-drop technology, dispatchers quickly create a schedule and assign work with hauler utilization and capacity in mind.
Active Order Management
Increased visibility ensures dispatchers can easily monitor orders in real-time, make adjustments and check trucker cycle times for all loads.
Cycle Time Analytics
Real-time GPS tracking allows dispatchers to see truck location and relative speed, time-stamped route, current traffic conditions and more. Cycle times at the plant, in transit, at the jobsite and round trip can all be monitored.
Communication Tools
In addition to a centralized communication system which keeps everyone updated in the same loop, our mobile app means haulers can accept jobs and upload digital tickets throughout the day.
Tracking History
Time-stamped routes can be viewed in real-time and are also stored as historical data for verification and analysis.
Third-party Management
Manage third-party haulers with the same communication and tracking tools you use with your own haulers.
Advanced Data and Analytics
Accurate, actionable data is right at your fingertips for reporting and decision-making.
Access to More Haulers
The Trux Marketplace is the nation's largest network of technology-enabled dump truck drivers. You can take on more projects or find work for your own trucks to increase asset utilization.
The Numbers Speak for Themselves
Making the changes that can impact your bottom line does require a commitment--in time and cost. But our customers agree the investment is worth it. Since implementing our complete logistics solution, they've experienced added value from these levers:
Improved Efficiency: 15-25% gains by improving hauler utilization and/or delivering more material (Trux helps each hauler deliver an extra load per day for a 15% gain.) Value creation 16%
Minimized errors and fraud: Digital tracking, increased visibility and control and built-in record-keeping reduce human errors and fraud. Value creation 6%
Expanded trucking pool: Access to the marketplace gives customers the ability to take on more local work as well as expand beyond the local market. Value creation 3%
Reduction in trucking cost: Customers increasingly rely on independent owner-operators which can lower overall trucking costs. Value creation 1%
It all adds up to Trux customers seeing 6-12x ROI with our complete logistics solution.
For a more in-depth conversation about ROI or the implications as eTicketing becomes the rule for more and more state DOTs, why not schedule a call with one of our experts--they know the construction business inside and out and would love to help you with your questions about whether now is the right time to invest in a solution.