7 min read
How Trucking Dispatch Software Creates Back-Office Efficiency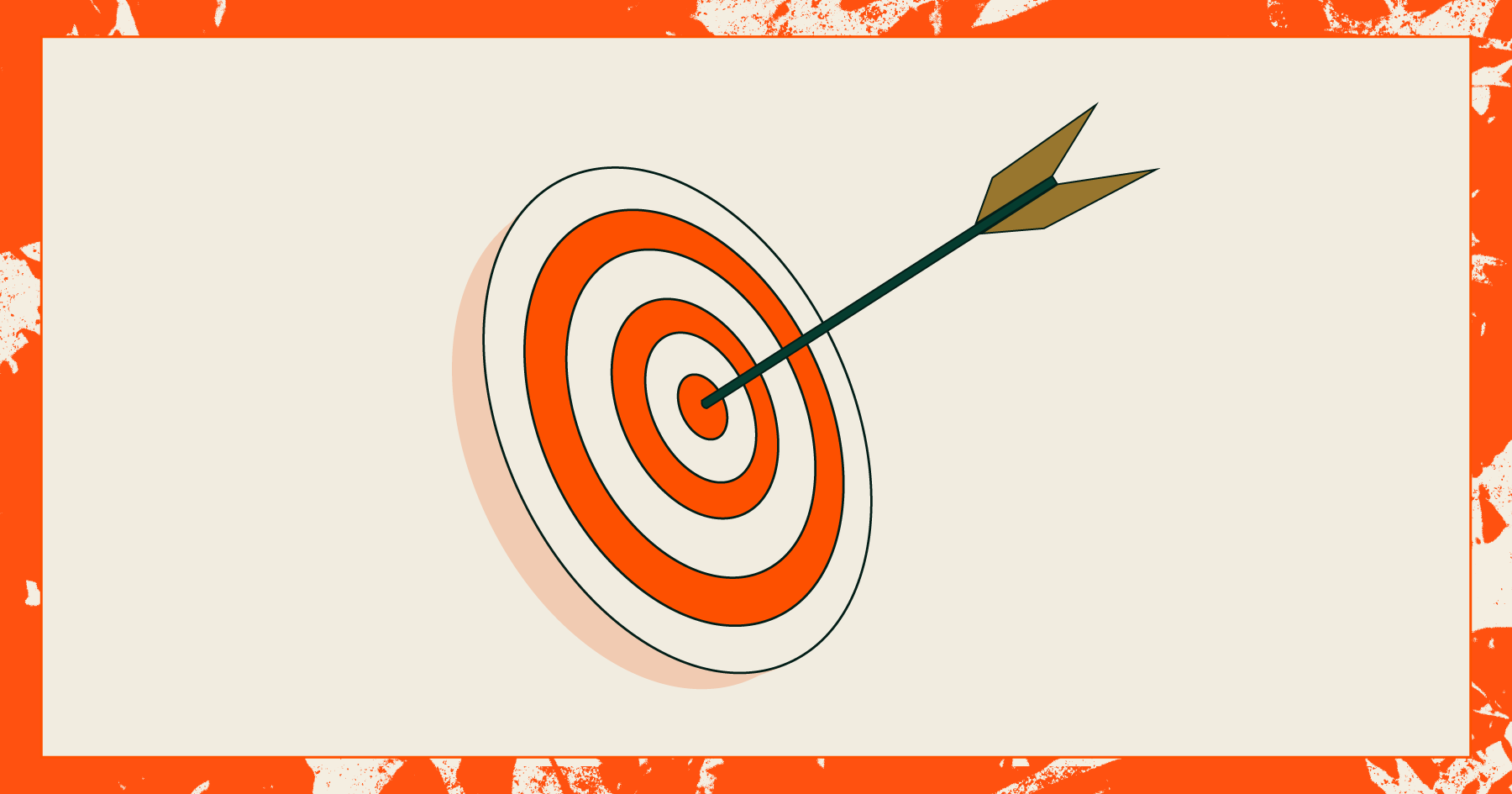 If you were to hold a brainstorming session with the end goal of creating a more efficient back office, you'd come up with a handful of good ideas to try out. But would trucking dispatch software be on the list?
It's probably not the first thing you'd think of. In fact, the pool of suggestions for trucking companies most likely would include a mix of ideas, some tried and true and some more innovative:
Study your existing processes
Start talking with current team members, you'll be amazed at just how much time it takes for them to get even simple tasks done without interruption or having to search for missing paperwork.
The goal here is to uncover how long tasks take, the skills needed to perform each task and the resources used. In short, you'll be finding the time-sucks and areas of potential improvement.
Get rid of activities that don't add value
Repetitive manual tasks for trucking companies, including data entry and even paper load slips changing hands may seem unavoidable, but these human-driven tasks are error-prone. Fixing errors means rework and more activities that drain your resources - adding little value. Ideally, you want to aim for zero errors and automation of tedious manual tasks.
Change things up a bit
Relying on the same workflows and processes for years can camouflage inefficiencies that cost your trucking business and hurt productivity. Maybe it's time to experiment with the way communications between the field and the back office are structured or potentially time to bring in technology to give your customers more visibility into where their material is en route.
Try SIM (short interval management)
You could incorporate SIM into your back-office operations. It could be as simple as starting each morning with a brief group meeting to share the accomplishments from the day before and the goals for the current day. Or it could be as involved as having visuals that show your KPIs and trends and scheduling several stand-up meetings throughout the day.
Create a culture of continuous improvement
SIM is an effective way to problem solve, but there are other strategies you can use to discover ways to improve efficiency. An important factor in creating a culture of continuous improvement for your trucking business is to make sure your teams can see their results and are recognized for their successes in this area.
All these proven methods certainly have the potential to impact efficiency in the trucking industry but at the end of the day, many of them take time and effort you may not have. That's where trucking dispatch software comes in.
This kind of construction technology is best known for its positive impact on operations, from dispatch to the field, and its ROI. But in one fell swoop, a trucking dispatch solution can also accomplish most of what all the above methods combined can promise regarding efficiency in the back-office.
How Trucking Dispatch Software Impacts Back-Office Efficiency
Like many businesses in these challenging economic times, construction companies are exploring ways to cut costs without sacrificing efficiency and effectiveness.
As they're looking for ways to do more with less, a growing number of organizations are seeing the value in using technology to improve efficiency--even in the back-office.
It doesn't take a deep, complex analysis to understand that the status quo in many back offices is the antithesis of efficiency, especially at trucking companies. Take a look at what's commonly happening in these hidden away, yet critical support functions:
Employee and hauler time in the field is captured with paper and pencil or spreadsheets

Too much time in the back-office is spent performing tedious, repetitive manual tasks

Tickets are turned in that have inaccurate or incomplete information (or the handwriting can't be read)

Tickets are missing

A lack of documentation means completed work goes unbilled

Communication between the field and the back office is haphazard at a trucking company

Accounts Payable drags out for months
By ensuring that accurate data from the field consistently makes its way to the back-office team as quickly as possible, trucking dispatch software addresses all these pain points and more.
Trucking dispatch software makes it possible for construction companies to get a tight hold on the data from the moment it's collected and to manage it securely--and that's critical to creating and maintaining streamlined workflows in the back-office.
Let's take a more detailed look to learn how some of the typical features of a trucking management software create efficiency and become the back-office team's favorite "pain reliever."
Digital Punch In/Out
Most haulers are careful to keep up with their tickets and timesheets because they want to get paid. But there are always going to be times when those documents go missing or are turned in late.
Either way, it puts a burden on the back office to track down the necessary data or to keep a job open longer than it should be. Then there's the common practice of haulers rounding up to the nearest quarter-hour on timesheets, which isn't really a problem of efficiency but rather one of costs.
When haulers punch in and out digitally, two things change for the better. First, the data is instantly captured and accessible to team members who need it. Second, it's accurate to the minute. So there's no more time wasted in searching for missing documentation or handling disputes over hours worked or overpaying haulers. Driver pay is transparent.
Paperless ticketing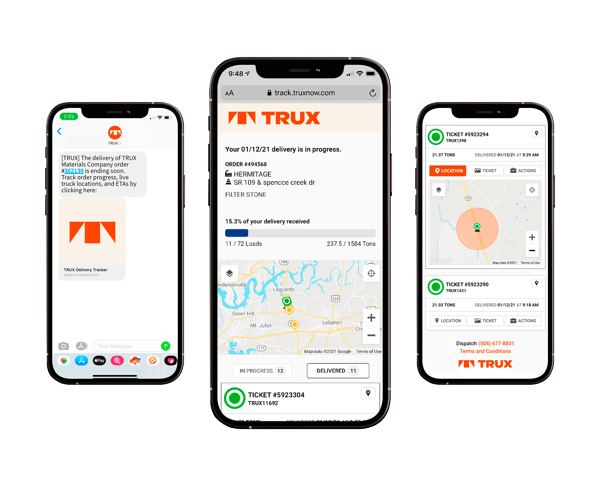 One of the newer features that some trucking dispatch software providers are beginning to offer is paperless ticketing or eTicketing. Digital tickets, or eTickets, are coming into play because many state DOTs are requiring this form of contactless ticketing.
In fact, some industry experts say that eTickets will be a standard requirement by the end of 2022. But in addition to positioning yourself to be in compliance by meeting their "real-time" requirements and therefore able to accept DOT projects, eTickets offer many benefits.
For the back-office in particular, those benefits include reduced paper processes, accurate data to work from and the ability to complete transactions faster and more efficiently.
Automatic invoicing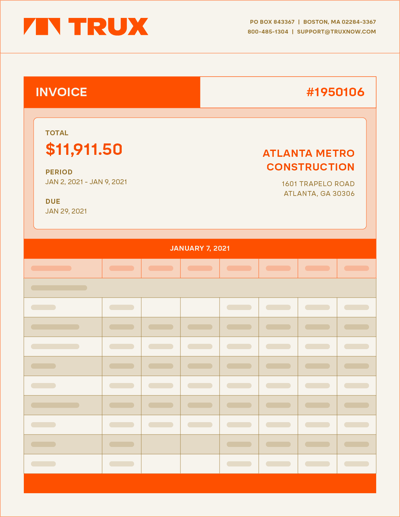 Did you know that the back office team can spend up to 30% of their time dealing with the paperwork related just to hauling? Sorting through a bin of loose tickets, batching them and sending out the invoices is a misuse of time and talent.
When you add in the time that someone has to spend searching for missing data, you multiply the inefficiency. With a fleet management system or dispatching software in place, haulers will upload digital load slips or eTickets throughout the day.
From this data, the logistics platform is able to automatically generate invoices ensuring that you're paid faster for the work you've completed. A lot of solutions will go the extra mile and consolidate invoices for you.
That way you have one document to work, a single system, with instead of one invoice per third-party hauler. You can also be at ease knowing that a missing ticket won't eventually show up and throw the cost of a project out of line weeks later.
Automatically generated invoices contribute greatly to back office efficiency by reducing the invoice processing time, chance of error from manual entry, the amount of rework and the payment cycle.
GPS verified routes
The problem of not knowing whether or not your own drivers or third-party haulers are taking approved routes with approved breaks is taken care of by having trucking dispatch software that includes real-time GPS tracking.
Routes are time-stamped and verifiable. This is another area where back-office teams won't have to spend valuable time verifying information to produce accurate invoices or handle disputes because the software takes care of it for you.
Data sharing
One of the pain points mentioned earlier stems from poor communication--not in the sense of talking to one another but in the exchange of information. With cloud-based trucking dispatch software, all operations work from the same set of reliable data. This single source of truth eliminates confusion and provides real time and historical data for reporting and analysis.
Trucking Dispatch Software the Trux Way
Adopting trucking dispatch software can transform your back office into a lean machine. All in one move, the pain points your team deals with day in and day out are resolved--batching and sorting tickets, tracking down missing information, paper-based manual processes and not being able to close out projects to get paid.
These inefficient activities are replaced with digital punch in/out, eTicketing, automatically generated and consolidated invoices, time-stamped verifiable routes and instant access to information and business intelligence.
The real advantage to using an all-in-one dispatch management platform to create efficiency in your back office is that the same solution works to create efficiency in the field as well. Here's just one of many examples.
Dispatching digitally allows dispatchers to more efficiently use the haulers that are available. They're able to give each driver a full day of work because of the visibility the platform provides. Doing more with less is especially helpful as the construction industry continues to grapple with driver shortages.
You shouldn't wait to start increasing your company's operational efficiency and dispatch operations. Building technology into your operational strategy today. Everyday that your business is leveraging technology for operational efficiency can positively impact your bottom line.
Learning more about how to create efficiency across all your operations is easy. You can give us a call or set up a demo today. Either way, you'll find our team of construction veterans have the insights and industry knowledge to answer whatever questions you may have.