Dump trucks require a lot of fuel to operate. It's the biggest operating expense you have in your daily operations. Some models are more fuel-efficient than others. Class 8 models will typically get around 3.2 gallons per hour for short hauls, and 6.2 for highway hauling.
Using your fuel efficiently is critical if you want to reduce fuel cost over time. Driver behavior has a huge impact on fuel efficiency. Industry sources say drivers' impact on fuel economy is between 20% and 30%.
Depending on what you find, you can tailor training to focus on areas that need improvement.
Analyzing Driver Behavior
Today, we have data about driver behavior that can be used to coach drivers into driving with fuel efficiency in mind.
Look for things like:
Speed
Percent of time in idle (while not on jobsite)
Hard braking
Route choice
Evaluate Your Dump Truck Specs
You need to spec your trucks in order to effectively evaluate your fuel economy.
Three specs to keep in mind are:
Aerodynamic devices
Tire pressure monitoring/inflation
Automatic vs. manual transmission
Aerodynamic Devices
Dump trucks are a massive force to be reckoned with. As they drive, air flows over and around it, which forces the air and the truck to exert on each other. The force of wind or air resistance pushing in the opposite direction to the motion of the object is called drag. And as much as 50% of a truck's fuel goes toward reducing this aerodynamic drag.
Aerodynamic pull effects certain parts of a truck that are best illustrated in this example: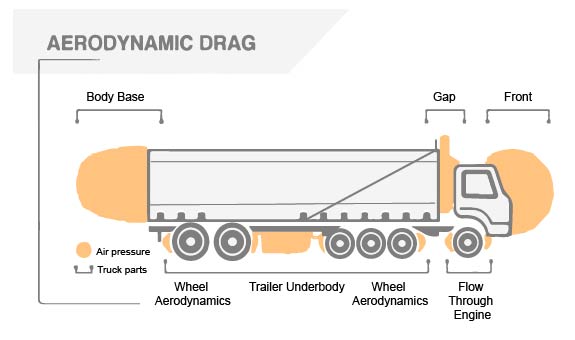 Image Source: www.shutterstock.com
To sum up, the best way to explain this phenomenon is "If you want to go fast, you've got to work hard." You're going to need a lot of power to get that truck going.
Recommended Devices
You can place devices underneath your trailer to help with aerodynamic drag. These are known as underbody trailer skirts. They are the most popular devices for addressing drag. They extend the trailer side walls closer to the group so that there is less air traveling underneath the trailer.
By using a trailer skirt, you can expect to save 1 to 5% on fuel.
You can attach disks on wheels to better withstand aerodynamic drag around the tires. These optimize aerodynamics for fuel savings and minimizes the need for maintenance.
If you spec your aerodynamic devices, you can potentially see a 1-10% reduction in dump truck fuel consumption.
Tire Pressure Monitoring and Inflation
On top of that, tires underinflated by 10% can increase rolling resistance by as much as 20%. If your tires aren't fully inflated, you're running the risk that your truck isn't optimal to take on a haul or load. Tire blow-outs happen while driving on the road. When this happens, it causes delays in service, leaving nerved customers with unfulfilled work. Avoid the hassle by ensuring your tires are fully inflated.
Proper tire inflation can decrease your dump truck fuel consumption. They can better withstand hard braking and acceleration. Look for tires with a great fuel efficiency rating. Additionally, you can invest in some low-resistance tires to better your chances of combating aerodynamic drag.
Automatic vs. Manual Transmission
Manual gears have a reputation for better fuel economy but require an experienced driver to get that. Automatic transmission can be driven by less experienced driver, while delivering the same fuel economy.
Decreasing Deadhead Loads
Nothing is more expensive than hauling air. Fleets can take steps to ensure they're getting the most out of a gallon of diesel.
The best way to decrease deadhead loads is to create opportunities for backhauls whenever possible. They can pick up an extra load by stopping at a nearby quarry or visit a nearby jobsite.
TRUX Creates Potential for Better Routes
TRUX presents potential for truckers to accept work via a marketplace. This means truckers can accept local jobs in real-time as it's posted.
Every free dollar we get, goes to truck payments, insurance, until the season starts. Thankfully, we have been busy all winter. We can use work on a daily basis.
- Steve Cabral from F&U Logistics
GPS Tracking available on the TRUX platform allows you to see where your vehicles are idling or running as they are working. Use this feature for coaching and the ability to pick up backhaul. This could be a great way to start thinking about how to optimize your routes.