7 min read
What's the best hauling app to find additional loads?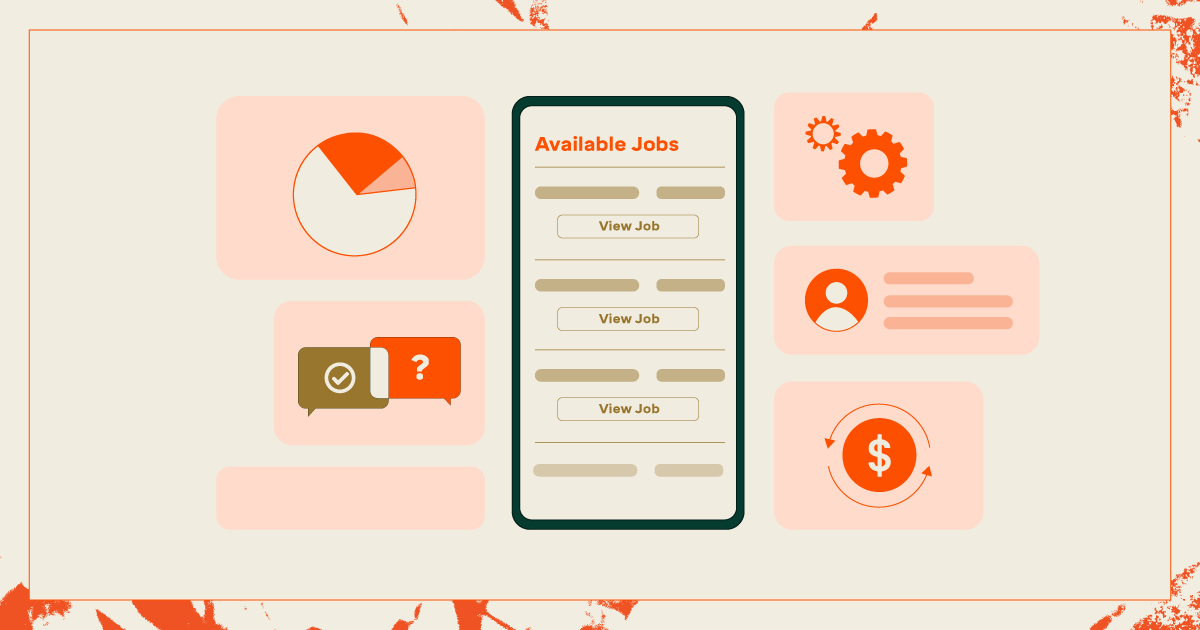 To answer the question "What's the best hauling app to find additional loads?" it really depends on what best means, right? You might think about the best one in terms of how quickly you can put it to work for you.
Your competitor across town may base their evaluation on specific features and how easy it is to use. And for others, the deciding factor may be how extensive the network is, or the variety of trucks on the app (is it only for dump trucks, or can a pickup truck owner use it? Will there be requests for box trucks?!).
But what if there was a dump truck app that ranked at the top of the list for all the above mentioned criteria and offered faster pay, better scheduling and the freedom to choose the rates you want?
Trux is loaded with lots of useful features to streamline your hauling and help you get more efficient. Plus, Trux offers access to a dump truck marketplace that makes the time-consuming task of finding additional loads (or additional haulers) a simple one.
Founded by industry vets who understand the ins and outs of construction logistics, Trux is the first-ever and largest marketplace of technology-enabled dump truck drivers in the nation. The fact that Trux was developed by industry pros who have first-hand experience with the needs and requirements of businesses that rely on dump trucks is an important one.
Many of the construction logistics platforms and hauling apps on the market right now started out as digital tools built for long-haul trucking and were then retrofitted for dump truck users, so they work…sort of. But it's kind of like using a pair of pliers when you really need a wrench to get the job done right.
For almost seven years, Trux has been connecting local contractors and material producers with dump truck drivers, making it possible for them to take on more projects or scale their trucking volume as needed without a huge investment.
And especially now with the labor shortage continuing to plague construction companies, Trux fills a gap that's not expected to close any time soon.
The marketplace works in reverse too. It connects truck owners, including independent owner-operators and fleet owners, with a way to find more work for their trucks.
Trux has become known as the Uber for dump trucks and it's actually a good way to understand how the marketplace works. It takes very little time or effort to sign up, get approved and start taking available shifts.
We think you'll find it a much better alternative to the usual methods of finding work like scouring job boards or reaching out to a service, brokers, or contractors for work. Although those methods have fit the bill just fine for years, they are time-consuming and not always a sure thing.
Load Up with a Hauling App That Makes Finding Work Easy
Whether you're a contractor, material producer, fleet owner or independent owner-operator, for various reasons there are times that business slows down or you have a dump truck or two parked in the yard not earning you any revenue. That's when you can turn to Trux.
Getting started is a straightforward, quick process:
Download the marketplace app

Submit your insurance information

Share a copy of your W-9 (this is so you can be paid weekly via direct deposit)

Fleet managers will need to have all your drivers download the app and connect to your Trux account--it's easy to take care of right there in the app

Once all the above is completed, you can begin claiming jobs
If you aren't sure you've set something up correctly or need some assistance using Trux to find work - our support team is always here to help: support@truxnow.com. The Trux Online Help Center is another resource to look to for answers to your questions.
Haulers, Get a Load of These Benefits
GET PAID FASTER
One of the things haulers and dump truck owners appreciate most about our app is that they get paid faster than when their jobs come through the more traditional means. Instead of waiting the usual 60 or 90 days for payment, haulers can expect to be paid the week after they complete a job through direct deposit.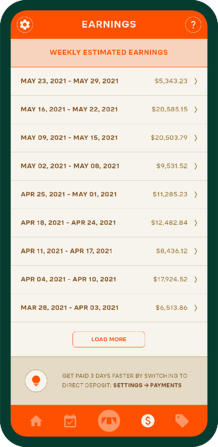 GAIN MORE CONTROL OF YOUR SCHEDULE
With the vast number of jobs that get posted (thousands every day), you're able to take more control of your schedule rather than waiting and hoping that something will come through. Material producers and contractors typically post their jobs requesting hauling services with plenty of lead time, so trucks can provide on demand delivery, which gives you the opportunity to plan ahead.
That being said, the sooner you can search the job postings, the better. Ninety-percent of jobs are claimed by the first or second person who views them.
With that in mind, here are a few tips to help you have more success finding shifts to fill your schedule:
Get into the habit of checking the app for work in your local area.

Most jobs are posted before 1 pm, so it's smart to check in the morning or at least by lunchtime.

Before you accept a shift, make sure the job is a good fit for your truck. It sounds simple but double checking to make sure you've selected a job for the right truck type matters!

Don't forget about last-minute work. Weather can cause new shifts to open. Sometimes lead time could be under 12 hours.

Be open to night work. There's quite a bit of it out there, especially during paving and ice season - sometimes, this work even offers more attractive rates.
CHOOSE THE RATES YOU WANT
Again, because of the volume of work that gets posted every day, you have the freedom and flexibility to pick the jobs that work with your schedule and pay a rate that makes sense for your business.
Strategically using a hauling or dump truck app to find work near where another project will finish can help you decrease the number of deadhead trips you make. Either by planning ahead or by routinely checking the app after you've completed a job, you can increase revenue by making sure you're not logging miles with an empty truck.
DON'T WORRY ABOUT INVOICING
If you're like most of the haulers we work with, you love driving a dump truck but you don't love the paperwork that comes with the job. Invoicing contractors takes time and is tedious. Through the app, Trux automatically invoices the customers you haul for so you can spend more time on the road bringing in revenue.
STAY UPDATED WITH BUILT-IN COMMUNICATION
All the information you need about a job is conveniently entered into the app for you to access at any time. You'll also get updates about change orders, route changes, delivery location adjustments, and other notifications that could impact the way you complete the job.
Instead of phone calls or text messages, a centralized communication system seamlessly organizes the details for efficiency and ease.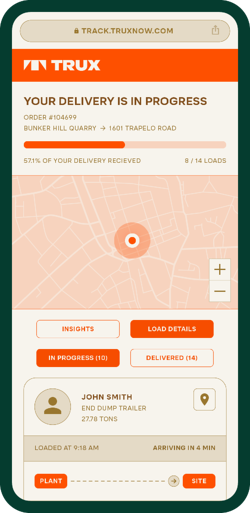 Material Producers, Contractors and Fleet Owners Put This App to Work
When material producers, contractors and fleet owners want to make sure their dump trucks stay on the road, the Trux Marketplace can help. Just like independent haulers, you can join the network and find extra shifts for your fleet when times are slow.
In addition to finding more work for their fleets, many organizations in the construction industry are using Trux for another purpose. Trux has become the go-to source for them to find reliable drivers when they need to increase their trucking capacity--whether it's to stay on schedule, or take on more projects or find more drivers at a time when the labor pool is shallow.
Using additional drivers through Trux means companies don't have to go through the time-consuming process of hiring subs to expand their operations. Trux vets all the drivers in our network, we currently have over 35,000 fully insured drivers.
When construction companies use haulers in the Trux network, it's not only a cost effective solution, but they get the added bonus of being able to manage those drivers the same way they manage their own. Dispatching shifts digitally and keeping track of loads, drivers, and costs, all with enhanced delivery reporting.
Haulers on Trux are equipped with real-time GPS tracking through our mobile app, so while they're on the clock you'll have full visibility into their whereabouts and ETAs. This gives insight into that final mile delivery.
They'll also punch in and out digitally so you can know exactly when they were working and pay them only for the actual time worked instead of paying for rounded up quarter hours.
Find Out for Yourself How Trux Can Lighten Your Load
Here in the US, Trux has helped deliver over four million loads of bulk material. Trux haulers have logged more than 165 million miles. And we've helped over 12,000 dump truck businesses increase their efficiency and productivity through our trucking and last-mile logistics platform and the Marketplace.
Even though those are some big numbers, we're happy to say that our valued customers enjoy personalized attention from the Trux team.
Interested in finding out if a dispatching and logistics solution like Trux might be a good fit for your company to help you save money and time? Take our five-minute assessment today!