7 min read
Leveraging Last Mile Logistics Software for Success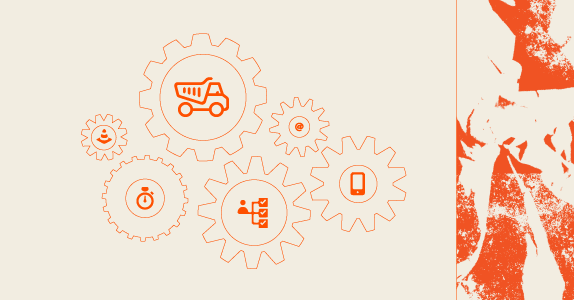 The construction industry's busy summer season still has several months to go before things start to wind down. That's plenty of time to leverage last mile logistics software to position yourself for success during the final quarter and well into the future.
Depending on the size of your company, it is possible to improve your last mile logistics without using software. Difficult, but it could be done. It would take a detailed plan, 100 percent cooperation and effort from each member of your team and time. Using a digital solution designed for the specific purpose of improving last mile logistics is significantly easier. And faster, so you'll see the results sooner in these key areas:
- Customer Service: Real-time GPS tracking means you can keep your customers informed and happy.
- Efficiency: Increased visibility and automated processes allow you to easily streamline operations.
- Productivity: Smarter scheduling and dispatching leads to increased output.
- Data: Reliable, personalized data provides for better decision-making.
What is Last Mile Logistics?
Before we dive into the specifics of how you can use last mile logistics software to drive the success of your business, let's review the basics of this fairly new concept which has raised the bar on customer service in the last few years. Last mile logistics refers to the last leg of the supply chain. Don't let the name mislead you, "last mile" can actually include distances of up to 100 miles.
In eCommerce, there are three segments to a product's journey: First mile, middle mile and last mile. It's in this final part, when the product goes from the local fulfillment center to the buyer's chosen destination, that suppliers can make the most impact on the customer experience.
The dump trucks that transport your materials average somewhere around 20 or 30 miles per trip, so really material producers need to consider that every aspect of an order should be viewed as the last mile. With that in mind, it makes sense to look at how eCommerce leaders use last mile delivery to differentiate themselves in the marketplace.
To begin with, the online retail giants have realized that having a superior product just isn't enough nowadays. No matter how great a product is, if it's damaged during delivery or arrives later than promised, the customer is unhappy and is likely to take their business somewhere else. The delivery experience is now on par with the product. Attention to the quality of both product and delivery is a must.
Another insight from these innovators is that technology must replace outdated, inefficient practices and processes. It may be okay for a local independent pizzeria to write out orders on slips of paper, hand them off to their delivery guys and then wait for the customer to call if and when there's a problem, but the country's leading pizza delivery chain handles last mile differently. They leveraged the most advanced digital technology to catapult themselves to the number one position.
Better Customer Service with Improved Last Mile Logistics
As a material producer, it's safe to say your customers aren't in the habit of checking their phones to see when your products are scheduled to land promptly at their doorstep. But they have quickly learned to appreciate the last mile logistics (thank you, Amazon) strategies that work to keep them informed of the delivery status of their personal purchases. Therefore, more and more often they're now looking for that same level of customer service from their industry suppliers. A wide delivery "window" simply won't do. And if they have to call you to check on a delivery, they're likely to call another supplier the next time around.
To meet your customers' evolving expectations, you'll need to use real-time GPS tracking
Real-time GPS tracking has come a long way. It used to be that companies had to spend quite a sum on purchasing tracking devices for each of their trucks. Or they could buy only a few trackers and then put up with the hassle of moving the equipment from one vehicle to another. Yes, those avenues are still available to you, but there are many software solutions that work by using smartphones or tablets and an app.
With last mile logistics software in place, your dispatcher will have visibility in real-time into the whereabouts of all your trucks. If it looks like a load may be delayed due to bad weather or road conditions, they can let the customer know. They can also stagger arrivals to prevent bottlenecks at the delivery site. Some software solutions even let you give your customers access so they can see a delivery's status for themselves.
If you're shopping for a software solution, make sure to look for one that provides a way for your dispatcher to include special instructions for the drivers. Often job sites don't have clear addresses or they have multiple entrances. Even something as insignificant as a truck arriving at the wrong gate can delay delivery and add to customer frustration. Set your drivers up for success by giving them all the information they need with a logistics platform built on an understanding of the challenges faced by dump truck-dependent businesses.
When you earn a reputation for delivering satisfaction with each and every load, you cement your good standing with your current customers and can land on their preferred supplier list. This differentiation allows you to position yourself to stay one step ahead of the competition.
Last Mile Logistics Software Leads to More Efficiency
When you transform your operations from one that relies on manual, paper-based processes to one that is automated digitally, the difference is as stark as night and day. Instead of using whiteboards, phone calls and other outdated tools to create a schedule and dispatch drivers, you'll be able to very quickly make a schedule--sometimes even weeks out.
Software eliminates the back and forth calling or texting to find out if a driver is available. After the schedule is created, drivers can accept the jobs and start their shift. Staggering arrivals is easy to schedule with just a few clicks making a significant impact on streamlined dispatching. And when something happens, like a job site closing for the day, you can instantly communicate haulers that need to know.
The epitome of efficiency (and convenience) is to be able to do your work from anywhere, anytime. Last mile logistics solutions that offer a mobile app make on-the-go scheduling and dispatching a reality.
Your drivers, dispatchers and other plant personnel aren't the only ones who'll see gains in efficiency. Logistics solutions impact the back office as well. They will welcome replacing cumbersome, error-prone and time-consuming manual processes with automated ones. For example, a digital solution collects and stores all ticket information and hauler punch-in and out records automatically creating and consolidating invoices. That means the back office will no longer need to batch tickets or search for missing information. Digital tickets, exportable data and automatic consolidated invoices can add up to a savings of 13 hours per week for the back office.
Increase Productivity with Last Mile Logistics
When you see efficiency go up, you can be pretty sure increased productivity will follow. More efficient scheduling and optimized routing can routinely lead to a 15% increase in loads delivered. Material producers who have made the switch to a digital logistics solution have commonly seen a 40% increase in productivity in dispatching and in the back office.
The real-time tracking and digital scheduling and dispatching features of a logistics software solution mean you have more visibility and control over how your dump trucks are utilized for higher output. Another way to increase productivity is to bring on more trucks, but that may be too high of an expense and hiring new drivers is time-consuming and risky too.
You can get around this obstacle to growing your business by hiring third-party haulers. This also can be time consuming and burdensome unless you look for additional drivers through a marketplace. Trux is the nation's largest network of technology-enabled dump truck drivers. First of all, that means you can trust that the drivers you hire through Trux are highly qualified, compliant and reliable. Secondly, you can monitor and manage these hired haulers just like you do your own drivers.
Last mile logistics software makes it possible to scale your business at your own pace without risk or simply take on more work during busy times.
Let Last Mile Logistics Data Lead the Way
The data you'll get from logistics software provides a wealth of information you can use to make better decisions. Without hard data, based on your own plant operations, you often make important decisions or guesstimates and gut feelings. And you've probably done well so far.
But as competition increases and prices go up, you may need to make incremental changes to stay ahead. These decisions are hard to make without transactional records, accurate data from each delivery route and reliable cycle time analysis data.
A last mile logistics solution with its real-time GPS tracking gives you insights, detailed information and reporting capabilities to make changes in ways you may not have thought about before going digital. For instance, you may find out that a hefty portion of your fuel costs comes from your trucks idling too long at the drop off site. You could mitigate that waste by staggering arrival times.
Leverage Last Mile Logistics with Trux
Material producers, contractors and dump truck owners are finding that their last mile logistics can easily and quickly be improved by using the Trux all-in-one logistics platform. With easy-to-use dashboards, drag and drop dispatching, real-time GPS tracking using smartphones or tablets, a mobile app and access to a wide variety of dump trucks, our customers have completely transformed the way they operate with:
More visibility to deliver better customer service
More efficiency to save time, cut costs and reduce manual, paper-based tasks
More opportunities to grow their business with less risk
More useful, reliable data to make better decisions
Learn how Trux can help you improve every mile with a last mile logistics solution. Schedule a demo today.