7 min read
The Importance of Tracking Asset Utilization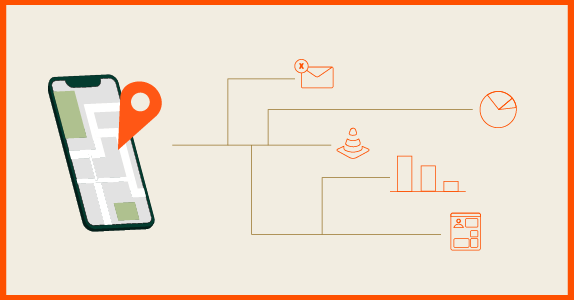 When you look at your fleet of dump trucks, do you see them as half full or half empty? It's not a question of whether you have a sunny outlook or not. It's really a matter of your asset utilization. The best answer, of course, is to see them fully loaded.
Are you getting the most you possibly can out of the trucks you own? And are you making informed decisions about the maintenance needed to extend their usefulness for years to come?
As the active summer season is edging towards an end, it's a good time to get a handle on asset utilization as it relates specifically to your business. Tracking this key metric for all of the trucks in your fleet is important for two basic reasons:
Increasing the hours that each truck is out on the road and full of material is one tactic to steer your business toward more profitability.


Knowing how many hours each truck is in use gives you valuable insights into planning for repairs and preventive maintenance to complete during the slower construction season.
Understanding your own asset utilization begins with a ratio that represents the total revenue you earn for every dollar of assets you own. (For a more in depth explanation, take a look at this article about asset utilization ratios.) You need your current ratio as a baseline for making comparisons down the road. Maybe you have a rough number in your head but being able to collect data that gives you accurate numbers is critical to calculating a ratio that's truly useful in your decision-making.
The problem is that it's difficult to get this data without the use of technology--specifically, a trucking logistics platform that offers real-time GPS tracking. Whether by telematics, which use tracking devices installed in vehicles, or by smart devices that the dump truck drivers keep with them during work hours, the ability to document the actual routes taken, miles, hours and driver behaviors (like idling and harsh braking) for each and every trip is worth investing in.
Add Loads of Productivity with Better Asset Utilization
It's no revelation that increasing the hours that your trucks are on the road--filled with revenue-generating loads--is good for the bottom line. Easier said than done, right? If you depend on traditional and manually-based processes, that's absolutely true. But if you use digital technology that's geared for dump trucks, you'll find that getting the most out of your trucks is simple and straightforward.
Let's look at just a few of the ways a real-time GPS tracking solution can increase your asset utilization.
Decrease Deadheading
Scenario: One of your trucks heads out with a full load. Drops it at the right jobsite and there's still plenty of daylight left in the workday. Typically, the driver would turn around and head back empty. That return trip costs you in fuel--and it's an unprofitable use of an asset. But what if your dispatcher could quickly locate a load close to your driver that needs to be picked up? Using the traditional methods of calling or texting potential customers to find these backhaul opportunities can be successful sometimes but usually only after time-consuming persistence. And sometimes, it's just pure luck.
With a trucking logistics platform in place, finding a job is a matter of your dispatcher taking a quick look at a map on a screen and then alerting the driver about it. The dispatcher can even include detailed instructions to keep everyone on the same page so not a minute is wasted. This much more efficient digital process is a great way to decrease the number of deadhead trips your drivers make.
Reduce Idling
Scenario: Your truck arrives at the jobsite just about the same time a few of your other trucks get there. Unfortunately, there's only one way in and one way out, so the drivers have to take their places in line waiting for the trucks ahead of them to unload. This unnecessary idling costs more than just wasted fuel. Yes, your trucks are out on a job, but they're not actively earning dollars for you while in line waiting so that in turn hurts your asset utilization.
There are a couple of ways your dispatcher can prevent this double whammy of waste. The best way to prevent costly bottlenecks is to stagger arrivals. Your dispatcher simply schedules drivers to arrive at the site at intervals--which saves fuel, frustration and time. Trux's logistics platform has geofences that enable dispatchers to get alerts when trucks enter or exit a predetermined start or finish zone.
Eliminate Overpaying
Scenario: You take on a big project knowing you'll have to hire some third-party haulers to get the job done on time. The week wraps up and you're reviewing hauler invoices. Some of the hours seem padded, but hey, that's how it goes. You know it's customary for drivers to round up to the quarter hour. Doesn't seem like much to the driver. What's a measly 15 minutes? But to you, all those minutes add up to a cost you really shouldn't have to pay for.
A logistics solution that features digital punch-in and punch-out puts a stop once and for all to overpaying your haulers. Because the tracking solution captures their work hours to the minute, you pay for their exact time. It's a fair and simple improvement over drivers manually filling out timesheets. Payroll is a large expense for trucking companies and asset utilization, from an employee standpoint is important to track.
Subcontract Trucks
Scenario: It's a slower than expected month. Several of your trucks are not needed for your current projects and are sitting in the yard. You could subcontract them out to make sure they're still earning for you and keeping your asset utilization ratio favorable. But that takes time and legwork that you can't afford right at the moment. If only there were an easier way…
Good news. There is an easy way to connect your trucks with extra work. A trucking logistics platform, like Trux, that has a marketplace allows you to find jobs in your area that match with the number and types of trucks you have available. And because of the size and scope of the Trux network, it won't be long until your assets are hired and out hauling.
These are just a few of the ways that improved asset utilization can positively impact your earnings.
Plan for Repairs and Preventive Maintenance with Asset Utilization Tracking
Revenue won't be the only thing that increases when you track your asset utilization and use that information to work smarter. Because your trucks are running more, it's just a cost of doing business that you'll have more wear and tear. That means the number of repairs will probably go up as well as the need for a good preventive maintenance schedule.
But because you've been able to collect accurate data on each of your trucks, you can plan your maintenance schedule based on actual mileage, engine hours, time or fuel used. When your pre-defined thresholds are met, they trigger maintenance tasks such as inspections, testing, lubrication, cleaning and other activities that will extend the asset's life as well as the safety of your drivers.
Routine preventive maintenance can help you reduce, maybe even avoid, breakdowns and the inconvenience of having to unexpectedly pull a truck from availability, potentially saving you thousands of dollars. Other benefits of preventive maintenance include better fuel mileage and lower overall maintenance costs.
Tracking Asset Utilization with Trux
There are many reasons for fleet owners today to seriously consider making the move to digital solutions. Along with improved asset utilization, an all-in-one trucking logistics solution streamlines your fleet management, giving you next level efficiency, visibility and productivity. We are often asked how to improve asset utilization with Trux, and this is how:
Efficiency
Create schedules quickly and easily with just a few clicks--you can even make schedules weeks in advance. Dispatch in no time with drag and drop technology. Instantly communicate with individuals or a group of scheduled or active haulers. With one click, you can reorder shifts and reassign haulers.
The back office can operate more efficiently too. They'll no longer need to collect and batch tickets at the end of the day. Instead, drivers upload etickets throughout the day. And the digital punch in/out feature means they don't have to manually create timesheets either. Trux automatically generates and consolidates the invoices that need to go out.
Visibility
See where all your haulers are, when and where they punched in, and relax knowing all your jobs will be documented with time-stamped route histories and digital tickets.
With real-time GPS tracking, dispatchers can easily keep tabs on haulers and reroute them if traffic, road work or weather looks like it will slow them down. You can also use the data collected from the tracking to gain insights and make better informed decisions about scheduling, route planning, maintenance and scaling your business.
Productivity
The fact that Trux has the nation's largest marketplace for dump trucks really sets us apart from other logistics solutions. This means you have daily access to jobs that'll keep all your assets out on the road earning for you.
See How Trux is Built for You
There are a lot of trucking logistic platforms on the market. Many were originally designed for long haul trucking and then reconfigured to broaden their customer base and include dump trucks.
Trux was created especially for dump truck owners and users by construction industry pros who understand the unique requirements of short hauls for heavy construction. Our team loves trucks, talking trucks and helping fleet owners understand how technology can transform their operations. We understand the importance of asset utilization for your dump truck operation. Give us a call or schedule a demo today.