7 min read
Is Your Dump Truck Business Dispatching Efficiently?
Running a dump truck business can certainly have its ups and downs--no pun intended. On a good day, your schedule is full and you have no delays. Pickups and deliveries go as planned. Traffic is light. The weather, perfect. Even the coffee tastes better.
The trouble for the dump truck industry is those good days are sandwiched between a lot of not-so-good days when there's too much time wasted waiting to load or unload. Then heavy traffic or road work means a dump truck driver can get even more behind. Or an approaching storm shuts things down and you don't find out until your dump truck shows up at the jobsite.
What if you could push a button that would essentially eliminate those things that make up the bad days for a dump truck company? A solution that would transform your dump truck business, making it possible to dispatch efficiently day in and day out? That "button" is a dispatch management platform. This valuable piece of technology allows dump truck companies to streamline their dispatching by:
Reducing the time it takes to create a schedule and assign haulers

Providing big picture visibility with real-time GPS tracking

Preventing bottlenecks and deadhead trips

Optimizing routes to keep on schedule

Simplifying bulk reordering with a few clicks

Handling change orders without missing a beat

Keeping customers informed with timely updates

Scaling your trucking up or down according to need

Managing any third party haulers like your own

Providing anytime, anywhere access with a mobile app
In addition to your dispatching, other parts of your dump truck business also benefit from adding dispatch management software. For example, the back office team will gain efficiency because they'll no longer have to batch and sort tickets at the end of the day. The solution takes care of that task with digital load slips and other integrated digital data.
And that's just one of the ways an all-in-one platform helps dump truck companies. To learn more about how the back office at your dump truck business can benefit from going digital, check out this article.
But read on to find out how a digital solution can make your dispatching more efficient.
Ease into digital scheduling and dispatching
If you're like most dump truck businesses, your dispatcher is using the same tools that have worked for years. They use whiteboards, spreadsheets, or pen and paper to map out the day's work. Then they have to make numerous phone calls or send text messages to try to fill the schedule with dump truck drivers.
You can shave hours off the time it takes to create a schedule and fill it by providing your dispatcher with a digital scheduling tool. They'll get one clear view of the schedule and by using drag and drop technology they can assign dump truck haulers with just a few clicks.
Dump truck haulers accept the job and everybody can get to work. For your dump truck business, you'll want to make sure any digital solution you use is designed specifically for dump trucks and allows your dispatcher to include details about the type of truck needed, the material to be hauled, special instructions about the job and more.
On the topic of scheduling, a dump truck dispatch solution allows you to easily plan ahead--days and even weeks out. Being able to line up jobs ahead of time adds to your efficiency factor.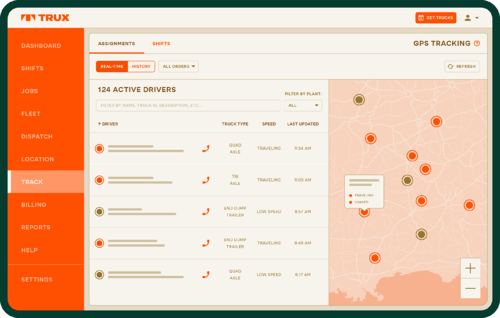 Keep Tabs on All Your Trucks in Real-Time
Dump truck solutions that include real-time GPS tracking give your dispatcher a big picture view of all current trucking activity on a map. This increased visibility means they can reroute dump truck drivers in a snap if situations pop up that would throw the schedule off.
For example, say a particular gate at a jobsite is temporarily closed. Before the dump truck hauler arrives there only to turn around and find another entrance, the dispatcher can send a message with new instructions, saving time, fuel and frustration.
Reduce Bottlenecks and Deadhead Trips
Two major hits on the efficiency of your dump truck business are time spent idling in line and driving without a load (deadheading). The number of times that either of these inefficiencies occur can be drastically reduced with a dump truck digital dispatch tool.
Your dispatcher can prevent most bottlenecks at a plant or quarry simply by staggering arrival times as they create the day's schedule. That way haulers will arrive in a planned order that minimizes wait times and fuel waste.
And those deadhead trips which eat into your dump truck business' profits as well as your efficiency? They too can be avoided. Your dispatcher will know right away when a load has been delivered and can reassign the dump truck drivers before they ever head back to the yard.
Stay on Schedule with Route Optimization
Dispatchers have to be good at planning to make sure that pickups and deliveries go like clockwork. But as anyone who's worked in construction or the trucking business knows, any number of things can happen to cause schedules to run behind.
If your dispatcher manages more than a handful of dump trucks, it's smart to equip them with a cloud-based software solution that will take care of the planning with route optimization. Based on variables such as traffic, road conditions, vehicle type and weather, the dump truck dispatching solution will find the best routes for each dump truck.
Not only does this feature help with keeping on schedule, but it can also help you stay on budget by reducing fuel costs and drivers' hours.
Make Bulk Reordering a Simple Task
You should find this helpful feature in any dump truck solution you may be considering: a bulk reordering tool. Setting up a long-term project manually isn't hard but it is tedious with repetitive tasks. No one, especially your busy dump truck dispatcher, likes doing the same thing over and over again when there's a better way.
In addition to eliminating repetitive manual work, a bulk reordering tool makes keeping your long-term projects on schedule easier. Once all the necessary information is input into the system, with a few clicks your dump truck dispatcher will have the entire job scheduled and assigned and can move on to more important tasks that impact your dump truck business.
Deal with Change Orders Effortlessly
Don't you hate it when you get notice of a change after a load is well on its way to the original location? Handling change orders through traditional manual methods is a hassle. Basically, the dump truck dispatcher is having to do the job over again, adding to costs and taking their focus off other active jobs.
With the increased visibility a platform provides, dispatchers have what they need to adjust and communicate through the platform's centralized communication system quickly before things get out of hand and it cuts into the profit of your dump truck business.
Delight Your Customers by Keeping Them Informed
Any platform you're considering should make it easier for you to provide better customer service. Customers like to know when to expect delivery. And not just ballpark guesses. They've grown accustomed to last-mile logistics in their personal lives and appreciate dump truck businesses that can deliver the same kind of real-time updates.
GPS tracking in real-time means dispatchers can provide accurate details when customers call in. But how much better is it to eliminate the need for your customers to call?
An Order Delivery Tracker feature enhances efficiency by saving your dispatcher the time and trouble of answering customer phone calls or texts. The software automatically sends customers updates at critical points in the lifecycle of an order including an order confirmation, updates on delivery status, where their dump trucks are, and a summary after the job is completed.
Scale Your Trucking Volume with a Marketplace
If you've ever had to turn down work (as a dump truck owner operator, a dump truck fleet owner and manager, or any other size dump truck business owner!) because you couldn't find enough drivers, here's something to check out. With over 36,000 drivers, the Trux Marketplace is the nation's largest network of technology-enabled dump trucks.
Instead of searching through your contacts, local job boards or turning to a broker, you can simply use the marketplace to find extra haulers when you need them. You'll know they're reliable, insured and DOT compliant.
Manage Third Party Haulers with Ease
When you hire dump truck haulers through the Marketplace, you'll be able to manage them with the same efficiency that you enjoy with your own drivers. The haulers will be tracked in real-time through their smartphones which means your dispatcher will have visibility into their whereabouts and be able to communicate with them through the platform's built-in messaging system.
All the information about every dump truck hauler, and every load is organized to keep everyone on the same page without having to scroll through a bunch of texts or listen to voice messages.
Take Advantage of Working Remotely with a Mobile App
Finally (but maybe the most appealing factor from your dispatcher's perspective) is the ability to dispatch from anywhere at any time. Dispatchers are getting burned out largely because their job is demanding. It's fast-paced and usually must be done from the office.
A cloud-based dispatch management platform with a mobile app means your dispatcher can perform their job from home, a dance recital or soccer game, or their pickup truck….wherever they happen to be. This kind of flexibility reduces stress and enhances dispatch efficiency.
Rev Up the Efficiency of Your Dump Truck Business with Trux
Increasing the efficiency of your dispatching function with digital technology from Trux results in more benefits than just the time savings. Improved dispatch efficiency can save on costs, reduce stress and chaos and improve productivity--many Trux customers have experienced a gain of up to 40% in that area. You'll be able to deliver more loads in a day, take on more work and impress your current customers.
If you'd like your good days in the dump truck industry to outweigh those bad days, you can start by taking this logistics assessment. It only takes a few minutes and will give you an idea of where you can make changes to improve efficiency in your dispatching.