With TRUX, you will stay
in control, connected, on schedule

You deserve to stay in control, and Trux helps you manage ever-changing dump truck schedules with ease with our broker truck solution.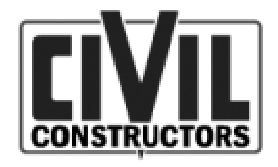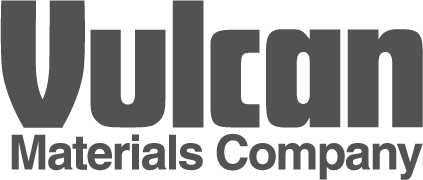 Brokers can easily manage their fleet across multiple jobs, on a single platform, with real-time visibility, easy to export shift data, and image uploads for all load slips.
MANAGING ALL YOUR JOBS JUST GOT EASIER
In the last year, we've helped over 10,000 businesses manage their dump truck logistics, facilitating more than 3.5 million loads across the U.S., with 28,0000 technology-enabled dump truck drivers in our marketplace.
The Leading Dump Truck Logistics Platform
Trux is the leading dump truck logistics platform, helping brokers stay in control of their dump trucking operations. We provide tools to increase visibility for the trucks you manage, easily export data, leverage digital load slips, and find back-haul opportunities when you need them.
IMPROVE VISIBILITY
Get the visibility you need to stay in control of your projects, with real-time GPS tracking and digital load ticket data in the cloud for all your trucks.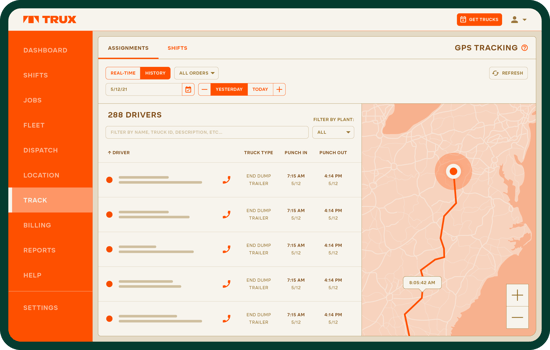 MANAGE YOUR FLEET EFFECTIVELY
Manage your trucks with digital scheduling and dispatching. Track progress on multiple jobs in real time throughout the day and communicate changes or reassignments in app.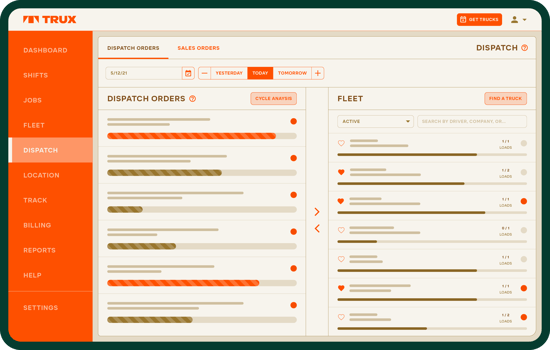 CREATE A SINGLE-SOURCE OF TRUTH
Accurate, reliable information for you and your haulers - every load, every ton, every time. Working off the same numbers reduces confusion, frustration, and costly mistakes.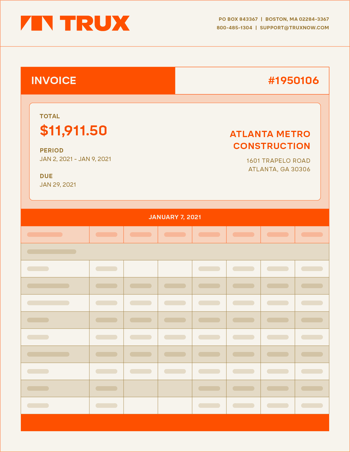 FIND MORE BACK-HAULS
With access to the Trux Marketplace, you can find strategic back-haul shifts to ensure your trucks drive full - in both directions.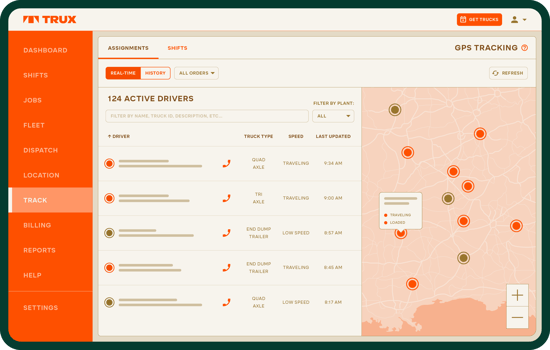 We knew we needed to find more reliable trucking. Rather than focusing on the problem, we knew the only way to get ahead was to find a solution. Harness is solution and results-driven, TRUX is the solution that works best for our business. By leveraging TRUX's platform, we are able to reliably find trucks when we need them, ensure material is delivered to the jobsite on time, and remain nimble as changes to our schedules occur.
John Carney
Foreman
Our partnership with TRUX over the past 2 years has allowed my team to vastly improve our trucking operations. TRUX gives us the ability to efficiently manage out fleet, get additional dump trucks when we need them, monitor performance, get digital copies of our tickets and gain access to cost data in real-time. TRUX has helped provide quality control over our trucking operations as we can deliver on our commitments to our clients.
Michael Musto
CEO & President
Manage Your Logistics With More Control