7 min read
Fleet Management Benefits & The Best Ways To Evaluate Your Options as A Dump Truck Owner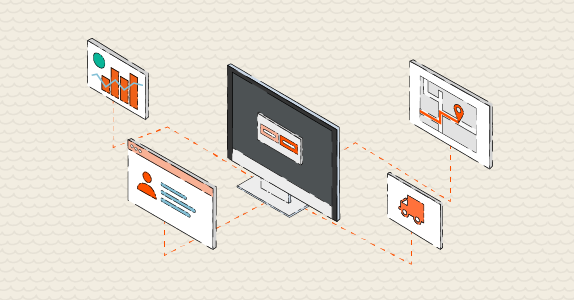 As a dump truck owner in 2021, it's a safe bet that you're more than familiar with fleet management benefits, or more specifically, the advantages of fleet management systems and the benefits of using a real-time transportation visibility platform. Even if you don't currently employ this popular digital tool, you're probably considering its advantages and ROI.
It's no wonder. The market for these types of trucking logistics solutions experienced astonishing growth in 2020. In North America alone the market size doubled, no doubt partially because of the disruptions to the supply chain brought on by the pandemic.
And according to a 2018 survey by Government Fleet, over 75% of fleet managers reported that they depend on fleet management software solutions to streamline the daily operations for at least some of their fleet.
Fleet Management Benefits to Transform Your Business
Whether you own 5 dump trucks or 50, you can expect these key benefits of fleet management software soon after adopting any one of the many solutions on the market today.
Increased Visibility
A fleet management tool that includes a real-time GPS tracking feature takes the guesswork out of locating your trucks. Pinpointing precisely where your vehicles are will be accomplished through using either telematics, smart devices or some combination of the two. Some fleet management platforms track vehicles by using telematics which are installed in the vehicle. Other solutions keep tabs on a vehicle's location through a cell phone or tablet which stays with the driver.
Both systems provide fleet managers and dispatchers with valuable information about all the trucks they have out on the road. When conditions arise that could affect an ETA, such as traffic, weather or road work, dispatchers have the details they need to quickly redirect the vehicle and perhaps avoid a delay.
This increased visibility isn't limited to just knowing the whereabouts of your vehicles. With fleet tracking solutions you can see how much time a driver spends at approved destinations--and the duration of unapproved stops.
Also with real-time and historical data, you'll gain insight into fuel consumption and be able to devise cost-saving solutions to address wasteful spending. For example, if you've identified points along a route where idling frequently occurs, you can optimize alternate routes for better fuel management. Another way that heightened visibility helps reduce costs is by giving you the ability to stagger arrival appointments which will reduce idling times.
The increased visibility that real-time GPS tracking provides leads to improved asset utilization, customer service and productivity.
More Efficient Scheduling
One of the benefits of fleet management systems that dispatchers will particularly appreciate is the ease in scheduling. None of the dispatchers we talk to pine for the good ol' days of whiteboards and the other manual processes they used before implementing a fleet management solution.
With a digital tool in place, schedules can easily be created days, even weeks, in advance. Most logistics platforms are designed with an intuitive dashboard that makes learning to use the software a simple process. Bulk reordering and reassigning haulers is completed in seconds with a few clicks rather than a string of time-consuming phone calls and unanswered messages.
Flexibility is especially important as demands and challenges present themselves throughout the day--new priorities from upper management, a job finishes early or a highly valued customer has a request for expedited services. Centralized fleet management systems give you access to all the information you need to react and make informed decisions without delay. You know what assets are available and their locations so you can efficiently modify assignments.
When it comes to scheduling, a real-time transportation visibility platform increases efficiency and offers the flexibility you need to nimbly adapt at a moment's notice.
Better Communication
Miscommunications and missed communications plague almost every business sector. But it's hard to think of an industry where the immediate relay of information is more crucial than in the trucking industry.
Unfortunately, there's a load of opportunities for communication breakdowns on a daily basis: in scheduling and dispatching, with drivers and customers, and within your own teams or third-parties.
Fortunately, a cloud-based trucking logistics solution allows for messages to be instantly sent to all the parties involved. You can be as detailed as you need to be with instructions about a specific location or order. And that message is documented, so resolving disputes that may arise later is matter of fact, literally.
As mentioned earlier, when unforeseen circumstances arise that call for a driver to be redirected, it's no problem. Dispatchers can immediately communicate the new information with confidence that the message is received.
Communications are exchanged instantly, documented and accessible with a fleet management tool.
More Transparency for End Clients
Greater visibility for you as a dump truck fleet owner translates into enhanced transparency for the end-customer.
It's helpful to remember that your customer is also a consumer. And because of the pervasive-- and successful--use of GPS tracking for everything from pizzas to e-purchases, today's consumers have come to expect accurate delivery estimates. Those expectations carry over into their 9 to 5 world. Because you'll know the precise location of your dump trucks as well as the conditions along the way, you'll be able to provide accurate ETAs to your clients.
Accurate estimates are appreciated. However, it's the real-time notifications which update your customers that take your delivery service level up a notch. Many fleet management solutions can be configured with geofencing that alerts a customer when a driver is within minutes of the site. This real-time update on the driver's status allows customers to be prepared for the delivery and allows you to ensure an excellent customer experience.
A fleet management solution allows you to provide accurate and timely updates to your clients, elevating your customer service.
Less Paperwork for the Back-Office
With a fleet management tool in place, many manual tasks that involve paper will be happily tossed aside and replaced with efficient automated processes. Tasks like sorting through the day's tickets, batching and creating invoices are all taken care of through the solution. What about tracking down missing information about a load or verifying drivers' hours? Those time-wasting activities are things of the past. The digital collection of data reduces the occurrence of these types of errors.
This back-office efficiency is achieved through a variety of features you'll find in many solutions: digital driver punch-in and punch-out; digital ticket uploads throughout the day; GPS verified hauler and route information; and automatic generation (and consolidation) of hauler invoices.
The burden on the back-office is significantly lightened by replacing manual tasks with automated processes.
Dump Truck Owners: Here's How to Evaluate Your Options
The fleet management needs of dump truck fleet operators are quite different from other types of fleets. When looking into real-time transportation visibility platforms, the first factor you should consider is this: Is the solution designed to handle all the logistics specific to my dump truck business?
If the answer to that question isn't immediately clear, here are some other key factors you can use to dig a little further to determine if a solution will work for you.
1. Modal Coverage
At first glance, it may be impressive that a solution can handle air, rail and ocean modes of transportation, but is that truly something you, as a dump truck owner, need? In this case, less is probably better. You want a platform that focuses on over-the-road transportation.
2. Global Reach
Like modal coverage, many vendors will extend their market coverage internationally, which isn't necessarily a bad thing. However, you should look for a provider that operates in a region similar to the one you operate in.
3. Data Quality
One of the most exciting fleet management advantages lies in the data you'll be able to collect. You'll use this data to gain insights for improving efficiency, safety and productivity. Therefore, you should make a point of asking the vendor how they ensure the quality and accuracy of the data collected. Reliable data is essential.
4. Third-party Integration
Nowadays, you'd expect any trucking logistics platform to integrate with ERPs and other systems like your accounting software but investigate to make sure. Vendors may tell you a particular integration is possible with their solution, but if they already have existing integrations to your current systems, your implementation will be speedier with fewer hiccups.
5. Compliance
Be careful not to assume that a vendor's solution supports regulatory compliance issues. Ask the vendor for some reference customers, and then check with those customers. With the trend towards many state DOTs requiring eTickets, it's smart to go with a vendor who's already in the game.
Fleet Management Benefits with TRUX
TRUX was built especially for dump truck owners. We understand the challenges and requirements you deal with every day. Our all-in-one dispatch management platform streamlines your operations and makes light work of your heaviest logistics with:
Drag and drop technology for fast dispatching
Mobile app for dispatching on the go
Real-time GPS tracking to keep tabs on your fleet
Digital ticketing
Automatic and consolidated invoicing
Access to the nation's largest dump truck marketplace
These are just a few of the ways that Trux's fleet management software can deliver the fleet management benefits you're looking for. Give us a call to find out how we can help you transform your dump truck operations.