7 min read
Efficient Dispatch Management Hinges Upon Digitization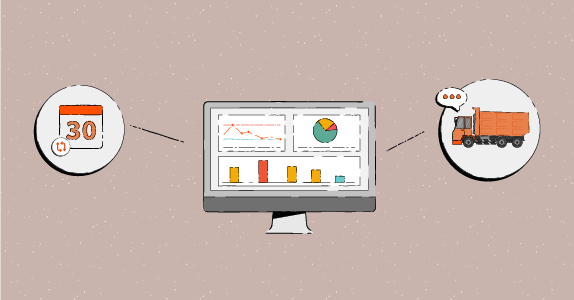 Keeping track of scheduling and change orders is difficult at best. Construction professionals have created schedules on whiteboards or with pen and paper for decades, managing changes that occur throughout the day with phone calls and text messages. However, with growing demands on the industry and increasing customer expectations, the tried and true methods of dispatch operations are being tested. Many construction leaders are turning to technology platforms to create more efficient dispatch management.
Logistics platforms are gaining traction in the industry, due in large part to the ability to digitize already existing workflows with minimal disruption. With a digital dispatch platform, it is easy to create a schedule and manage changes without any disjointed communication. In this article, we will explore the direct impacts of digitization on key roles in your organization and the downstream impacts that digitization of dispatch management creates, including more efficient scheduling and better communication.
Digitization Directly Impacts Dispatch Department Functions
Digitization is predicated on bringing in dispatch management software for your team. Dispatchers enabled with tools to effectively provide dispatch management will replace time spent on largely manual processes with new high impact activities.
New Digitized Scheduling...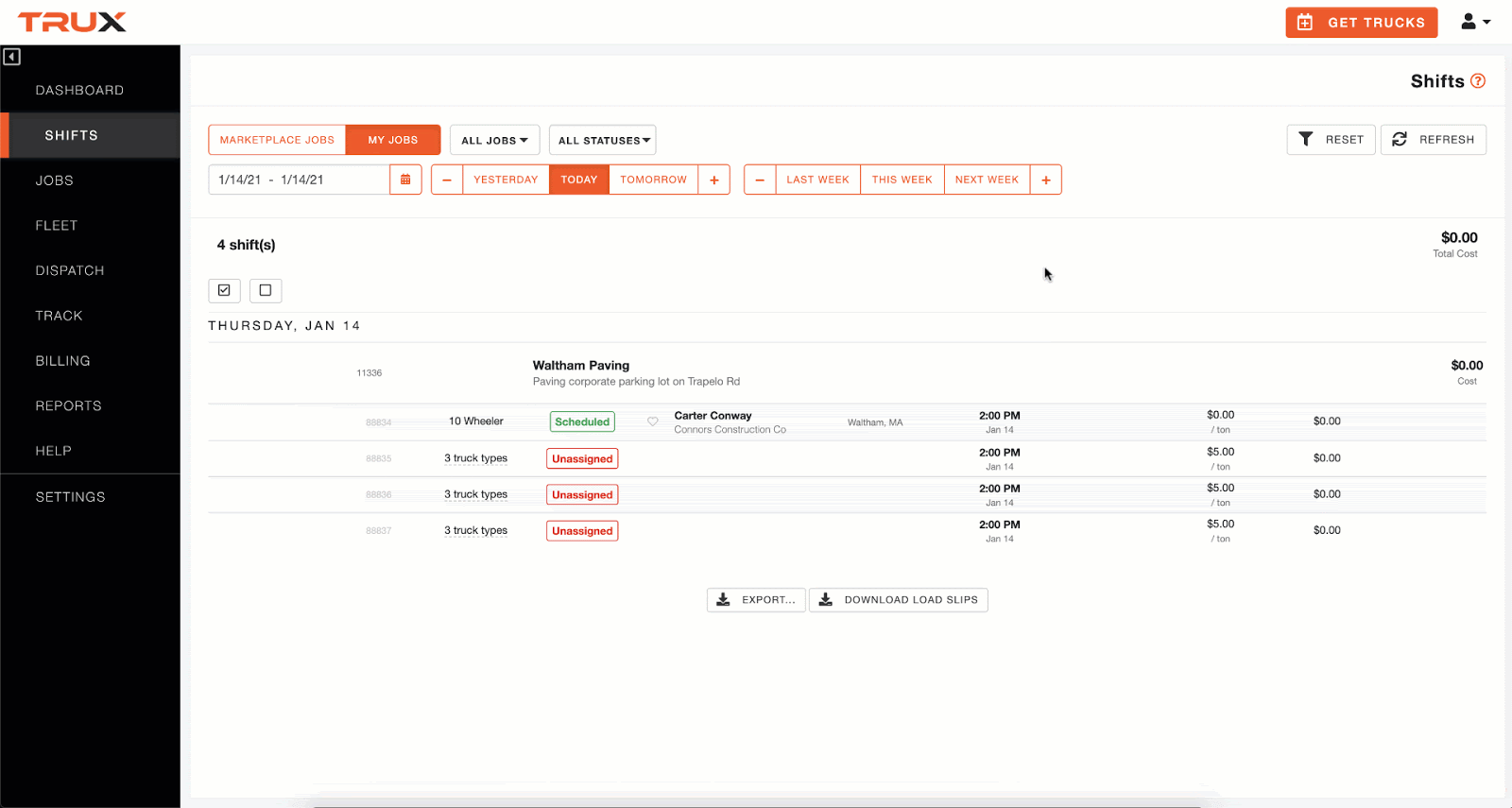 And digitized dispatching…..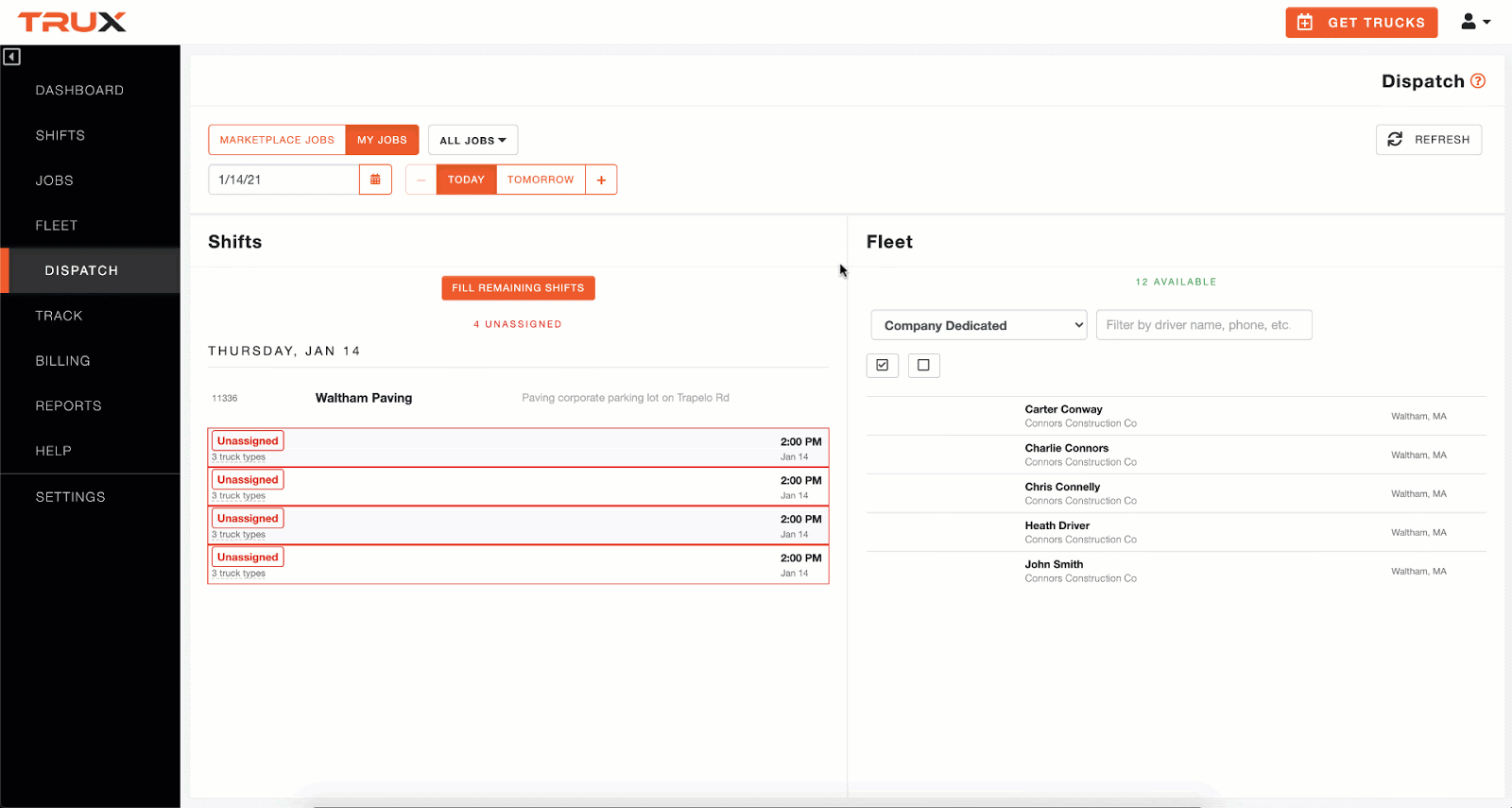 High-Impact Activities Brought on By Digitization:
Centralized Dispatch makes it easy to manage schedules in one clear view, allowing for optimization of hauler schedules.
Increased Schedule Efficiency through staggered scheduling, reducing wait times, and reducing deadhead.
Bulk Reordering for long term projects reduces repetitive work and allows projects to stay on schedule.
Drag and Drop Scheduling and Reassignment of haulers cuts down on phone calls, text, and allows dispatchers to focus on other high impact projects.
The process of onboarding a new scheduling and dispatch management software requires commitment from your entire team but the benefits are worth it. Logistics providers are seeing immediate gains from digitization.
Outputs from An Improved Dispatch Management System, Leveraging Digitization:
Increased Material Moved
Increased Logistics Profitability
Increased Dispatcher Business Impact
Increased Customer Satisfaction
Managing construction projects is changing and tomorrow's dispatcher is going digital. Enabling dispatchers with digital platforms can increase the productivity of the dispatch office...in many cases by 40%. To see these gains, it does require a commitment on the part of your organization and your dispatchers to learn the technology and use it consistently.
Even after implementing a logistics platform, current dispatch manager skills will still be critical. This is particularly true when it comes to maintaining and managing existing relationships with haulers, market knowledge, and industry expertise. However, there will also be a need to adapt new technologies and learn how to translate current manual processes into digital tools.
With the right trucking logistics platform, the transition should be easy. You should receive training and guidance from the platform you chose to work with. Involving dispatchers in the process will increase the odds that they will leverage new tools as well.
People may focus on how to improve dispatch department functions but it is equally important to remember that any gains dispatchers achieve will impact the jobsite and hauling.
Digitization of Dispatch Management Impacts The Jobsite and Haulers
It is easy to see how a digitized dispatch system impacts dispatchers directly by centralizing dispatch and allowing for easier scheduling. However, is the field impacted by the new digital dispatch system? The answer is yes. Teams at the jobsite and the haulers delivering material will be impacted.
While dispatchers are leveraging a desktop or mobile-optimized version to more efficiently schedule logistics, teams out in the field are receiving information in newly optimized ways as well.
When you implement a logistics platform, the foreman at the jobsite will experience a few key changes:
Real-time Visibility into dump truck location, via GPS tracking.
Staggered Arrival Times at the jobsite, reducing wait times and keeping jobsites running efficiently.
Real-time Job Costing Information keeping projects on track from a productivity and budget perspective.
Digital Load Slips to ensure that project documentation is accurate and organized.


Haulers will also have a new experience as well. They will be more connected to the office and can rely on the logistics platform to keep them on track throughout the day. As assignments change, they will be notified directly through a mobile app - rather than having to keep track of phone calls or text messages.
The new hauler experience will include:
Digital Punch-in and Punch-in of Shifts ensuring accurate time records down to the minute.
Centralized Communication allowing drivers to get real-time access to any change orders.
Increased Visibility with trackable hauler locations in real-time.
One-Button Navigation making it easier to navigate to jobsites or stockpiles without a direct address.
Digital Ticket Upload/Collection so drivers can take photos of load slips throughout the day and upload them to their mobile app, making it easier to keep track of paperwork and ensure no documentation is lost.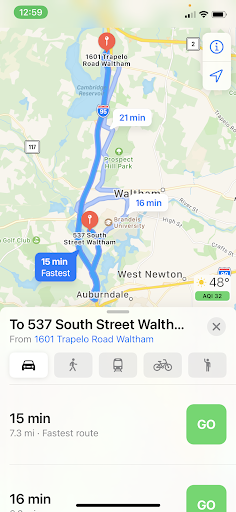 It is important to note that with a logistics platform, data collection and GPS tracking are not reliant upon an installed piece of equipment. Drivers will need a smartphone with the app downloaded, but will not be required to swap out any hardware.
Logistics platforms that do not require hardware make it easier to manage ALL your logistics, including the dump trucks you hire.
The Downstream Impacts of Dispatch Management Digitization
By leveraging fleet dispatch management platforms, you are demonstrating a commitment to create efficiency within your logistics operations. The changes that platforms bring allow you to pivot dispatching into a profit center, unlocking new business value in your organization.
Digitization of dispatching is key because it allows for more organization, collaboration, and improved ability to track and report on projects.
Logistics has traditionally been an area of risk for organizations. While digitization doesn't remove risk entirely, leveraging a platform to digitize dispatch management significantly increases the predictability of your logistics operations.
When you can offer more predictable logistics, your customers will be more satisfied with your service. The visibility you gain will help your organization increase profitability. Finally, your dispatchers will be able to perform their jobs with less frustration and increase their output, in less time. Dispatchers are central to your logistics organization now and will continue to be critical to operations in the digitized construction industry of the future.
From a business perspective, the benefits are clear.
But what about on a human level?
We hear from dispatchers all the time that they are not able to make it to their kids' soccer games on Saturday afternoons because they are stuck at the office. We hear about family dinners interrupted during the week with schedule changes for the next day.
Your dispatchers are committed to excellence for your organization, but often crave more time with their families.
The increased dispatch efficiency that digitization brings allows them to get more done during the workday and handle changes with ease. Since everything is digitized, they can also work from anywhere.
Whether that is from the soccer game on Saturday afternoon, or from the couch after dinner, your dispatchers will appreciate being able to stay committed to excellence - from anywhere.
Getting trucks scheduled on the go is as easy as pulling up the platform on your mobile phone. No need to carry bulky files or feel chained to your desk. All the information your dispatchers need is easily accessible, right on their phone!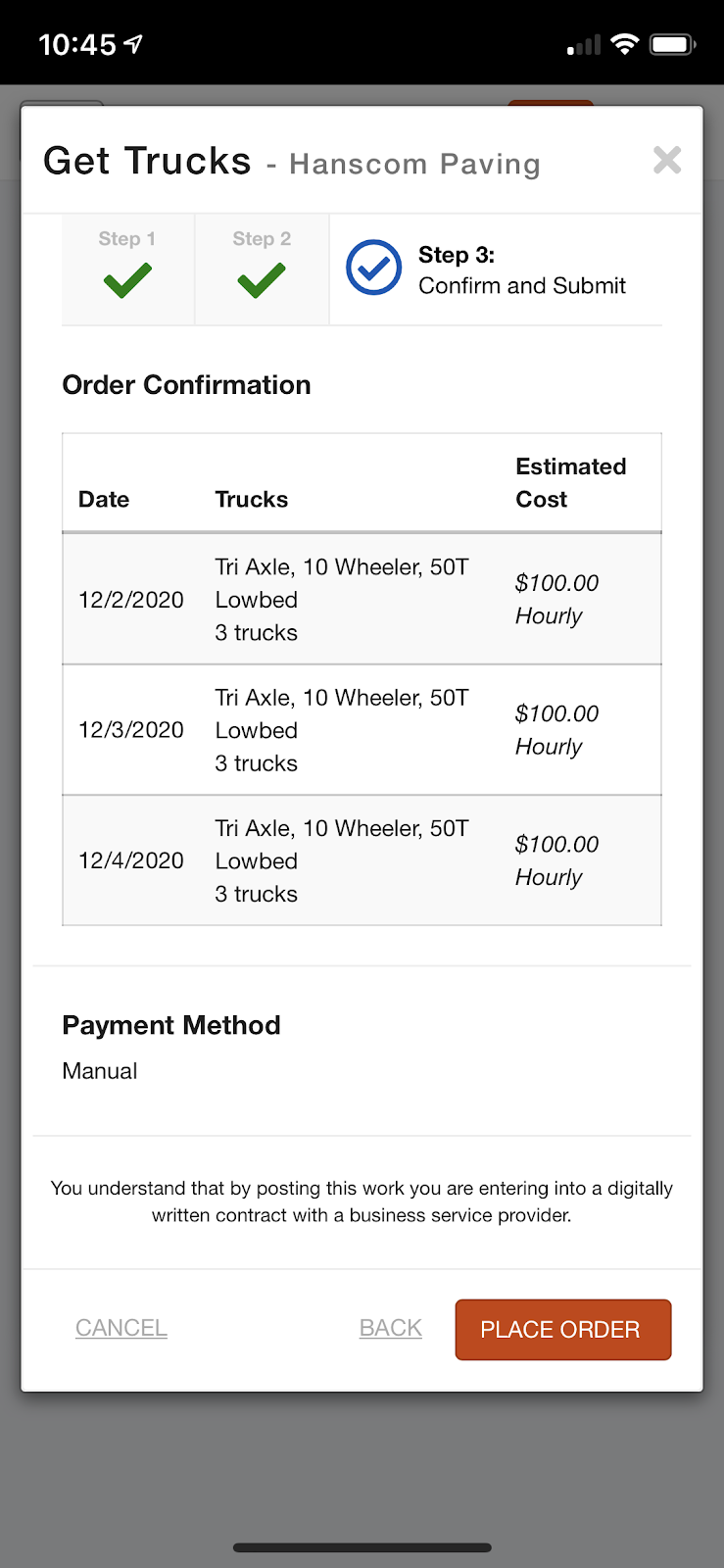 Dump Truck Logistics Software Is Creating Efficiency Across The Board
In this article, we explored how efficient dispatch efficiency management hinges upon digitization. Increased communication and more effective scheduling are paramount to dispatchers' new roles with digital logistics platforms. However, the benefits don't stop there.
Crews out in the field are able to more efficiently manage the jobsite and prepare for material en route. Haulers are able to provide transparency with real-time tracking and digital load slips, improving relationships and communication with key stakeholders.
Everyone on the team, including dispatchers are able to take their work on the go. This makes it easy for your dispatchers to stay connected to the office - even when they are at home. Not only is this great for getting more family time but it also creates less risk for your logistics, especially if a key member of the team gets sick or needs to work from home for a week or two.
Digitizing dispatch management is one way that logistics platforms are improving operations for construction professionals.
If you are interested in diving deeper into how logistics management improves efficiency, be sure to check out the first article in this series where we touch on:
Automated Creation and Consolidation of Hauler Invoices
Electronic Scheduling and Hauler Communication
Better Asset Utilization
Paperless Ticketing and eTicketing
Real-time and Historical Tracking
Over the course of the next few weeks, we will be exploring each one of these topics in more detail, so stay tuned and subscribe for the latest articles in your inbox.
Looking to get connected with a logistics expert about digitizing your dispatch management today? Schedule a demo with a member of our team.