6 min read
Finding Salt & Snow Work for Dump Trucks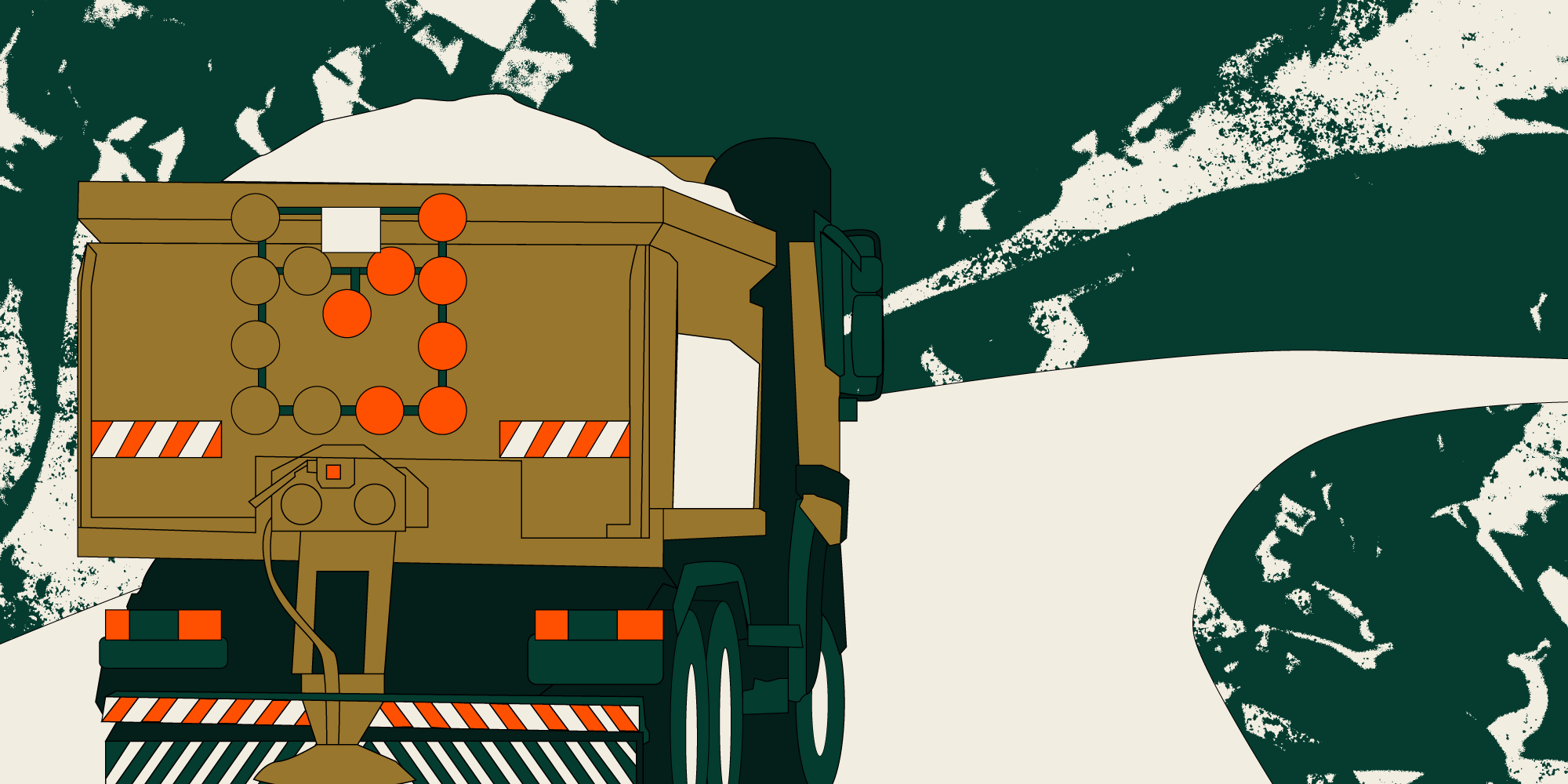 The heavy civil construction season is winding down, but that doesn't mean you have to retire your dump truck for the winter. If you want to keep your fleet busy year round, there's plenty of snow work for dump trucks depending on what area of the country you're in.
Before we get into how and where you can tap into this goldmine of opportunity, here's a sneak peek at the weather for the upcoming winter season--or at least what the experts are predicting.
What's the Forecast for Dump Trucks?
We checked with two sources for their weather predictions. Both AccuWeather and the trusty Farmer's Almanac, agree that winter 2021-2022 will mean snow for much of the country. Here's a breakdown from the two sources by region:
Northeast:
Plowable snow could hit in late November or early December and then taper off until January when it storms back onto the scene. Strong winter storms during the second week of January, the last week of February and even into the second week of March.
Mid-West:
Higher than normal amounts of snow and frigid temperatures are expected. All of the Great Lakes could see a lot of activity with lake-effect snow and Buffalo, NY is predicted to have 100 inches.
Plains & Northwest:
The Rockies and the Northern Plains could see a blizzard close to the end of January's third week. Ample snow in the mountains of the Pacific Northwest and the Rockies with Denver experiencing snowfall closer to average levels.
South & Southeast:
A mild start to winter is predicted but a flip in the weather pattern in late January or February could bring disruptions from snow and ice. It shouldn't be nearly as bad as what Texas experienced in 2020, though.
The bottom line is that it looks like there will be many opportunities for snow work for dump truck drivers if you're located in areas of the country where snow plows, heavy equipment, and salt sheds are normally put to use.
Dump Trucks: Go with the Snow or Not?
Although snow and salt work can be quite profitable during winter months, you may not want to use your dump trucks for this kind of work. That's perfectly understandable. Driving a truck in the snow is rough on your vehicles, causing more wear and tear than other types of hauling. As an owner operator, it can be expensive to maintain your personal truck, and risking damage with heavy snow loads may not be worth it.
Other considerations include the fact that these jobs are last minute by nature. It's hard to set up job ads for snow work too far in advance. Additionally, you have to make sure your trucks are in excellent working order, ready to go at any time. Preventative maintenance is essential.
You also have to be confident that you have truck drivers in the winter months who are willing to hop behind the wheel at a moment's notice (which can sometimes be up to two days in advance, but there are just as many instances that the timing comes down to the wire).
If, after you've thought about the pros and cons of snow work, you've decided it's worth it to put your dump trucks to work during the off-season, both the private and public sectors have opportunities to check out before the spring rolls around.
Some cities, towns and other municipalities offer seasonal contracts but be forewarned they are very competitive and likely to already be awarded to dump truck drivers by this time of year. It could be worth contacting government agencies anyway in the event that things don't go as planned with their current dump truck drivers.
It never hurts to have your name circulating out there, building relationships, and getting more information. Hospitals can be another jackpot, but there are challenges like the parking lots never being completely empty. There are also seasonal contracts directly with corporate offices, shopping centers, grocery stores and strip malls.
Depending on the size of your business, you may want to pursue these larger contracts for your company. If you don't want to commit your fleet to this work full-time or don't have the resources to bid on projects of this scale, you can always look for opportunities to hire out your trucks/drivers from time to time. Or you can look for work that pays by the hour, picking up work here or there. Salary range will vary greatly depending on the area, and whether or not a company pays by the hour, by the day, or by project.
Look to Trux to Find the Work
One of the easiest ways for dump truck drivers to find snow work for dump trucks is to use a marketplace like Trux.
You may have heard of Trux. And you may already know that the company has the largest dump truck marketplace in the United States, but maybe you don't know exactly how we can help you in your corner of the world.
For starters, like other digital or online marketplaces, we operate on the principle of supply and demand, much like Uber or eBay. Every day all across the country, contractors and material producers post jobs for our network of over 30,000 drivers--and this includes snow work for dump trucks. You'll have the most success using the marketplace if you follow these helpful tips.
Thousands of jobs are posted each day. Keep in mind that 90% of those are taken by the first or second person who looks at them.


Sign up in advance by downloading the app and make sure to submit a copy of your insurance and W9. Without these documents on file, you won't be able to accept work on the marketplace.


Double-check the details of the job to make sure you can complete it with your skillset and type of truck. You want to make a good impression to gain repeat business and referrals.


Check the job postings frequently for work in your area. And do this at different times of day.


If you have any questions during the signup process, just reach out to us! We're always ready to help.


Benefits of the Marketplace for Dump Trucks
From coast to coast, users have found that using the Trux Marketplace to find work (driving in snow and all year round) for their dump trucks is a solid business decision.
We've helped over 12,000 dump truck businesses keep their trucks busy and streamline their operations. Whether you're looking for a dump truck driver to expand your capabilities or you're looking for jobs for your trucks, you'll find the marketplace takes the hassle out of the process.
Especially for salt and snow work, a quick easy view of the work available in your area is much easier and quicker than waiting for a call -- or running through your contact list before a storm.


You'll get paid faster. Instead of waiting 60-90 days, you'll be paid a week after you've completed a job.


There's no need to create and process invoices. Our trucking logistics platform automatically creates invoices and sends them to the companies you hauled for through the marketplace, saving you from that often tedious job.


Due to the nature of salt and snow work things can change quickly, you'll be notified when the job changes -- every time!

Here's to a safe and busy off-season. If you have more questions about the Trux Marketplace, give us a call. For our support team, it's always the season to help.