6 min read
5 Ways To Improve Plant Efficiency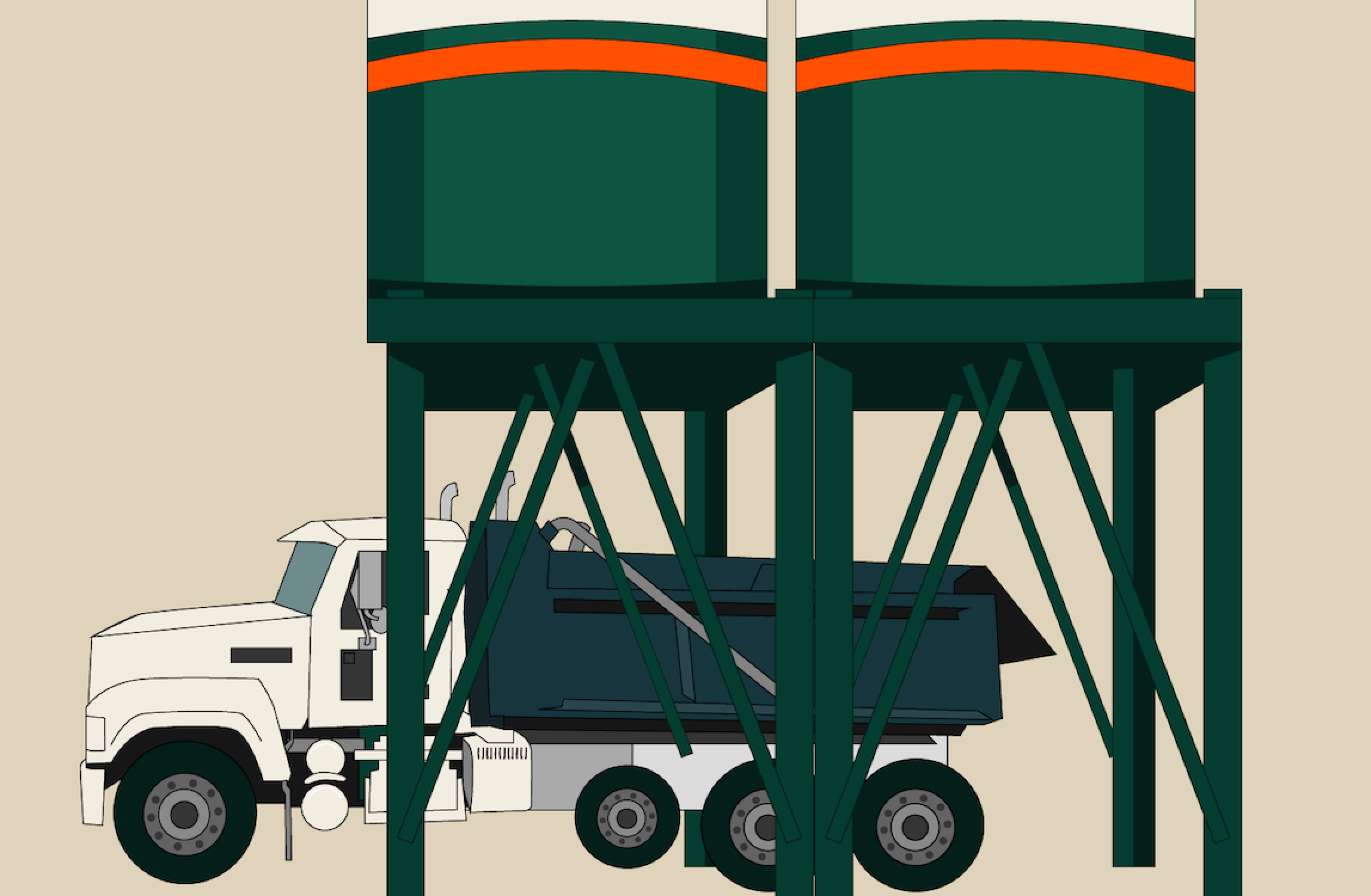 If you're looking to improve plant efficiency, we have some good news for you. First, there are at least five ways you can streamline your operations in a relatively short amount of time.
Technology is the key here. The even better news? All five ways and more can be accomplished with one move–by implementing a single all-in-one dispatch tool.
In the current landscape, material producers struggle with achieving plant efficiency for a variety of reasons. A major one is that many of your workflows and tasks rely on manual paper-based processes. These processes take up valuable time and require humans to complete them. Compounding the issue is the continuing labor shortage. So you have fewer people to handle the manual tasks that are taking too much time anyway.
In addition to replacing manual processes with digital ones, a logistics solution will improve the efficiency in other aspects of your operations resulting in more satisfied customers, happier employees and wider profit margins. Read on to learn how these five ways work to transform your plant operations.
1. Exchange paper load slips for digital tickets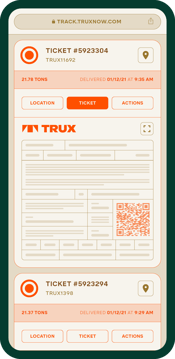 For as long as dump trucks have been moving material from a plant or quarry to a jobsite, paper tickets have been handed off between haulers, foremen and back office teams. There are a number of problems with paper load slips. They can go missing, be difficult to read or include inaccurate information, and even pose a safety risk.
Throughout the day haulers have to keep up with tickets so they can turn them all in at the end of the day. It's fairly common that over the course of a week, some of those load slips will be lost until someone finally finds them. A missing ticket costs in terms of the additional time it takes to recover it as well as causing a delay in closing out the project which impacts your cash flow. Or worse case scenario, it's never recovered. And that means you're not able to invoice the customer for that work.
Even if you never have a ticket unaccounted for, there are times when the information on them is illegible or just wrong. That means the back office has the added burden of verifying whether that scribbled number is a one or a seven.
As for safety concerns, any time a hauler has to get out of his truck, there's an element of risk in being close to equipment. And we can't forget the recent requirements for contactless ticketing. Paper tickets changing hands can spread germs which could mean you have to deal with having people out sick.
With digital load slips, the material is time-stamped, weighed and documented as soon as the hauler leaves the scale. You'll get accurate, legible data in real-time. Your back office will have immediate access to all load slips which saves them from having to track down information and spending hours on repetitive data entry. Digital load slips that are stored in the cloud are safe–from loss, inaccuracy, and coffee spills.
2. Give your dispatcher the tools they need to streamline their jobs
The job of dispatcher is central to your entire operations. Anything you can do to make it possible for them to perform their work with more efficiency and less stress should be top of the list. They're tasked with creating a schedule, assigning haulers, communicating with multiple entities, handling change orders and managing the day's overall activities. There can be a lot going on all at the same time.
Again, this is an area of plant efficiency that can be improved with digital technology. Simplify your dispatcher's day, from start to finish, with a logistics solution:
Creating a schedule–Trying to create a schedule using a whiteboard or spreadsheets is clunky and time-consuming. Instead, with logistics software, dispatchers are able to quickly map out an entire day's work in advance. It's so easy to schedule with Trux, that many dispatchers are able to create schedules days or even weeks in advance for even more efficiency.
Managing all haulers–When severe weather, heavy congestion or jobsite closings occur, dispatchers find themselves in a flurry of chaos trying to find out where their haulers are and possibly rerouting them. Because dispatchers will have a bird's eye view of all active haulers–both internal and third-party–at any given point in time through GPS tracking, they can simply reroute drivers without having to call or text them. More often than not, having this ability will cut down on the number of costly delays you incur.
Communicating to all–Dispatchers are at a disadvantage when they have to make calls or send texts to communicate with their haulers. Frequently, they have to wait for an answer before they can make their next move. Also, when texts are mixed in with personal messages, it can take valuable time to search for the information you need - and this assumes you even have their personal cell phone number! Logistics solutions help with plant efficiency because messaging is instantaneous, thorough, and stored separately from personal messages for faster retrieval. This also provides accurate documentation of communications if a dispute ever arises.
Handling change orders–Another unexpected occurrence that can throw a carefully planned schedule out the window is when a change order comes in. Again, because of the visibility from real-time GPS tracking paired with the centralized communication system found in a logistics solution, dispatchers can deal with change orders quickly and easily.
3. Enable haulers to get in and out of job sites efficiently
Time is wasted in a couple of ways when a load is due to arrive at a jobsite. Without knowing a truck's ETA, the foreman may keep a crew working up till the last minute. Then it's the hauler who is left idling (wasting both time and fuel) while waiting on the crew to prepare the site. Or the foreman may stop work and have the crew prepare for a load's arrival but if unforeseen circumstances have delayed the truck, the team at the jobsite will be the ones waiting. Either way, it's not the most efficient use of time.
Trux Delivery Tracker enables you to provide job sites with an accurate arrival time for material for the duration of their order.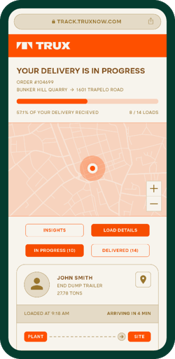 4. Get cycle-time analytics to reduce bottlenecks
GPS tracking is a great tool to gather data about travel times. But there are other segments of cycle times that are just as important to getting a complete picture of how long it's taking you to move material from your plant to the jobsite. Improving plant efficiency must include addressing these potential time sucks.
With a logistics solution in place, you'll be able to gather data about load and unload times. You'll be able to discover where bottlenecks are causing delays. Armed with this kind of reliable, accurate and specific data, you can streamline those areas for optimization.
5. Partner with a software company that's the right fit
If you've already started the process of shopping around for a logistics solution to help improve your plant efficiency, then you're aware that there are many choices out there. To guide you in your search, here are a few helpful suggestions:
For dump trucks only–The first criteria should be that the software is designed for dump truck users. Several solutions on the market started out as tools for long haul trucking or some other type of trucking. Since material producers rely on dump trucks, your digital technology should take that into account.
Trux was designed from the get-go by professionals in the construction industry who understand the unique requirements of dump truck users. They wanted the solution to eliminate as many manual processes as possible, to streamline time-consuming tasks and enhance efficiency from dispatch to the back office. There are fields for the type of dump truck, the material and other details specific to the industry. Load stacking and bulk reordering are easy tasks with just a few clicks. And it's intuitive and user-friendly.
Experienced support teams–From our sales teams to our data analytics manager, our support teams all come from construction-related fields as well. They are industry experts who bring years of experience to help you optimize your plant efficiency based on your own individualized goals.
An adaptive posture–Trux has a reputation for listening to its customers in order to provide the best tool for contractors, haulers and material producers alike. Trux customers have seen the evolution of the platform over the years and been pleased as we add new features and functionalities.
If you'd like to learn more about improving your plant efficiency and how Trux can help with that goal, why not start by taking this logistics assessment?