7 min read
Why Real-Time GPS Tracking Is A Must-Have Logistics Software Feature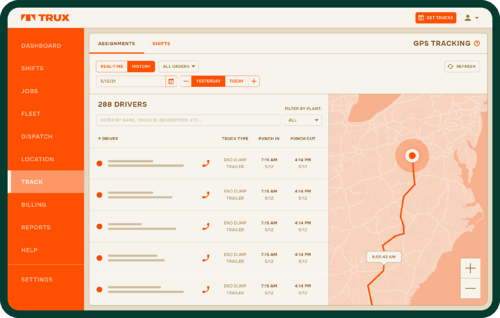 If you're currently in the process of looking for dispatch solutions to streamline your plant or quarry operations, you'll want to make sure it includes this essential feature: real-time GPS tracking.
As you're evaluating different options in the logistics software marketplace, you'll run across some impressive products. But no matter how many bells and whistles the vendor promises, if the platform doesn't offer you the ability to track your dump trucks in real-time and then seamlessly integrate the data into your system, run away. You don't have time to waste on considering that kind of solution when there are better choices out there that will help you improve operations across the board.
Here are just some of the reasons why real-time GPS tracking is a must-have in logistics software:
It allows you to deliver a differentiated customer experience.GPS tracking gives you a competitive advantage.
It streamlines the job for dispatchers. Digital tools increase visibility and free dispatchers from many manual processes.
It enables you to increase efficiency at the plant. The data you collect helps identify where to make changes in order to optimize.
Many material producers have already turned on the power of digital technology. In addition to experiencing these three benefits soon after implementation, they discovered that there was significant ROI. They also learned that it wasn't nearly as difficult to get their teams on board with real-time GPS tracking as they had thought.
Over and Above Customer Service with an Order Delivery Tracker
Whether you've just ordered a new back pillow or a pizza, last mile logistics has changed both your behavior and your expectations about your purchases. Before order tracking became the name of the game in the world of consumer products, most of us thought it was nice, but certainly not necessary, to be able to click on a link and find out that dinner was only 10 minutes away. Then as we grew more accustomed to having instant access to that kind of information, it became increasingly more important to us to deal with those businesses who provided it.
It's the same with your customers.
The contractors who are buying the materials you supply are quickly learning that having visibility into the status of their deliveries through an order tracking feature impacts both their efficiency and bottom line. They appreciate the confirmation that their orders are correct and underway. Knowing the ETA of a load allows them to have their crews ready at the jobsite. And a summary report simplifies their own documentation.
The benefits are not only for customers. For material producers, a logistics software solution with an Order Delivery Tracker offers several advantages too. You'll experience fewer mistakes around orders. Your customers will be kept in the loop without your dispatcher having to make or answer calls about the status of an order. And your sales teams can pitch this service as something that differentiates you from other producers in your area.
Here's a step-by-step look at how the Trux Order Delivery Tracker works.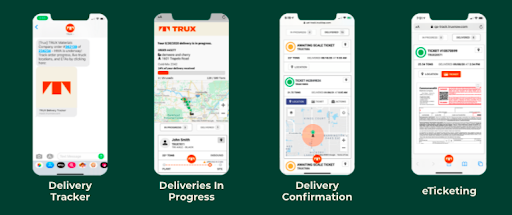 Step 1: Your customer places their order
As soon as you receive the order, your dispatcher creates a dispatch and assigns the number of haulers necessary to complete the delivery. All the details your dispatcher needs to create the order, even with special instructions, are right there in front of them.
Step 2: An order confirmation is sent to your customer
After haulers have been assigned, an Order Confirmation is sent automatically to your customer. This gives them the chance to see that all the details are correct - from the product(s) to the quantity to the delivery start and end times and even down to the exact location of the delivery . This step is where that good feeling about you as a supplier kicks in.
Step 3: Haulers digitally punch in
Once a hauler punches in with the first load of the order (capturing the precise minute work begins), your customers receive a text message to let them know that their order is in progress. Also included in the text is a link which allows them to track all haulers and loads and keeps them informed of ETAs for the duration of their order.
Step 4: Loads are delivered throughout the day
As loads are delivered throughout the day, your customer will see the exact location and time of each "drop" within the delivery geofence. For each delivered load, your customers will have the option to enter inspection notes, delivery notes, or reject the load with a reason. This information will be automatically sent to Dispatch.
Step 5: End of the day summary is on its way
This step is helpful for both you and the customer. You'll have received digital load slips and/or eTickets throughout the day which makes invoicing loads easier for the back office. And your customer receives a dispatch summary of all the critical data about the delivery for their own records, which prepares them for when they receive your invoice.
As you can see, the benefit of having an Order Delivery Tracker packs a double whammy. For you, the freedom your dispatcher gains from not having to make or answer calls regarding orders means they can focus on higher level tasks such as managing customer orders and haulers. For the customer, they're kept informed up-to-the-minute without having to repeatedly call your dispatcher and then wait for the information they need.
Ease and Enhance The Job of Your Dispatcher
The job of dispatcher is transformed significantly with real-time GPS tracking. When your dispatcher is working without the benefit of GPS tracking, they can only make educated guesses about the locations and status of their trucks. So when they need to communicate with haulers about road conditions or situations like severe weather or the temporary closing of a jobsite, they're burdened with having to phone or text all the parties that they think will be impacted.
This flurry of activity is just not efficient. Some of the calls your dispatcher will make will end up being unnecessary. Some will be too late. Using a logistics solution with GPS tracking allows dispatchers to see the exact locations of all haulers in real-time. This means they can reroute drivers in time to reduce or even prevent the extra time and costs that changes to the route can cause.
As we already mentioned, your dispatcher is constantly taken away from the work at hand by having to make or answer calls–from haulers and customers. Choosing a logistics solution with specific features and tools to replace manual processes with digital ones frees your dispatchers to focus on other value-added tasks and play a more integral role in your operations.
Set Up Geofences to Help Track Cycle Times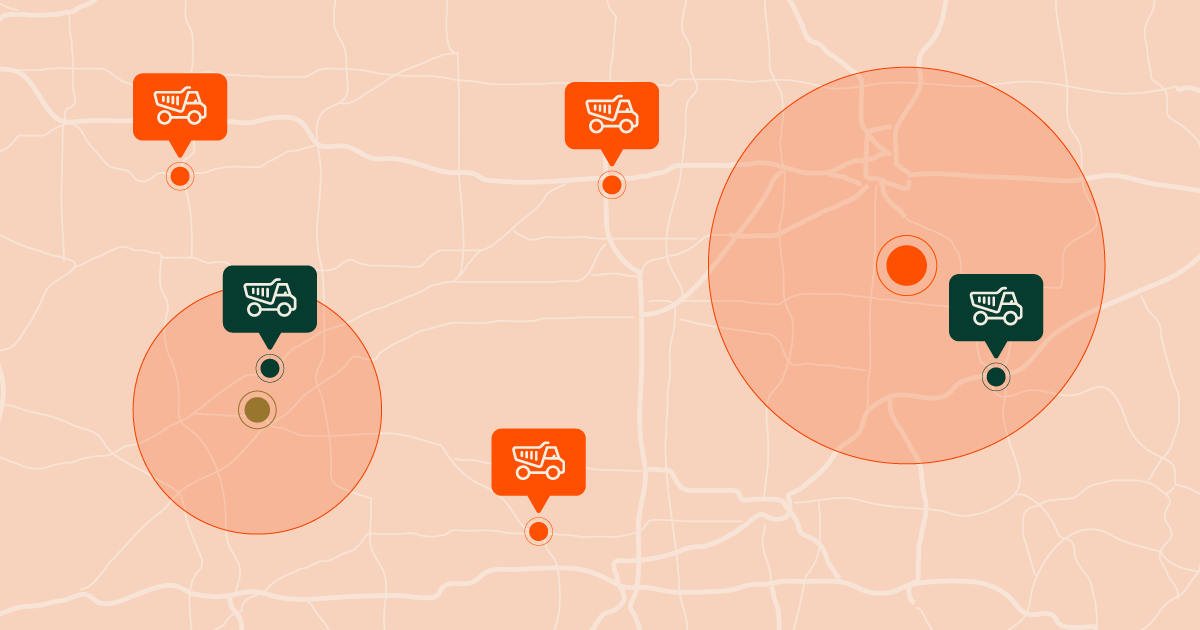 Geofences are virtual boundary lines around an area. Material producers set up geofences around plants, quarries, job sites or yards in order to track vehicle progress and capture valuable information. When a hauler's mobile device crosses the invisible boundary line, it triggers one of many possible "events" in your logistics system that can be used to optimize plant efficiency.
There's loads of information to be collected to help streamline workflows, enhance daily operations, improve the customer experience, keep costs in check, improve asset tracking and even increase driver safety.
Let's zero in on how the use of geofences can help streamline operations and reduce delays.
By setting up a geofence around each truck's starting point and another one around its end point, you'll collect data that's focused on travel times. This means you'll be able to identify if any delays are occurring because haulers are taking too long in transit.
Another data point you'll have from real-time GPS tracking centers on the time it takes to load and unload. Setting up a geofence around the loading and unloading zones will give you insight into that part of the delivery cycle.
Idling in line increases unnecessary fuel usage and wastes time - time that you may have to pay extra for. Geofences allow you to capture data around this potential problem area. More importantly, they allow you to monitor when trucks enter the plant/quarry and when they arrive at the loading zone in order to manage truck flow.
The real value of geofences lies in being able to take the right corrective actions to reduce delays. If your data shows that delays are occurring because it's taking too long to load or unload, then rerouting haulers around heavily congested areas is not going to be the right fix. Likewise, if delays are happening because drivers are sitting in line too long, then the best course of action may be to stagger arrivals.
But without the detailed, componentized data from geofences and real-time GPS tracking, you're making decisions in the dark.
Trux: The Must-Have Logistics Software with Real-Time GPS Tracking
Trux is the only dump trucking logistics solution built for material producers. In addition to GPS tracking in real-time, it includes tools and features to simplify scheduling, managing haulers, invoicing, optimizing operations and more. If you'd like to know more about how digital technology can help your business, a good place to start is with this logistics assessment. It only takes a few minutes and will give you some insights as you consider different digital solutions.