7 min read
How to Leverage Real-time GPS Tracking With Hired Haulers
Construction professionals are up against some hefty challenges in the next couple of years. We know, we know. It's beginning to sound like a broken record.But those who wanted to meet the challenges head on took action and added real-time GPS tracking to their operations.
In fact, according to a recent survey of Trux customers, 85% of respondents report they already leverage vehicle tracking. They recognize the power and visibility this versatile digital technology gives them to manage their haulers in the most efficient way. It puts the ability to do more with less into their hands.
You might be thinking, "That's all well and good for someone who's lucky enough to have a ready supply of internal haulers, but I depend on a lot of third-party haulers--when I can find them." You are not alone.
Even companies who are currently enjoying the benefits of keeping tabs on their own drivers in real-time with GPS tracking devices face issues related to sourcing and managing their hired haulers. The same survey found that for more than half (53%) of construction professionals, the labor shortage is their number one concern for the next 3-5 years.
Another dimension related to the labor shortage is the fact that it's difficult to actually locate qualified haulers these days. When fleet managers finally do stumble upon a good driver, those drivers are more often than not reluctant to jump on board with technology, especially when it comes to a GPS tracking device.
And although it's always a good thing when you find a reliable hauler, if you're going to leverage realtime GPS tracking to its fullest potential, you really need each and every active hauler you're working with to be connected.
In this article we're going to take a before and after look at real-time GPS tracking, the difference between a built-in GPS tracker with a trucking app vs. a GPS tracking device installed in a truck, with a focus on how you can tap into its power with your hired haulers. We'll also give you some tips for getting your entire team excited about using the technology.
Before Real-time GPS Tracking: Limited to No Visibility
When you have no way to track haulers, and zero visibility, your dispatcher is constantly calling or texting each hauler for updates about the job. They need to know where everyone's exact location is so they can reroute them if something comes up like a change order, issue at the jobsite, road conditions or severe weather.
Dispatchers also have to field calls from customers who want to know the status of their order and the vehicle's location. All this back and forth is an inefficient form of communication and wastes time, money and sometimes even loses customers.
Here's just one example of how a lack of visibility impacts both schedule and budget occurs at the jobsite: Either the crew gets ready too early for a load's arrival and then wastes time waiting, or the team keeps working until the truck arrives but then the driver has to wait for the site to be readied which causes further delays.
It's not just an efficiency issue. Safety comes into play here too. Keeping everyone on the same page reduces confusion and makes it easier for haulers to stay focused on the job at hand and for crews to remain productive on the jobsite.
The scenario is better when you have a real time GPS tracker for internal haulers. Instead of calls or texts, dispatchers need only look at a map to see where each active hauler is. Any changes can be communicated to an individual or a group using the built-in communication feature that comes with the GPS tracking.
Sounds pretty good, but if you're like many in the construction industry today--depending on third-party haulers--half of your team may be left out of the picture, leaving the dispatcher back at square one when it comes to managing them.
After Real-time GPS Tracking: Keep Tabs on Everyone
You can see how being able to manage all your haulers--internal and hired--the same way can make things a whole lot easier. Instead of your dispatcher having to keep track of a portion of your haulers through calls and texts while checking a map and GPS tracking for the other half, they have everyone in their sights.
Changes can be communicated to everyone who needs to know in the same way--through the central communication system built into your GPS tracking solution. In addition, you'll be able to:
Get a time-stamped route history for each load

See where haulers digitally punched in and punched out

View all geofence arrival/departure points
The best part? If you use the Trux Drive app for managing your haulers, it's free.
Plus, you don't need to purchase any additional software or hardware to install in your dump trucks or on your drivers' phones. Each hauler uses their own smartphone for tracking and communicating.
You can easily find the third-party haulers you need through Trux Find. It works a lot like Uber. Drivers (already vetted) who are looking for work in your area post their availability, type of truck they drive and other relevant information on the marketplace.
Haulers you connect with through Trux Find will already be familiar with the app and the way Trux leverages GPS trackers, but should you find a hauler through some other way, they simply download the app - a GPS tracker is built into the software. It's user-friendly so they'll be ready to haul.
Get Your Teams Ready to Go with GPS Tracking
Let's face it. Most of us don't really like change. If the old way of doing things has worked, then why switch to a new way?
Haulers may grumble when they hear you'll be adding real-time GPS tracking to your operations. Some just don't like technology. Others may feel like you're making a statement about how trustworthy they are. And a few are just, well, they're just ornery at times.
Regardless of how they feel about the new technology, it's best to start out on the right foot by keeping your team in the loop. You need to tell them what you're planning to do well in advance of when you plan to implement the tracking solution.
In fact, it's a good idea to let your haulers know that you're looking at different platforms. They may have some insights from their peers who already use built-in GPS trackers on their business vehicles or personal vehicles. Here are some more tips to pave the way for a smooth transition.
Emphasize the benefits
Of course, your company will realize the lion's share of the benefits, but everyone can be positively impacted by the addition of GPS tracking.
plan time for training
Even though most apps will be user-friendly, take advantage of the training and support that the solution you choose provides. Everyone--drivers, foremen and dispatchers should be included.
make it clear how much you value your entire team
Assure them that you're empowering them with technology so everyone can perform better and have an easier work experience--not trying to become Big Brother.
explain how GPS tracking can help you stay competitive
Did you know that only 25% of construction projects are actually completed according to schedule? Your business can make a name for itself by keeping projects on time and providing a better customer experience than the other 75%.
Help Your Haulers Unload Their Skepticism
It's pretty much a given that dispatchers and jobsite crews will be eager to have real-time GPS tracking working for them.They can immediately see the advantages. If anyone in the company will be less enthusiastic, it will be your haulers.
But once you explain in detail how GPS tracking benefits them, it doesn't take long for them to come around. Here are some pointers that should help them see things in a more positive light:
1. When the customer is happy, everyone else is, too.
Customers are often the ones who are pushing the idea of GPS tracking for haulers. Repeat business, which is good for all parties, is the result of strong contractor/hauler relationships.
2. No additional hardware of software to be purchased.
All haulers, whether they're your own or third-party, need to get started is a smartphone and the Trux Drive app.
3. Visibility into hauler work.
GPS tracking directly benefits haulers by giving them a snapshot of their daily work with a digital summary and an up-to-date running total of earnings.
4. it's not 24-hour surveillance.
Put your haulers at ease by reminding them that they're ONLY tracked when they're punched in and working.
5. Assure them the solution will be tried and true.
You can be sure of this last point if you choose the Trux app complete with real-time GPS tracking. Built especially for dump trucks and the construction industry, the Trux app has been used successfully by haulers across the nation. Thousands of drivers log in and use it every day.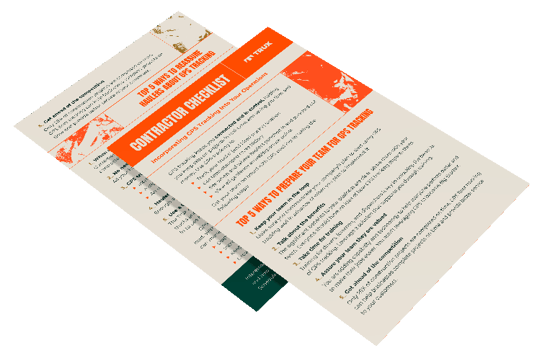 Are you a contractor looking for more tips when it comes to incorporating real time GPS trackers into your operation? Learn more with our Contractor Checklist!
It's Time for Real-time GPS Tracking with Trux
Keeping tabs on your trucks--all of them, including hired haulers--gives you greater visibility, improved efficiency and a competitive edge. Although you might get some resistance from your teams initially, with a plan to introduce GPS trackers and the right technology, it won't be long before everyone realizes the benefits.
Interested in learning more? A good way to start is by taking this quick logistics assessment. In just a few minutes you'll learn what type of solution will ease your specific pain points.