Contractor Checklist

Incorporating GPS Tracking Into Your Operations
GPS tracking keeps you connected and in control. Increasing visibility helps you keep tabs on projects in real-time, saving you time and money. GPS tracking technology can be leveraged to:
Track your trucks' (and hired trucks' location)
Get time-stamped route history
See when and where haulers punched in, punched out, and delivered loads
View all geofence arrival/departure points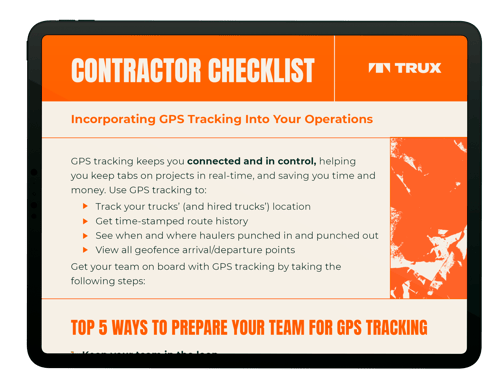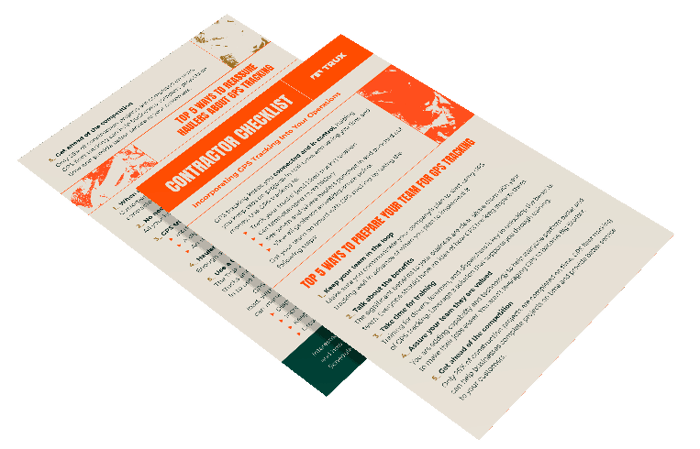 Top Ways To Prepare Your Team for GPS Tracking
Keep your team in the loop: Make sure you communicate your company's plan to start using GPS tracking well in advance of when you plan to implement it.
Take time for training: Training for drivers, foremen, and dispatchers is key to unlocking the benefits of GPS tracking. Leverage a solution that supports you through training.
Top Ways To Reassure Hired Haulers When It Comes to GPS Tracking
No need to purchase or install additional apps or hardware: All your haulers need is a smartphone and the Trux Drive app to get started!
GPS tracking benefits haulers: Find out how by downloading the full checklist today!
The benefits are clear. But will your team and third-party haulers get on board? Get everyone on the same page using the checklist that you can download below!
+
0
Approved Drivers on the Trux Platform
+
0
New Drivers Taking Their 1st Shift Everyday
With GPS tracking, you can take on more projects while streamlining your operations. Follow these simple steps to get your drivers and third-party haulers on board with the rollout of a GPS tracking solution.
GPS tracking is just one of the ways Trux Manage can lighten your load. With Trux, built specifically for the dump truck industry, contractors can manage their business anytime - from anywhere.