7 min read
How Material Producers Get Ahead with Dump Truck Technology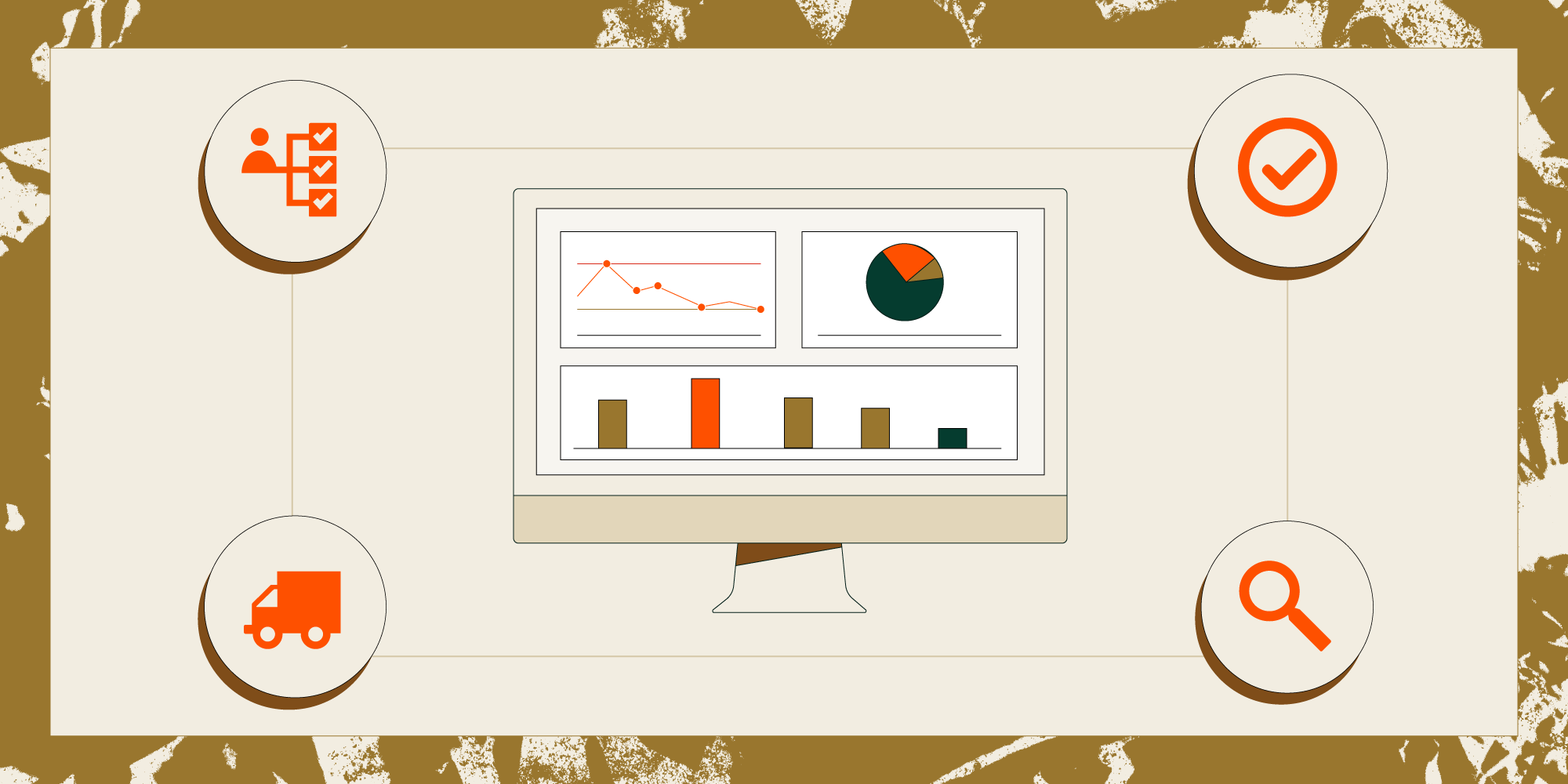 Of all the deliveries you'll make this next year and moving forward, perhaps the most important is the delivery of a consistently good customer experience. But how do material producers in the construction industry make a remarkable difference in this area? One that will differentiate them from their competitors? You can tap into the power of dump truck technology to elevate this often neglected part of your business. Dump truck technology doesn't refer to any sort of futuristic computerized components inside dump trucks.
We're talking about a digital logistics solution that can significantly increase your efficiency and productivity, which ultimately impacts your customers. You'll be able to fulfill more of their orders--faster.
In addition, this digital tool is like a new (highly skilled) member of your customer service team, allowing you to provide your customers with personalized, detailed information about their deliveries in real-time. And that will make them happy and ready to do business with you again and again.
What's more, the benefits of a trucking logistics solution for your vehicles are not limited to only the delivery part of an order's lifecycle. The right logistics platform can optimize your overall plant operations as well.
But first, let's focus on how technology for dump trucks directly impacts the customer service part of the equation.
Dump Truck Technology Delivers Customer Satisfaction
Taking and Processing an Order
When one of your customers places an order, there's a lot of wasted time and manual tasks between the receipt of the order and its delivery which slow down the whole process. It's typically not an efficient system. After the order is received, it's sent to your dispatcher who has to create a dispatch order. Then it can take several phone calls or texts for the dispatcher to line up a hauler. The truck checks in and probably has to wait to get loaded.
Order Fulfillment and Delivery
Once it's loaded, the truck makes its way to the jobsite, possibly with some delays due to traffic or road work (the speed of the delivery is often a concern). While it's en route, the crew at the site, on the ground, are waiting in the dark, not knowing when the materials will arrive. Maybe they call the dispatcher who doesn't have the answers at their fingertips either. More calls and texts. And so it goes.
With Trux technology for dump trucks in place, the lifecycle of an order is streamlined by eliminating the time-suck points and manual tasks that add unnecessary time to the process.
Cycle-time before and after optimization with Trux: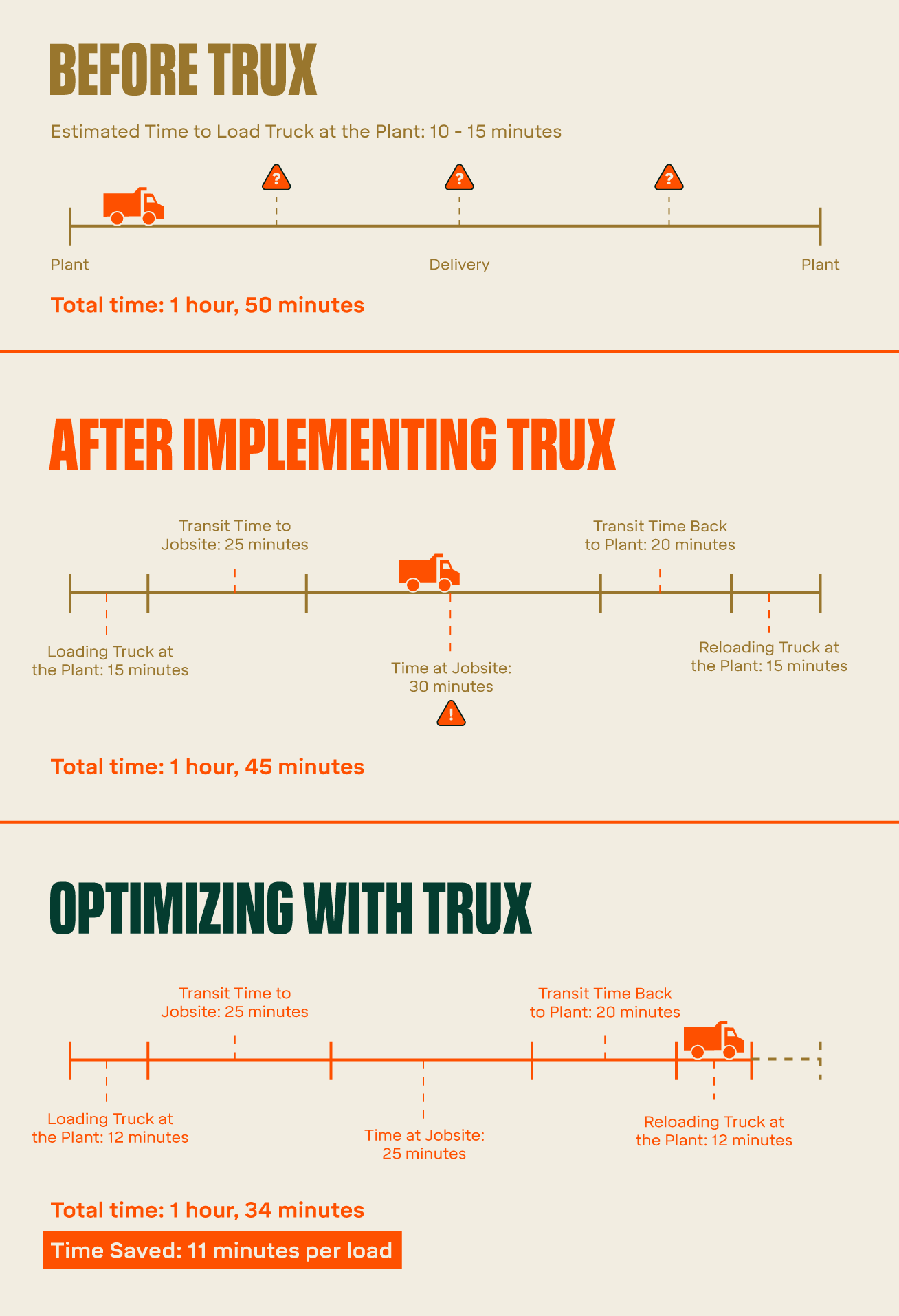 Because the solution integrates sales orders with the dispatch process, the dispatcher can immediately locate the right truck and driver and a confirmation email is automatically sent to the customer. The customer is put at ease knowing the order is correct and on its way.
As soon as the assigned hauler punches in digitally at the plant, a text message is automatically generated and sent to your customer, easing their top concern of timely deliveries. Once again, the customer is assured of their order's progress. They'll even get a link in that text that lets them track in real-time all haulers, loads and ETAs for the duration of the order.
That's not the last good news your customer will hear from you either. After the load is delivered, they'll get a confirmation of the delivery relative to the drop zone.
Customers can enter notes about the delivery or reject it without ever needing to call dispatch. Likewise, the driver of the vehicle doesn't have to bother your dispatcher for their next job or wait for signatures on the one they just completed. An eTicket is automatically created in the system for your records and the hauler continues with the next load on their schedule, whether it's for the same job or one they've been reassigned.
Something about all this efficiency and real-time communication probably sounds familiar to you. In fact, you may even be thinking about a hot cheesy pizza right about now. It's understandable because this technology works very much like the last mile logistics that your favorite fast-food delivery chains use to ensure their customer satisfaction is as high as possible. This isn't necessarily new technology, but it is being leveraged in a new industry, and it's built specifically for trucks.
Customers, whether they're waiting on dinner or dirt to arrive, have grown used to having access to real-time updates and will often choose a supplier based on how easy it is to get information about the delivery of their purchases.
Material Producers Need Plant Optimization to Meet Demands
Having a powerful tool like Trux to improve your customer service is great. But the benefits of using a trucking logistics platform extend deep into other parts of your operations as well.
More and more, companies are looking for answers to solve the problem of inefficiency in their plants or quarries. They realize there are numerous costs and risks associated with continuing to do business as usual.
Material producers are searching for opportunities to reduce their risks, improve safety systems, measure fleet efficiencies, gain more control over their operations, increase fuel efficiency, and drive profit. For many, the obvious place to start is with cycle-times and tracking a dump truck's speed. And while it's true that you can monitor the drive times of a vehicle from pick up to delivery and then use those insights to take action that reduces cycle-time, that's only one segment of the cycle.
There are other elements of cycle-time to consider tracking, and that Trux gives you the ability to monitor. For instance, what about shortening the time it takes to load and unload a truck? Did you know that with Trux you can gain the insights to do just that? In fact, we can help you optimize your overall plant performance.
In our work with material producers all across the country, we've identified several common causes of plant inefficiency that can cost a companies:
Plant layouts that are problematic

Cumbersome loading practices for some material types

Slow loading machinery

Operating hours and early morning work that's planned poorly

Bottlenecks at scale houses and loading points

Not having adequate amounts of material on hand

And lastly, weather
All of these factors can be addressed--even weather to some extent (although it is the least controllable cause of inefficiency, it can be predicted and many logistics platforms have trucking-specific forecasting integrated into them).
As you can see, plant inefficiency is the result of many complex and interconnected drivers, making it next to impossible to make any significant improvements without the help of dump truck technology to provide a compartmentalized view.
An effective platform will give you real-time and retrospective visibility into the specific inefficiencies identified at your plant or quarry. The insights you gain should be actionable, scalable and holistic.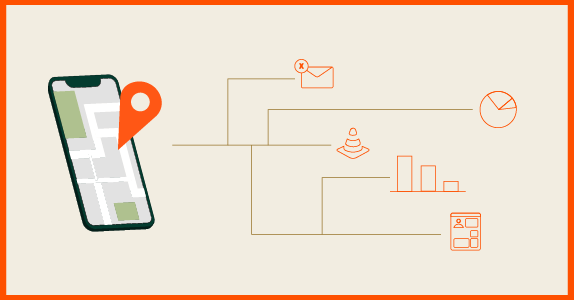 Partner with a Plant Optimization Expert
As with most actionable improvement strategies, the important thing is to get a baseline from your own data set so you can measure your improvement going forward. Let's say you started using Trux Deliver to improve your efficiencies in delivery vehicles and customer service. You, like the bulk of our customers and the companies we work with, saw results in those areas almost immediately. But the real boon here is that you've already started collecting the data and analytics you need for making strides in other aspects of plant optimization.
The reliability and relevance of the analytics a platform provides is of course critical. But just as important is the reliability of the company behind the platform.
Even the most robust dump truck technology is not much good to you if it's sold without a commitment to truly partner with you and see your goals accomplished.
Generally, plant optimization will require a shift in your organization's culture. You need everyone on board, including:
Scale clerks

Vehicle maintenance teams

Back office employees

Plant managers

Fleet managers

Regional leaders

National and executive level leadership
Hitting metrics and sharing knowledge around plant efficiency has to happen from the top down. It is powered by leadership.
Simply adopting technology for dump truck fleets and expecting employees to use it effectively, or better yet, enthusiastically without a plan for engaging them will fail most times. Successful implementation requires a partner who's knowledgeable about plant optimization, the platform itself--and human behavior.
Plant Optimization Powered By Trux
You need someone who has experience in strategic conversations and understands the importance of listening. In addition, you'll want to find a partner who is willing to customize their product to meet your needs. This is definitely not the time to settle for a platform that's one size fits all, and could be used by any type of vehicle.
Schedule a Demo
At Trux, we're dedicated to this collaborative approach with each of our valued customers. Whether you're interested in simply learning more about Trux Deliver and dump truck technology to enhance your customer service, or you'd like to hear more about the steps to take to reach your goal of overall plant optimization, one of our logistics experts is ready to chat or schedule a demo.