There are many perks to having a construction management software handling your daily business and operational needs. Some of these perks include:
Building Your Workflow

Digitizing Your Records

Tracking Progress of Your Projects

Automatic Digital Invoicing
With this in mind, think about what a construction workflow management software could do for your business. Tools like this help you run your logistics and operations more efficiently, whether it's at your home base, job site or quarry.
Watch the Work Flow to You
Ever had a last-minute cancel? How can you keep work flowing and not interrupt progress on your projects? Turn to technology to help you get your work done faster. Construction workflow management software allows you to stay on course. It also allows you to allocate resources so you're never short on dump trucks.
Want to know how to avoid dump truck shortages? Read some tips in our article "No One Wants to Be Short of Dump Trucks. Here are the Top 3 Ways to Avoid Shortages."

Keep Your Records on File - And on the Go
Not only can you keep your files neatly in one place but you can take them on the go with you. With construction workflow management software, you can easily digitize and automate your records.
If you ever want to reference these documents, you can do so easily and digitally with a construction workflow management software.
Keep Track of Progress
With GPS technology, you can keep track of material and job progress. Plus, you can even keep track of when a trucker arrives at a job site. Think about what that could do for your preparations.
Plus, with construction workflow management software, you can easily identify pain points in your projects using cycle time reports. Cycle time reporting helps track each event of a trucker's cycle from when they start to when they complete each load. With the push of a button, dispatchers can instantly:
Identify holdup in order deliveries

Discover trucking blockage at job sites and/or plants before it becomes problematic

Determine if a job is over or under truckage
In addition, cycle time reporting allows you to take traffic conditions into consideration, which means more accurate cycle time analysis.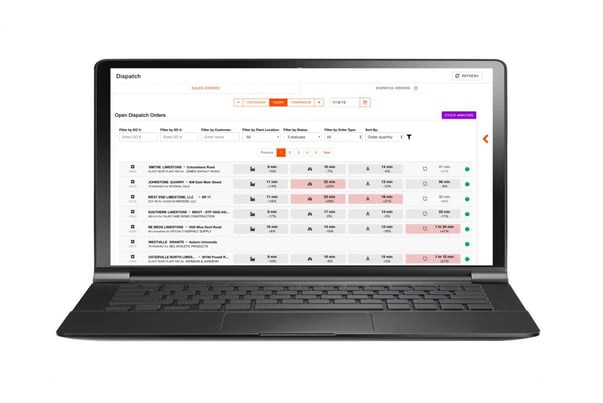 Cycle Time Report
By allowing construction companies to closely track and manage each leg within a trucker's cycle time, cycle time reporting establishes more efficient times for loads, reducing costs and maximizing profit.
Automatic Digital Invoicing
Payment happens all in one go. You can easily receive invoices. The way it works is invoices are sent weekly for the previous work week and are organized by day and job. The result is one easy and understandable payment.
Keep tabs on your hired trucking. You rely on your truckers to get the job done. But you don't always have the visibility you need. Using construction workflow management software means you can easily manage disputes in real-time.
If you notice a discrepancy, you can log it in-app.
Bring TRUX Along for the Ride
The dump truck industry faces challenges and complexity not seen in other industries. TRUX brings efficiency to the logistics and operations of your day-to-day business. Construction workflow management software, like TRUX, allows you to ensure your operations are optimized and yield successful results. You can also rest assured that your projects are on time and on budget, yielding profit for your business.