7 min read
Trux Launches Next-Generation Delivery Tracker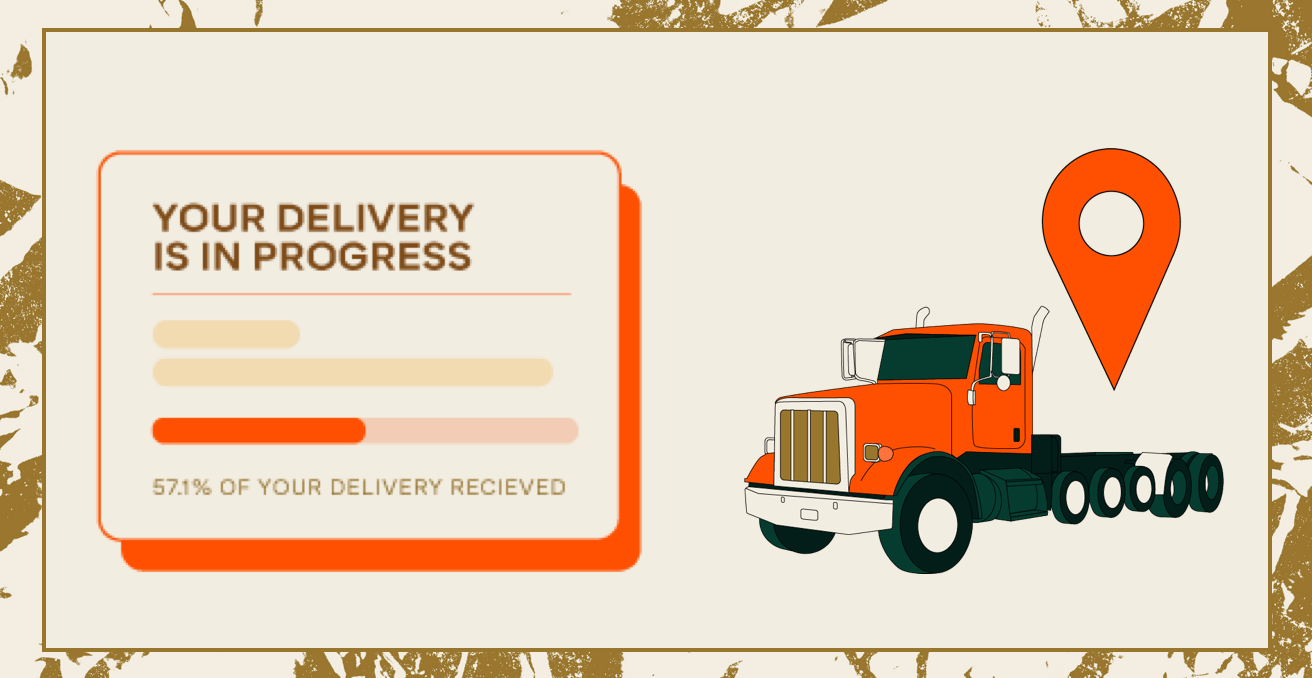 Over two and a half years ago, Trux launched a solution that was unique in the dump trucking industry - the Trux Delivery Tracker. This tool gave Trux customers the ability to deliver a differentiated experience to THEIR customers - the power to track deliveries from the palm of their hand on the job site, in the office, and anywhere on the go.
Last year alone, the Delivery Tracker offered unparalleled visibility into delivery velocity and progress for over 2.6 Million loads.
And now, this incredibly valuable and unique customer engagement and communication tool has gotten even better with a new design and powerful new features! Read on to learn more about the Delivery Tracker and to see what has changed.
WHY DELIVERY TRACKER?
When was the last time you ordered something, like a package from Amazon or a pizza from Domino's, without the ability to track it from the time you placed the order until it was delivered to your door? As a consumer, being able to track ANY order, regardless of the industry, has become the baseline expectation. And while you and I know that material delivery is far more complicated than pizza delivery, your customers still expect this kind of transparency. That's where Trux comes in.
Trux Delivery Tracker is a HUGE differentiator for your businesses with multiple benefits:
Improved Customer Efficiency, Satisfaction, and Loyalty
Imagine the following two customer experiences, both involving construction companies ordering 500 tons of Riprap to be delivered by 5 trucks completing 22 total loads:
Scenario 1:
The customer doesn't know when the first truck is expected to depart the plant, or when trucks will arrive throughout the day.
All 5 trucks arrive with their first load at the same time, causing delays and congestion at the job site. The second load for each truck is delayed, and the customer has to call Dispatch to see when they are arriving and confirm how many trucks and loads they should expect throughout the day so they can better manage traffic on the job site.
Keeping track of total tons delivered is a manual and time-consuming process with spreadsheets and paper load slips. After the last load is delivered, they realize they underestimated the order. So they pick up the phone to leave a message requesting another order for the next day.
Scenario 2:
As soon as the first truck punches in with the first load, the job site receives a text message with a link to track their order. They can see the product will be delivered by 5 trucks over 22 total loads from 8am - 4pm.
Each truck's current location, ETA, wait time on site, and return time to the job site are available. Digital delivery confirmation and the E-Ticket associated with each delivery is accessible from their smartphone. Hourly delivery velocity indicates they underestimated their initial order, so the job site requests 200 additional tons for the next day in just a few taps.
Given the choice, which of these two experiences do you think your customers would choose?
Providing your customers with the kind of visibility in Scenario 2 increases efficiency, customer satisfaction, and loyalty every time.
Call Volume Reduction
Your dispatchers have enough to do between filling sales orders, scheduling and dispatching haulers, and monitoring the progress of deliveries throughout the day. And that's assuming all goes as planned and there are no unexpected delays and changes due to weather, equipment breakdowns, and similar daily challenges. Answering customer calls asking for order status or the whereabouts of deliveries are a significant productivity drain for the dispatch office.
With Delivery Tracker, your customers have the answers to all of their order and delivery questions right at their fingertips.
38% of Trux users report fewer phone calls after implementing Trux.
Access E-Ticket Data in Real-Time
Whether for safety or efficiency reasons, E-Tickets have become the standard for managing and transferring scale ticket and delivery data. As trucks leave the scale, digital ticket data is immediately available to job site personnel, DOT inspectors, and more.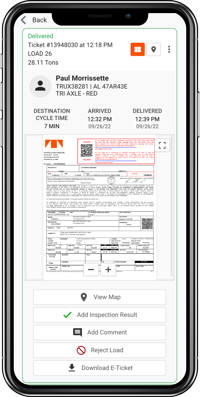 Over 2.6 Million E-Tickets were issued with Delivery Tracker last year
Reduced Reorder Friction
As a material producer, you want to grow your business by selling and delivering to more customers. That much is obvious. But what about when and if customers want to order more from you? Why not make it even easier for them to do so, maybe even right from the job site? Your customers can do just that, in just a few taps, right from the Delivery Tracker.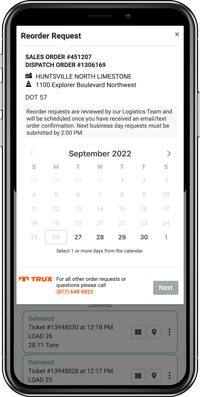 Reduced Cycle Time at the Job Site
Delivery Tracker is part of the Trux dispatching and logistics platform that reduces job site turnaround by an average of 20%. And that was BEFORE we released version 2.0, which gives the job site the ability to monitor cycle time in real-time (more on that in the next section).
What's Changed?
The first version of the Delivery Tracker was not too dissimilar from the aforementioned Amazon or Domino's experience. That is, it allowed your customers to track delivery progress and status. Both very important and unique capabilities for sure.
With the release of Delivery Tracker 2.0, Trux is giving your customers even more tools to measure and improve THEIR site productivity and to understand how that impacts overall delivery efficiency.
New Design and Layout
We've updated the design and layout of the Delivery Tracker to make better use of mobile device screen real estate. Some of the changes may seem subtle, but they've also made room for the addition of new features described below.
Hauler Delivery Instructions
Delivery Tracker enables your customers to track all loads coming to and from the job site and plant. But there's another piece of information that can prove valuable on the job site - the instructions that are guiding haulers once they arrive on site. Are haulers instructed to enter/exit from a specific end of the job site? Where are they staging? Is there a specific person they are being told to ask for? This kind of information can help job site contacts get in sync with inbound haulers.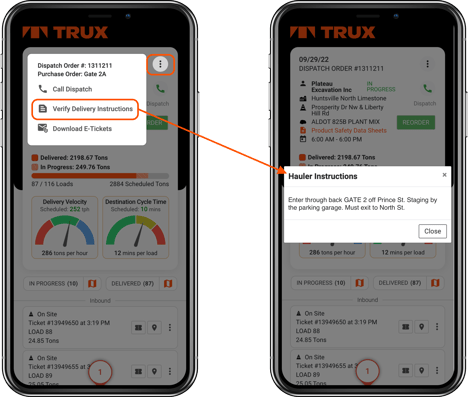 Download E-Tickets and Scale Ticket Data
Your customers can now not only view E-Tickets but also download all E-tickets and scale ticket data for each order. This simplifies (or even eliminates) paperwork and reduces administrative burden for you and your customers. Speed up the payment process and save many hours searching for paper tickets with electronic access to all confirmed deliveries and scale ticket data.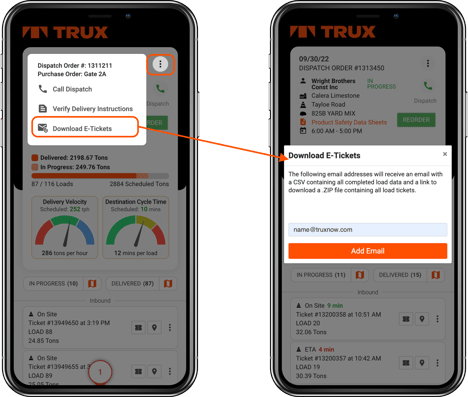 New Real-Time and Hourly KPI Widgets
Monitoring the velocity of planned vs. actual deliveries is key to keeping projects from falling behind (and in some cases, ahead of) schedule. Faster is not always better, so it's important for the job site to be able to keep an eye on this important metric. The first version of Delivery Tracker provided the job site with an hourly view into planned vs. actual delivery velocity.
In this release, we've added the ability to view Destination Cycle Time (essentially, how effectively is the job site getting trucks in and out compared to the plan). Both Delivery Velocity and Destination Cycle Time are available as "target gauges" on the main screen. Tap either of those gauges to view hourly performance.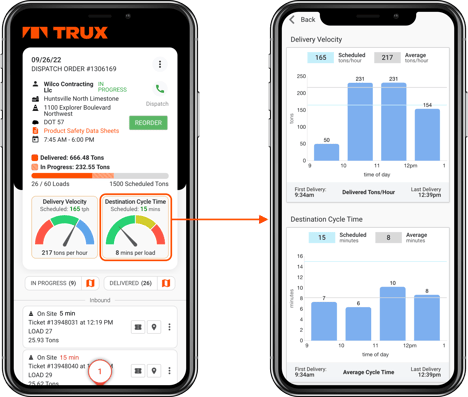 1st half of circle (Green) = cycle time is progressing within target
Next quarter (Yellow) = cycle time is progressing above target
Last quarter (Red) = cycle time is progressing well above target. If actual time exceeds targeted per hour 2x, then the dial is pinned all the way to the bottom right of the dial.
Destination Cycle Time, is also available for each individual delivered load on the DELIVERED screen.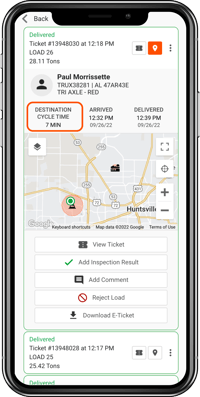 Running Wait Time at Destination
Understanding the ETA of each truck en route to/from the job site is a critical part of keeping the job site running efficiently and projects running on time. But understanding what happens once the truck has arrived on site can be just as important. For how long has each truck been waiting on site, and what is the average time throughout the day? The job site can now keep track of this for each load that is on site.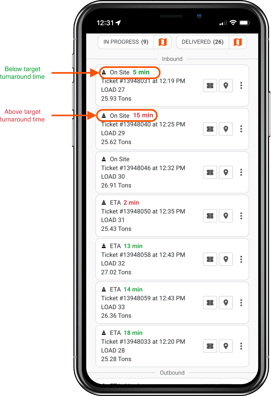 Communicate with Dispatch
Delivery tracker puts a lot of valuable information at your customers' fingertips. But sometimes you just have to talk to someone at Dispatch. We've even made that easier with 1-tap access to call Dispatch.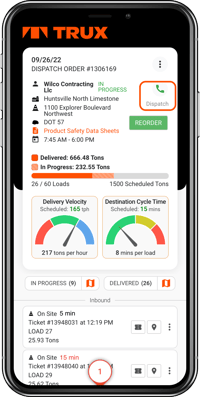 Delivery Tracker combines scale ticket data with point of sale, geofence, and hauler delivery data to provide real-time insights on dispatch, delivery, and job site performance. Click below for more information about Delivery Tracker.