7 min read
The Best Dispatch App for Fleet Owners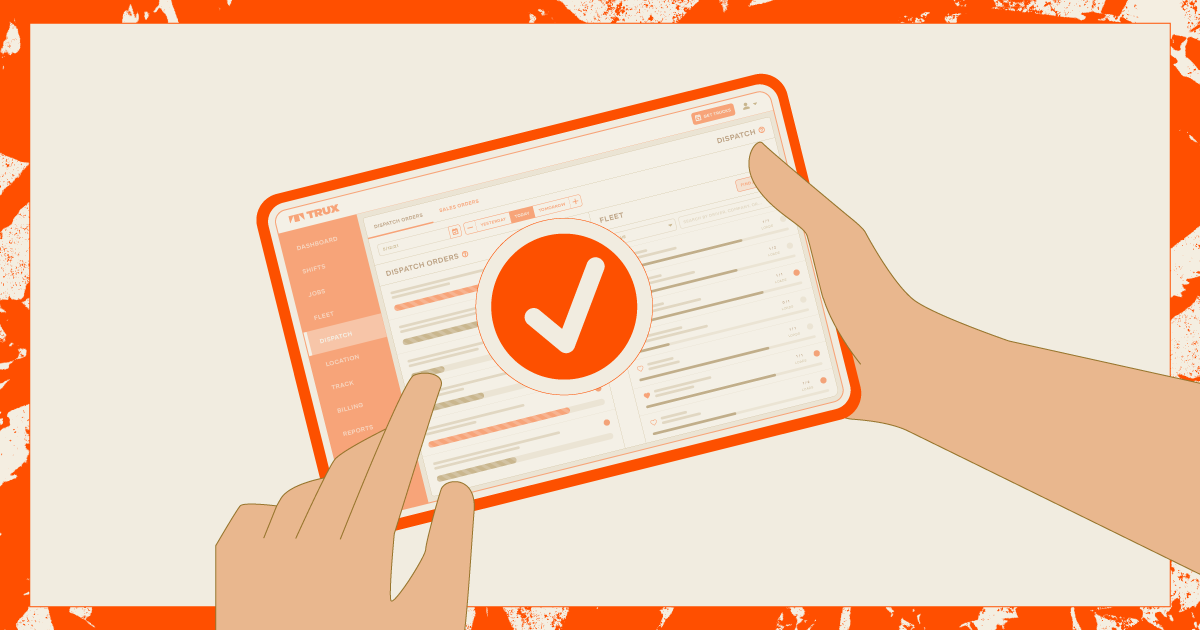 Historically, the job of a dispatcher has been hectic, stressful and one that could only be done from the dispatch office. However, due to digital technology things in the construction industry are evolving. Some even refer to the changes as a "software-based revolution." To keep up, many fleet managers are now earnestly searching for the dispatching software.
They realize the importance of staying competitive by reducing their inefficiencies and increasing productivity. Both goals will drive profits and can be achieved when the right logistics and fleet management solution is put into the capable hands of a dispatcher.
The best dispatching software for fleet owners empowers dispatchers to not only play an integral role in the transformation of their organization, but also to elevate their professional role as they begin performing new value-added tasks on a daily basis.
They most likely will wear hats they've not had the chance to even try on before because the pace and frenzy of the job kept them from having a minute to spare.
To stay in contact with and coordinate the movements of their fleets, dispatchers have for years relied upon traditional methods which work--but are clunky and time-consuming: Using spreadsheets for creating complex schedules.
Or a whiteboard/dispatch board for simpler ones. Managing change orders on the fly through multiple phone calls/texts to haulers. Handling new customer orders over the phone or radio from the sales team. And not being able to effectively reroute haulers when conditions call for it.
These processes are no longer getting the job done, and they're likely impacting customer satisfaction and your business's operational efficiency.
Today, with the best dispatch tools at their disposal, dispatchers can experience improved control, communication and collaboration. How can one digital platform accomplish all that? By leveraging the benefits of cloud-based software paired with GPS tracking and the flexibility of a mobile app.
Altogether these technologies create a system where everyone involved in the movement of material from Point A to Point B is connected and aware of the status quo.
More Control with The Best Dispatching Software
A dispatch platform transforms the manual tasks of creating a schedule and managing the assignments into a streamlined digital process. With one single view of their newly created schedule before them, dispatchers can take control of assigning haulers with an easy-to-use drag and drop interface.
It's a matter of click, drag, drop and done.
Because your haulers are also connected through the dispatch app, they see their assignments, job locations, and view job details, and can accept them right away. It's all taken care of through the mobile app without the need for multiple phone calls or texts going back and forth.
Dispatchers are afforded even more control over the schedule when it comes to planning ahead for upcoming orders and route optimization. Schedule jobs days or even weeks in advance is possible because digital scheduling is exponentially easier and faster than doing it manually.
Dispatchers, then, become agents of workload distribution and optimization. Planning ahead can also include finding jobs--like overnight shifts--for company-owned trucks when work slows. Leveraging a dispatch solution with a marketplace helps generate more revenue and a higher asset utilization ratio for large, medium, and even small businesses.
In addition to greater control over scheduling and dispatching, the best trucking dispatch software allows dispatchers to take command of inefficiencies. Many costly delays are caused by road work, traffic, changes in job details at a jobsite or bottlenecks at either the pick-up or drop-off location.
With GPS tracking combined with other features of a dispatch app, dispatchers can reduce these instances of waste--both in time and fuel--with better route planning, load stacking and staggering arrivals. Dispatchers become skilled at project management, making their role even more valuable for small businesses and medium sized businesses.
For example, when a dispatcher gets notice that a particular gate at a job site is temporarily closed, they're able to see which haulers need to be alerted and can immediately send appropriate bulk communication to haulers that are impacted.
Without knowing the exact location of those haulers, without the visibility GPS tracking provides, a dispatcher would have to make multiple phone calls in the hopes they would catch the drivers before they reached the delivery site only to turn around, adding minutes and miles to the job, making route optimization nearly impossible. This takes away from valuable time that dispatchers might need for office tasks.
Whatever the reason, being able to intercept and reroute drivers is a game-changer and helps everyone save time. The technology helps you stay on schedule and on budget. Any sized business can appreciate that (especially small businesses).
Finally, the best dispatching management software will include the ability to leverage a mobile device. This gives dispatchers the ultimate level of control as they no longer are limited to working from the dispatch office.
Dispatchers at trucking companies should be able to perform all aspects of their job from the app in the palm of their hand. The ability to work remotely can save valuable time and also enhance a dispatcher's job satisfaction and performance.
The Best Dispatch Software Closes the Communication Gap
The current state of communication in the construction industry largely relies on cell phones and mobile devices. Admittedly they are an improvement over two-way radios, but there are still plenty of communication issues to deal with.
For instance, dispatchers have to make multiple calls or send texts to pass along critical information. Many times they're left wondering if the message was received. Or they're forced to wait on an answer before they can make a decision. Meanwhile costly minutes are ticking away.
The best dispatch solution solves those issues with a centralized communications system that streamlines the way messages are sent between dispatchers, haulers, the jobsite and anyone else who needs to know. Effective driver management requires good communication. Messages are sent through the app, stored and organized for easy retrieval.
All communications related to a particular job are in one place. When a hauler needs to check back on a detail about a delivery, like which entrance to use, it's there. If the dispatcher needs to relay info about a change in the order, it's there too. It may seem inconsequential, but the time saved by not having to search for messages can really add up.
Not every solution's communication system will solve these challenges, which are more than simply inconvenient, they are obstacles to streamlined and effective communication. But there's one dispatch solution out there that does address these issues.
Collaboration is Key to Better Relationships with Haulers and Customers
The best service dispatch software will enable dispatchers to play a key role in managing relationships with haulers and customers. As many dispatchers can attest to, customer management is a large part of their role.
Many of the best dispatch solutions for fleet owners will include digital tools to keep everyone on the same page without having to contact the dispatcher directly. Although it sounds like a contradiction, it does actually improve customer satisfaction and hauler satisfaction when there's less interaction with dispatchers.
When customers and haulers use self-service tools, like a digital order request or an order tracking feature, the result is higher satisfaction for a couple of reasons.
First, they like the autonomy and transparency of being able to click on a link and see for themselves where a load is in the delivery cycle. Secondly, when the dispatcher doesn't have to field a seemingly endless onslaught of calls, they have more time to offer a new level of service to all the groups they work with.
Trux Puts the Best Dispatch Solution in the Hands of Your Dispatcher
We tend to think of the "digital dispatcher" as appearing somewhere in the future, but with the right dispatch app that future is right here and right now. Especially if the dispatch app is the Trux all-in-one dispatch management platform.
As the nation's first and largest dump truck marketplace, Trux stands out from all the other logistics solutions that are currently being used in the construction industry.
Fleet owners, material producers, contractors, independent operators and brokers have access to thousands of fully vetted haulers making it possible to take on projects that they may otherwise have had to take a pass on. Plus with the Trux app, you'll enjoy:
Digital schedule creation

Drag and drop dispatching

Real-time GPS tracking for greater visibility

Digital load slips

Route optimization

Reliable data for reporting and cycle time analysis

Built-in communication system with Trux Chat

Automatically generated and consolidated invoicing

Digital punch in/out for haulers

Order Delivery Tracker

And much more
Using their existing skillset, industry expertise and current market knowledge combined with the power of Trux technology, dispatchers can ditch the handwritten dispatch board and drive efficiencies, productivity and profits for fleet owners.
Additionally, dispatchers can improve customer service making the entire team and organization more successful.
Trux offers a complete solution for your dump truck dispatching needs. The cloud based solution helps you put power to work in one easy to use system.
Would you like to learn more about Trux's dispatch management software? Check our latest infographic, Dispatch From Anywhere, because flexibility is key for everyone in your organization, especially your dispatch operations team.