7 min read
Software Contractors Can Use For Improving Visibility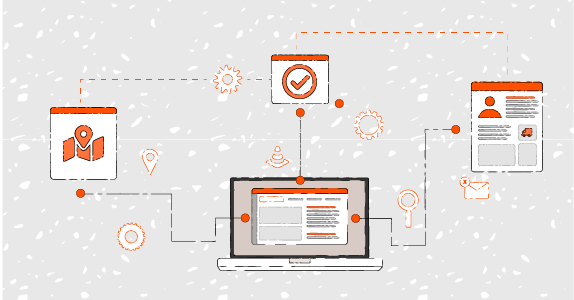 In the construction industry, the tools of the trade include everything from a basic hydraulic hammer to earth-moving heavy equipment like excavators, graders and loaders. But in the last ten years or so the wheels of progress have picked up speed and added a gamut of new tools for construction pros--the tools of technology.
Today if you're in the construction industry, you're most likely aware of at least some of the software contractors are using to improve visibility into their operations.
A Google search will turn up all kinds of digital tools built specifically for contractors. The types of software range from solutions to better manage inventory to financial management to hauling logistics and everything in between.
Let's take a look at some of the software solutions that will be transforming the construction world down the road and into the future.
Stockpile Reports
In 2012 Stockpile Reports set its sights on developing a cost-effective inventory management and measurement solution for bulk materials companies. Initially, it used airplanes. Then after drone technology was legalized, it used a team of drone pilots from across the country to capture images, created an easy-to-use dashboard and came up with the first patented iPhone app able to measure stockpiles. The app has evolved now to use fixed cameras on front loaders and even cellphones.
The platform solves several problems for materials producers. First, by taking photographs and turning them into reliable 3D data, the solution makes it possible for users to take accurate stockpile measurements more frequently. What was once a risky, labor-intensive task that companies dared to undertake only once a year can now be done at any time.
Having accurate data means costly write-offs can be eliminated. Business decisions can be based on good data rather than gut guesses. Financial fluctuations are greatly reduced and inventory disputes are quickly resolved.
Standout Stockpile Reports Features and Benefits:
Produces real time, accurate data from all sites, even customers' sites
Measures stockpiles wherever they're stored--indoors, outdoors and at remote locations
Measures bunkered, freestanding or siloed stockpiles
Integrates with core ERP systems
Provides stockpile history tracking
Improves customer collaboration
Enterprise-level, customizable
Subscription service available


Procore
Part of the challenge of managing multiple construction projects is having data housed in different places and systems. Add to that the problem of communication between various third-parties and you have a tangle of disjointed information.
Procore keeps all collaborators and teams on the same page with up-to-the-minute information. It unifies construction planning by connecting stakeholders--general contractors, specialty contractors and owners--on one platform.
By linking over 300 apps and other software contractors rely on, Procore eliminates the need to leave one system in order to fetch information from another. There's no more toggling between screens. Double entries and siloed information are things of the past. Engineering and trade documentation, accounting and scheduling are all accessible from one place.
The cloud-based platform integrates with popular software contractors rely on: Cosential, Vista and Sage to name a few. From pre-construction through close out, the best of breed systems are able to talk to each other, giving users comprehensive visibility.
Popular Procore Features and Benefits:
Streamlines the hiring pre-qualification process
Takes 3D models out to the field
Provides analytics to make better business decisions
Creates complex action plans with intuitive workflows
Enables users to plan, manage and track labor costs
Searchable and reportable correspondence
Configurable and custom fields
Keeps data secure and compliant
Accelerated implementation process


Sage
A familiar name in the tech space, Sage has provided business management solutions for a wide range of industries since 1984. Over the years, the accounting software giant has introduced several products specifically for the construction business, growing to be known for robust software contractors can trust.
Sage 300 Construction and Real Estate is a solution for end-to-end construction and property management. Another product Sage offers is Sage 100 Contractor which allows small to midsize contractors to manage all phases of the construction process more efficiently. With Sage Estimating users can create estimates that are more accurate in much less time than before.
Most recently, Sage released Sage Intacct Construction. As a native cloud accounting solution built for general contractors and real estate developers, the platform integrates seamlessly with the field, payroll and budgeting systems these industries typically use.
Select Sage Intacct Construction Features and Benefits:
Automates AP and AR processes
Faster reporting
Reduces average month-end close time
Dynamic dashboards allow for tracking of key metrics in real time
Uninterrupted reporting across multiple locations and entities
Multi-currency
AICPA preferred
Libra Systems
For heavy construction materials suppliers, there's Libra Systems. This platform integrates solutions for the point of sale, automation, dispatch, eTicketing and GPS asset management needs of the concrete, asphalt and aggregate industries.
In November 2020, Libra Systems joined with Command Alkon, a supplier collaboration platform, to expand the scope of their offerings to the heavy construction industry.
Favorite Libra Systems Features and Benefits:
Highly flexible and configurable
Syncs multiple locations with office for accurate customer/order data
Automated continuous drum mix can be retrofitted for almost any plant
GPS telematics software tracks trucks and other assets
Remote printer terminals keep drivers in their trucks and speeds up ticketing
Self-service kiosks control truck flow
Silo Safety Systems minimize the risk of opening the wrong silo
Model 1171 High Weight Detector reduces the risk of asphalt cement spills
Batch plant controls
Trimble
Trimble offers a comprehensive list of products for architects, engineers, contractors and specialty contractors to streamline their processes through various phases of a project's lifecycle. There are solutions to help with planning, design and engineering, project management, fabrication and construction, and operational management.
The Trimble Platform as a Service (TPaaS) is available for a monthly subscription fee that includes the most recent software and hardware and free upgrades. Trimble is software contractors are leveraging to transform workflows and processes through machine control, advanced automation, sophisticated planning and design, surveying, mobile technology and real-time connectivity.
Top Trimble Features and Benefits:
Precise loading that adjusts for terrain irregularities
3D constructible models
Trimble Stratus uses drone technology to map and measure worksites
Angle, length and slew sensors for lifting applications
Compaction control for asphalt compactors
Grade control for compact machines
Grade control for excavators, graders, scrapers, dozers and loaders
HCSS
Another company that offers plenty of construction management solutions is HCSS. For over 30 years it has helped heavy, highway and utility construction companies with improved bidding and estimating processes, streamlined paperless operations, efficient fleet management and coordinated health, safety and compliance concerns.
Highlighted HCSS Features and Benefits:
24/7 Instant Support policy that promises to answer in three rings or less
Interfaces with DOT systems
Digitizes construction time cards
12-month money-back guarantee on all software purchases
Extensive training opportunities through HCSS Academy
FuelerPlus tracks and manages fuel and fluid use
OnStation Road Utility App
This app was inspired by the frustrations roadway workers encounter every day. They just wanted a simple solution to help them do their job more easily. Enter OnStation. The app has the answer with instant stationing, project maps with accurate design layering, immediate access to plans, and the ability to document conversations. All these features combine to make closing out jobs a done deal.
Outstanding OnStation Features and Benefits:
See your alignment, station and offset instantly with Station Finder
Tap into the option to find location based off statewide milepost networks
Increase understanding of the project by viewing design layers
Communication tool that records and organizes chats
Add notes, photos and videos to chats
View plans, specs and other relevant docs instantly
Manage multiple projects in one app
Automatic addition of your location with stationing to all the data you collect
TRUX
And finally, we wrap up the list with a hauling logistics solution from TRUX. It's a dump truck logistics platform designed to help material producers, trucking companies and contractors manage all the trucks they use from one source. For businesses that rely on short haulers, TRUX streamlines all the tasks and processes--planning, fleet management, scheduling, dispatch, back office and communications--necessary to stay on time and on budget.
TRUX is software contractors trust because the digital tools are field-tested and straightforward. With TRUX you can keep tabs on your own trucks in real-time with GPS tracking and also have access to the nation's largest network of technology-enabled dump trucks. That means you don't have to invest in more equipment when you take on bigger projects. You can simply hire more haulers as you need them.
Backed by a team of experts in the industry, TRUX is easy to use. You can manage change orders, reroute trucks, bulk reorder and simultaneously communicate with drivers, the job site and subcontractors when the unexpected happens.
The TRUX platform also offers digital ticketing and consolidated invoicing to lighten the workload for both drivers and the back office.
Tested and True TRUX Features and Benefits:
All-in-one platform to meet the needs of contractors, trucking companies and material producers
Mobile app provides access any time, anywhere
Easy to use with drag and drop technology
Real-time tracking of both owned and hired dump trucks
Digital ticketing
Automatically generated and consolidated invoicing
You can learn more about each of the software contractors trust outlined in this article by visiting their websites and requesting a demo, including the TRUX hauling logistics platform. Reach out today to discover how TRUX can give you better visibility into your operations.