6 min read
How A Logistics Tracker Creates Visibility For The Back Office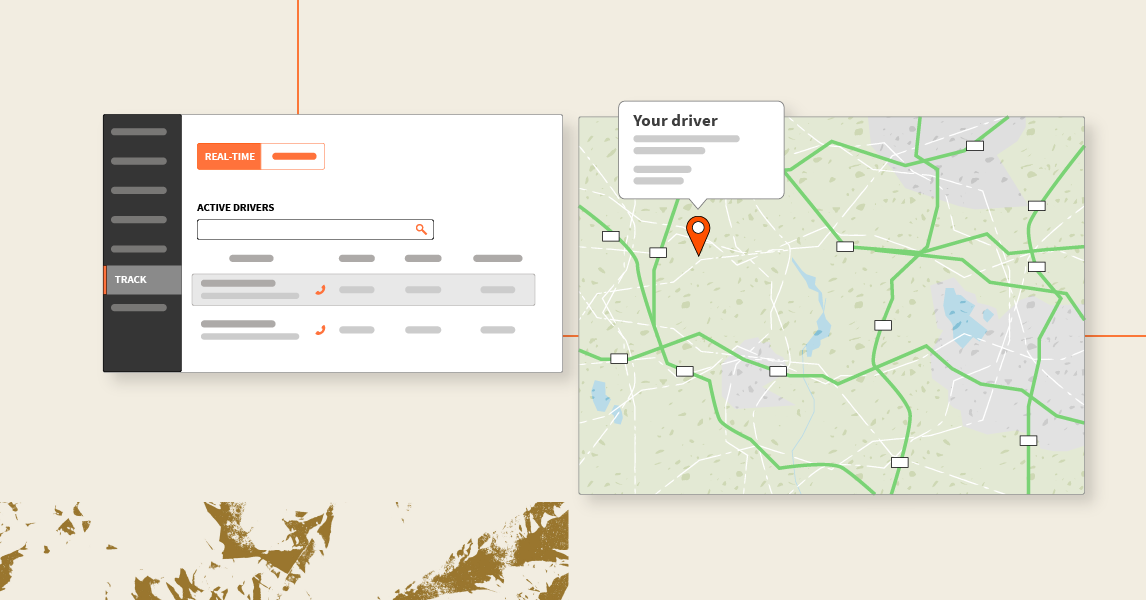 Being confined to the back office can be challenging if you work for a construction company running dump trucks. For an indispensable team that truly needs to be "in the know" to do their jobs well, back office teams are often in the dark when it comes to many aspects of your construction business. A logistics tracker (especially for dump trucks) is a powerful way to turn on the lights, so to speak, and give the back office some much needed visibility into what's going on out in the field.
You may wonder if it's really all that important for the back office to have the insights that a real-time logistics tracking solution provides. After all, they eventually get what they need to complete their tasks. Does it really matter if they have to wait until the end of the day (or later) to get their hands on the load slips, hauler timesheets and other critical paperwork to get the job done?
In today's competitive climate, yes. A logistics tracker is essential. To begin with, they need to be sure they've received all the information concerning dump truck loads and timesheets. A missing or incomplete ticket won't do. And the faster information gets to them, the better it is for everyone--you, your drivers, hired haulers and your customers.
Here are three ways investing in a logistics tracker solution creates visibility into your operations and helps the back office, which in turn, can help your business significantly:
Logistics trackers ensure that information from the field is complete, accurate and delivered more quickly to the back office than traditional non-digital methods.
Immediate access to accurate data helps preserve your profit margins.
The increased visibility from a logistics tracker means the back office will operate more efficiently, which also adds to the bottom line.
In fact, a logistics tracker will impact the back office team as much as it does your dispatchers, drivers and field personnel.
A Logistics Tracker Delivers Fast and Accurate Info
A logistics tracker solution that includes real-time GPS tracking takes the guesswork, estimating, unreliability and hours of searching for missing tickets out of the mix. First, dump truck drivers will punch in and out digitally, instead of rounding up to the next quarter-hour. This one straightforward digital feature means you instantly have a verifiable record--to the minute--of their time on a job.
Second, instead of keeping up with load slips and turning them in at the end of their shift, a logistics tracker enables drivers to upload digital tickets throughout the day. Your back office team will appreciate not having to collect and batch all those tickets. And a logistics tracker solution makes sure that nothing is lost in transit. The software then takes this information and automatically creates invoices. Some solutions even consolidate the invoices for haulers, streamlining the invoice creation process even more.
Third, each route that your drivers take is visible not only in real-time but is stored as part of your historical data. If there's ever a question about whether the route taken was the most efficient and economical one or if too much time was spent unnecessarily at a delivery or pick up location, you'll have all the proof, from a logistics tracker, you need to put everyone's mind at ease.
And there's no need to worry that your drivers will resent what could be seen as Big Brother. The vast majority of dump truck drivers don't miss doing the paperwork at all. And the new accountability factor, contrary to what you might expect, actually works to increase trust rather than tear it down--especially if you follow these guidelines for getting your team on board.
What if you use a lot of hired haulers on your projects? If you choose the right logistics tracker solution, it will enable the back office to have the same visibility into third-party haulers that they have with your own drivers. One such logistics tracker solution is Trux which gives you access to the nation's largest marketplace of technology-enabled dump trucks.
Hold On to Your Profit Margins with a Logistics Tracker Solution
An ideal trucking logistics solution gives you the power to work as smart as you work hard. That means you control costs and take advantage of ways to maintain your profit margins. Some of those ways include reducing your hauling expenses and making sure you get paid for every job you complete.
Eliminating the costly practice of rounding up to the next quarter-hour saves on your labor costs. So does not paying a driver while they're taking a break that wasn't approved. Any time you can nail down times to the minute, you avoid overpaying. Although it may not seem like much, digital punch in/out can lower your hauling costs for hourly work by 2%. Over a month's time that can add up to hefty savings.
Take a minute and think about all the times that a missing ticket has cost you because you couldn't produce proof. Or how about when a hauler turns in an invoice late and the job has already been closed?
In both situations - you, unfortunately, are the one who loses. In the first case, you may know for sure the work was completed; but without the documentation, most customers aren't going to pay. A logistics tracker cuts down on this monetary loss.
In the second situation, you owe the hauler for his time but you really can't go back to the end customer for more money. You're left with having to absorb the loss, narrowing what may have been an already slim profit margin.
A logistics tracker prevents both of these scenarios from happening. It ensures that you will be able to quickly get your hands on accurate, reliable documentation of loads and hours.
In addition, missing tickets that cause projects to stay open for months hurt your balance sheet because project managers won't have the insights they need to determine daily cost data, haulers can't be paid in a timely manner and the back office spends proportionately too much time on billing.
When every job is accounted for and the back office has all the accurate data they need, they can stay on top of things, like billing your customers and paying your haulers. A logistics tracker is the solution to make that happen.
Beef Up the Bottom Line with A Logistics Tracker
It's easy for administrative costs to eat into your profits. Without a logistics tracker, a typical end of the day looks like this: the back office team is shuffling through paper tickets that were thrown into a bin. They batch them. Then they have to manually enter the data to create invoices--many times multiple invoices for the same hauler. And they also have to sort through hauler's timesheets and verify that information before they can create invoices. That's a lot of handling paper and repetitive, inefficient workflows.
With a logistics tracker in place, the back office team's time spent on manual processes is significantly reduced. Not having to collect and batch load slips to create hauler invoices alone can save them 13 hours per week. Then there's the time not wasted on trying to track down missing tickets or incomplete information.
Depending on the size of your operation, all the efficiencies that a logistics tracker solution brings to your back office can easily add up to 728 hours per year. With those time savings, your back office can focus on other value-added tasks or take on new responsibilities.
Trux Works Out in the Field and For the Back Office
Keeping tabs on where your drivers are at any moment greatly affects your ability to stay on time and on budget. That kind of real-time visibility is possible with a logistics tracker solution that also enables you to manage your hauling needs with efficiency. But real-time visibility is important to your back office team as well.
A logistics tracker ensures that the back office has access to complete, accurate and up-to-the minute information throughout the day. The data from digital punch in and out and digital load slips is collected and stored in a cloud-based system that can be accessed any time--especially if the solution comes with a mobile app feature.
With a real-time logistics tracker solution, the back office can also help preserve your profit margins. All the documentation they need--every load slip, each digital timesheet--is right at their fingertips, so all the work you complete gets billed. And you won't be overpaying your drivers.
A logistics tracker replaces traditional time-consuming paper-based processes with automated ones. Hauler invoices are automatically generated and consolidated through the software. The back office still has control, but they also have more available hours in the workday to help grow your business.
Not all logistics trackers are built the same. If you're in a business that relies on dump trucks, then check out Trux. Trux was designed specifically for the needs of the heavy construction industry with easy to use dashboards, a mobile app, real-time GPS tracking, drag and drop dispatching, and much more.
If you'd like to learn more about how Trux can increase visibility for all your teams with a logistics tracker, it's easy to schedule a demo at a time that's convenient for you.