8 min read
How Increasing Material Hauling Can Drive Profit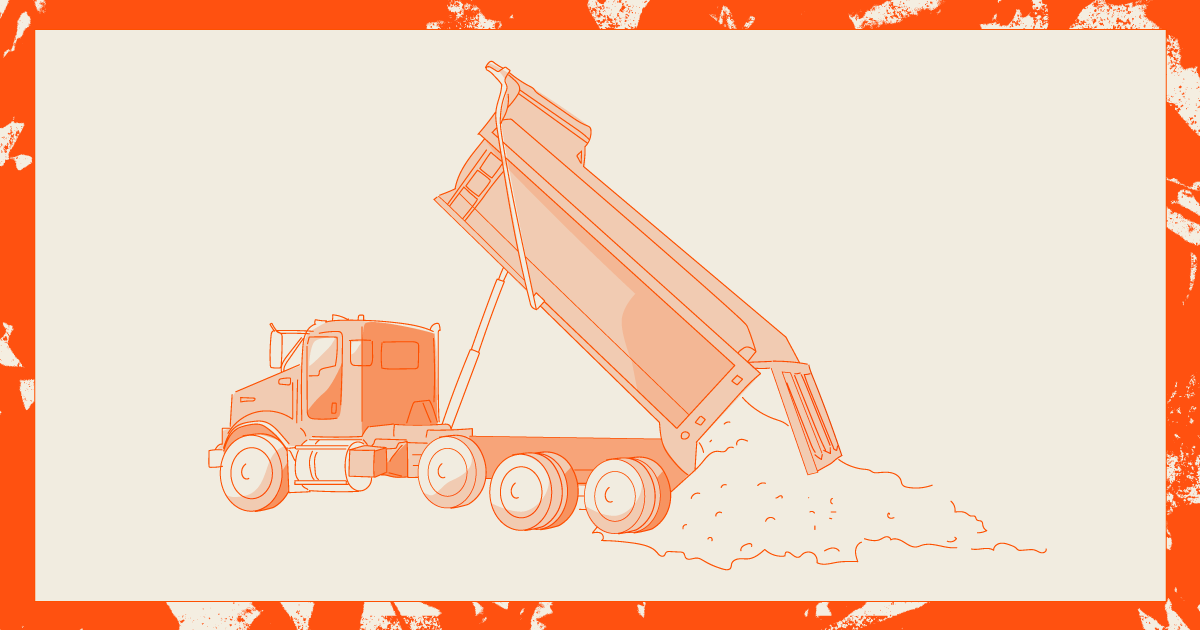 Name one thing that you think would most certainly impact your profits in a positive way. Is it to increase your material hauling? Or maybe to deliver more material, more efficiently? Sounds easy enough, but there are a few roadblocks that can keep you from hitting those goals:
Lack of visibility into operations, especially into the location of your trucks
Unexpected events that cause delays and throw schedules off
Lack of manpower--either from burnout or labor shortage
Paper-based manual processes
In this article we'll discuss how technology can blow past these barriers. You'll learn how an all-in-one platform benefits each area of your business, specific ways to improve efficiency in material hauling, and how to energize your workforce.
How Exactly Do Your Plant/Quarry Operations Slow Down Material Hauling?
You may think your operations are running as smoothly as they can with the processes, services, and people you have in place. You know it's not perfect, but it works...sort of….
A closer look at a typical plant or quarry reveals five areas where current practices impact efficiency in a negative way if left unchanged.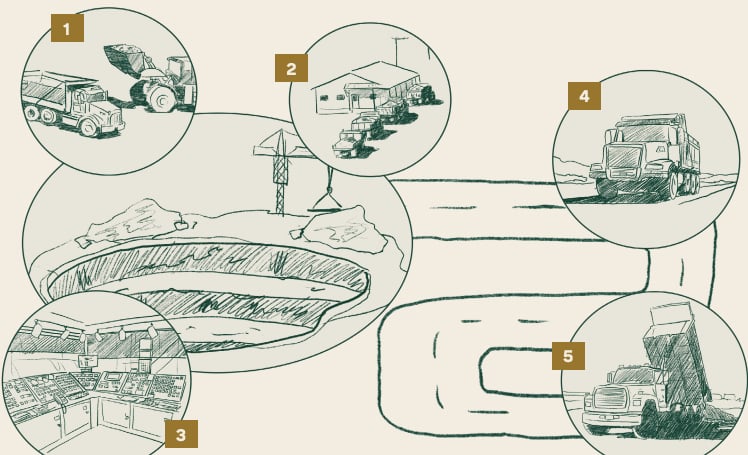 Loading. If every truck shows up at the same time to pick up their loads, the result is a bottleneck where trucks just sit wasting time and fuel.
Scalehouse. This is another place where trucks can idle for costly chunks of time just waiting to get a ticket. And if that ticket is handwritten, it presents another obstacle to efficiency and profitability. Paper tickets are time-consuming and are easily lost. Tracking down the info you need to invoice, and for validation purposes, is a cost you really shouldn't have to incur.
Dispatch office. The constant juggling of the tasks at hand while answering phone calls and text messages can frazzle even the best dispatcher. Without visibility into each hauler's location, it's next to impossible for a dispatcher to optimize schedules in real-time.
On the road. If you rely on third-party trucking, operations can easily go off track in this area that is currently outside your control.
Jobsite. Without knowing when loads will arrive at the construction site, the foreman is left in the dark. That means they have to call dispatch for updates, rather than simply get their crew ready to accept delivery. Yet another waste of valuable time and energy.
Imagine if you could have a bird's eye view of your operations and the ability to seamlessly manage your materials hauling all in one place.That's what technology can give you. Here's what the same five areas look like after you add the power of an all-in-one platform to the mix.
Loading. Staggered arrivals eliminate much of the wait time. Know how many trucks are at a plant and how quickly they're moving in and out. Monitor load times and even compare multiple plants/quarries in a given region.
Scalehouse. Digital load slips are not only accurate, but they're recorded and immediately sent to the back office. No paper means no chance a ticket is lost.
Dispatch office. Optimize haulers in real-time and communicate with everyone in one platform for less confusion and faster access to the information you need.
On the road. Leverage GPS tracking to communicate with and keep track of your third party haulers the same way that you monitor and manage your internal haulers and experienced drivers.
Jobsite. Get insights into when a truck will arrive at a project site--down to the minute. Foreman will appreciate automatic updates and so will your customers.


Meet the Challenges to Efficient Material Hauling Head On
At the beginning of this article we identified four roadblocks that can keep you from delivering more material each day, and ultimately from increasing your profit margin.
These obstacles are common in many of the organizations that use dump trucks to transport materials--whether that's asphalt, sand, gravel or dirt.
Challenge: Lack of Real-Time Visibility
Does it usually feel like managing commercial logistics is a guessing game? You do your best to plan, but at the end of the day, the trucking volume is off, your drivers spend too much time waiting and you aren't able to provide accurate answers when customers call about the status of their orders.
Solution: Use a Digital Toolbox
Enable your company dispatchers to manage more effectively with GPS tracking, digital scheduling, centralized dispatching and built-in communication tools.
Control trucking volume to and from construction sites
Improve the customer experience
Dispatch from anywhere
Pivot your operations on a dime


Challenge: Unexpected Delays
The adage "you can expect the unexpected" must have been first uttered by someone in the transportation or construction industry. From a construction site closing for the day to a change order coming in at the worst time to a dump truck on the fritz, there's a seemingly infinite number of things that can suddenly pop up to cause delays and throw your schedule out the window.
Solution: Optimize by getting more nimble
The big picture view that an all-in-one platform provides means your dispatcher is able to quickly react to any unforeseen events that could otherwise get things off track.
Reroute to avoid heavy traffic or severe weather
Accommodate change orders with ease
Prevent deadhead trips
React with confidence
Challenge: Dispatcher Burnout
Dispatchers are the front line of your operations. They are problem solvers and communicators --and they are burning out. They're always busy texting, calling, and moving things around on a whiteboard. It's nearly impossible for them to step away, often at the expense of spending time with their families.
Solution: Switch to a Dispatcher-centric Platform
Dispatchers will appreciate the digital tools that make their jobs easier like drag-and-drop dispatching, load stacking, reassigning and bulk-reordering, and they'll really love the mobile feature.
Dispatch from anywhere
Create/manage hauler schedules with just a few clicks
Verify hauler location with real-time GPS tracking
Communicate in bulk
Plan ahead for a big project, sometimes even weeks in advance


Challenge: Too Much Paper
Handwritten paper records slow down daily operations--ultimately impacting your bottom line. Your team could be performing more high-impact tasks instead of tracking down missing paperwork or trying to decipher if that scribbled number is a "3" or an "8".
Solution: Digital Records
Save time and cut down on headaches for your back office and haulers. Digitizing operations means everything is accessible in real-time and historically. Technology reduces the burden of manual processes for the following types of historically paper-based items:
Handwritten load slips/tickets
Hauler timecards
Paper schedules
Invoicing customers
Benefits You Can Expect From an All-in-one Logistics Platform
By now, it's clear that introducing technology into your business can have far-reaching effects on your efficiency and profitability. With a dispatch solution in place, you'll have visibility into all aspects of your operations. You'll have agility to quickly make smart decisions when changes occur, digital tools to streamline the job of your dispatcher and other employees and a huge reduction in paper-based manual processes which are inefficient and prone to error.
After implementation, the average Trux customers see between 5x -15x return on investment as a result of these benefits:
Improved Operational Efficiency
Increased customer service and satisfaction
Efficient dispatching
Monthly time savings for dispatchers
Improved # of loads/hour
Increased load efficiency


The Ability to Give Drivers Full Days of Work
Better relationships with haulers
Improved margins
Maximize human capital with full driver days


Reduced Reliance on a Single Source for Trucking
Access to a network of reliable haulers with the Trux Marketplace
Flexibility and adaptability
Digital chain of custody
Reduced Paper Processes
Significant monthly time savings for dispatchers and back office teams
Improved manual processes and less contact with paperwork
Freed up resources for your team
Consolidated workflows


Take a Closer Look at How a Logistics Solution Lightens Your Load
Curious as to the nitty-gritty of how it works? Here's a step-by-step look at how you can manage dispatch and delivery logistics with one seamless tool.
STEP 1: Receive Customer Order
Customer orders are received and synced with your logistics platform for full order management:
Sales orders are integrated into your system
Order sync will populate to Trux system so you're ready to dispatch
Integration cuts down on manual errors/double entry and saves time
STEP 2: Create Dispatch Order
Assign internal and third-party haulers without phone calls or texts.
Use drag and drop dispatching to assign internal and/or third-party haulers
View your complete schedule by individual delivery sites with associated trucker IDs
Verify routes and times with real-time GPS tracking and hauler digital punch-in/punch out for all trucks
Track progress of each delivery and reassign hauling as needed to assure projects deliver on time
Enjoy the flexibility to dispatch from anywhere with the mobile app
STEP 3: Manage Orders Digitally
Give full visibility from the dispatch office to the delivery site with limited communication needed.
The Trux Delivery Tracker gives the foreman or on-site contact full visibility into how much has been delivered and individual truck status for upcoming deliveries
eTicket generation from the dispatch order allows for end of delivery collection
Confirm or reject deliveries of sand, gravel, dirt, or any materials, to help chain of communication between dispatch and the delivery site
Real-time updates on punch out are synced back to dispatch for verification


STEP 4: Receive End of Day Documentation
View real-time documentation from delivery confirmation to dispatch summary and digital ticket downloads. This reduces the time it takes to collect and match scale tickets to invoices.
Ticket date and time
Quarry/plant locations
Product and quantity
Delivery location and notes
And more…
Increase Your Material Hauling for Increased Profits
In this new year as we all continue to grapple with how to do more with less, using an all-in-one platform like Trux makes sense. It can transform your operations with very little effort on your part.
It just takes the resolve to make a change and then a bit of time to learn the new user-friendly system. Interested in learning more? Download a copy of our free eBook to help your company drive profit and deliver more materials.