If your business owns construction equipment, you have likely gotten calls from reps trying to sell you GPS trackers for everything from dump trucks to CAT equipment. Most of them offer very similar solutions:
Find your trucks & equipment
Improve billing accuracy
Create more uptime
You know what else they all have in common? The need to attach a tracking device on every piece of equipment. What if you could still get all the benefits of GPS tracking with no installed equipment?
The Single Biggest PRO of Device-Free GPS Tracking
Aside from the obvious benefit of not needing to pay for or install a tracking device on every dump truck you own, there are lots of ways that hardware-free gps tracking for your construction equipment can make a big difference for your operations.
The single biggest advantage when all you need is a smart phone? You can keep track of your own trucks but you can also keep track of third-party haulers. Hardware-free solutions, like TRUX, utilize mobile and desktop apps to help you manage your business. When you and all the haulers you work with utilize the latest technology to power your business, you get access to some additional perks, like cycle-time data, bulk communication tools, and more accurate billing.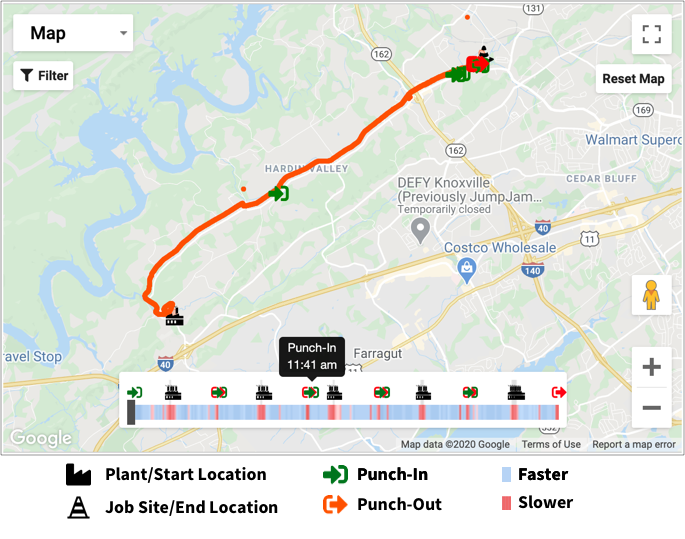 Accurate Cycle-Time Analysis Means Less Wasted Material and Lower Trucking Costs
As a contractor, when you work with app based solutions, like TRUX, you schedule your work in our app and set the start and end locations by placing a geofence over each location. If you want to learn more about how to set a geofence, check out this article.
What is collected through cycle-time analysis? There are a few key points: time in plant, transit time, and site turnaround.

Cycle-time can have big impacts on your bottom line. It can help identify a job that is over or under trucked, in real-time, so you can adjust the flow of trucks to the jobsite. Cycle-time can also help prevent sensitive material (like asphalt) from being wasted on paving jobs.
Transforming Communication on the Jobsite
Most contractors do everything they can to avoid last-minute cancellations. However, sometimes there are unavoidable delays. Changing weather conditions are one of the biggest reasons for last-minute cancellations. When last-minutes changes occur, there is a flurry of activity to ensure that everyone gets notified. Usually, this involves a few people hopping on the phone and making dozens of calls - hoping to reach everyone that needs to be notified.
An additional benefit to utilizing app-based solutions that require haulers to use their smartphone, is that you now have a built in messaging system. With solutions like TRUX, if there is a last minute cancellation, you can create one message and send that out to all of the haulers scheduled to work that day, with the click of a button. Bulk communication tools are a valuable way to save time and avoid miscommunication.
Big-time Billing Perks for Contractor's Accounting Teams
Benefits of switching to hardware-free solutions can also be felt by the accounting team. Solutions, like TRUX, are also providing the added benefit of cutting down on the paper needed to run your business. Your accounting team will be pleased to know that TRUX handles paying third-party haulers and sends one easy invoice per month to your team for job costing. TRUX also make it easy to see load slips in real-time. Haulers upload from their mobile devices and your team can access them in real-time from the office. This can go a long way in managing billing verification and compliance, not to mention, no more missing load slips preventing you from getting paid on time!