7 min read
Why Fleet Management Software Designed for Dump Trucks Matters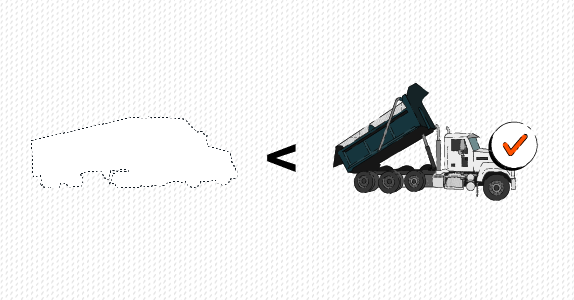 Maybe your business is growing. Maybe you're discovering challenges in your business. Or maybe you've read our article on How Dump Truck Logistics Software Creates Efficiency and you're looking for a software solution to address these challenges. Regardless, after some quick research, you probably discovered that not all "trucking fleet management solutions" are created equal.
For construction companies there are two main options when it comes to purchasing a fleet management solution, go with a general, industry agnostic tool, or a construction-specific fleet management tool. At a glance you may think, "they're all trucks, what's the big deal?" The purpose of this article is to help you determine what truck fleet management software is the best fit for you and your business.
Fleet Management Software Overview
Industry agnostic fleet management software is most commonly used in the long haul freight or service industry and for those looking to schedule, dispatch, and manage their fleet.
Long Haul Fleet Management Software
Long haul focused solutions may integrate with a load board for freight. They typically embed an accounting module providing long-haul carriers a one-stop-shop enterprise resource management system for their long haul trucking fleet. An example would be a fleet and transport management program like McLeod Software out of Birmingham.
Advantages
The advantages of long-haul trucking focused platforms are their breadth and depth of functionality and years of experience in long-haul trucking. Long haul trucking software has evolved significantly since the early 2000s. An increase in venture capital investment, ELD compliance requirements, and more has fueled a boom in long-haul technology.
Disadvantages
The disadvantages of these platforms are centered around the workflow differences between construction companies and long-haul trucking operations. Long haul trucking, by definition, consists of loads with long travel times, partial drop-offs of cargo, overnight trips, and longer layovers at terminals. Construction trucking is centered around short-haul multi-load trips each working day within the 150 air mile ELD-mandate radius.
The Impact
How this manifests in the day-to-day operations is a high touch, high volume dispatching effort with frequent repeat trips and a constant influx of ticket data to collect and process.
TRUX sees each trucker on average complete 6 loads per day, with 20 trucks running a day, which means a company would need to validate, input, process and pay 120 tickets each day, where a long-haul trucker may have a single load per day.
In construction, dispatchers are required to manage a variety of trucks running a variety of jobs during the day. Dispatchers must have dispatching tools that provide them control and flexibility - without a high level of effort.
The two main dispatching models are stay-ons, where truckers are going to and from the same plant and jobsite throughout the day or load-based dispatching where jobs are constantly changing. Construction dispatchers need to manage both - the hands-off model for stay-ons and very hands-on model for load-based dispatching.
A dispatching tool for construction companies should not leverage a 1-size-fits-all dispatching model.
In addition to ticket processing and dispatching, construction companies need to view their profitability and progress on a project-by-project basis. Each project will have a budget set from a quote, and actual performance on that project via loads delivered, tonnage delivered, hours spent, etc. Understanding revenue per project is key to creating a profitable trucking operation. Real-time access to the cost of delivery, actual revenues and a forecast for remaining trucking gives construction companies the view they need into the profitability of trucking. These types of comparisons aren't available in long-haul solutions and will either provide the business owner too high-level a view into all of their trucking - or - too granular of a view (a single load).
Service Fleet Management Solution
Service-focused solutions are typically centered around telematics capabilities and work order management. They may integrate with a rating system so you're able to rate your service provider and build lists of stops for drivers to make throughout their day. Examples here would be GPS fleet management software like Verizon Fleet Management solutions and Samsara that also offer fleet maintenance software.
Advantages
The advantages to utilizing service-oriented solutions are that they have a very broadly applicable solution that has a variety of use cases, spanning refrigerator repair service companies to community bus systems. With a high volume of use cases comes another advantage, a large user community and knowledgebase with the reassurance that they've seen it all. Since they are primarily focused on telematics and telematics reporting, you can expect very accurate GPS data and plenty of reports to conduct your own analysis.
Disadvantages
The disadvantages of these platforms are that they have too much emphasis on a GPS vehicle tracker and telematics reporting without the scheduling, paper digitization, and communication capabilities required of a construction company.
The Impact
Construction Companies will have challenges using these solutions. Knowing where your truck is during the day is only one of many questions an owner will have when it comes to trucking. Dump trucks can be more than 20 feet long and some can haul over 40 tons. Knowing where a truck is within a foot might be a little overkill when you consider the trade-offs. These platforms offer minimal to no communication tools, which can help head-off performance issues. The platforms lack the capabilities to provide clear information on expectations for the work, location, and process to pick-up and drop-off material, in addition to a contact number if they run into issues.
Given that these platforms are oriented around services, the scheduling capabilities are similarly challenging to long-haul solutions. The scheduling solutions in these tools focus on specific service requests and stops. Meanwhile, construction trucking operates in continuous pick-up-to-drop-off trucking formats. Oftentimes trucks are running between the same quarry and jobsite several times in a single day.
Another challenge that construction companies may face with these platforms is decision-based reporting and information overload. Some of these tools have dozens of reports. Knowing which reports matter most to your business requires hours of configuring and managing dashboards, and even so, the reports themselves do not provide owners an ability to address the root causes of these deficiencies identified in the reports. Through much of a hauler's day, the responsibility of their performance is reliant upon other stakeholders including the site foreman, quarry operators and loaders. These deficiencies could lead to challenges for construction companies when adopting these tools.
Construction Fleet Management Software Overview
Construction fleet management software is built for the exclusive use of dispatching dump trucks for construction companies and material producers. They intend to cover the full workflow of a dispatcher and trucker, starting with job creation, scheduling, communication, document collection and processing, and payment. An example of a tool in this space would be TRUX, which also has a dump truck marketplace to help match companies who are short on trucking with drivers looking for work.
Advantages
These types of solutions are specifically tailored to the workflow of a construction company and they have the tools needed to efficiently operate a hauling business. These tools have construction-specific scheduling, communication tools to ensure haulers get just the right amount of information they need to complete the work, and the right level of metrics and reports to get the information you need out of your trucking business.
Disadvantages
Since they're so specialized, they may not be as effective in other types of operations. With one platform for dump truck scheduling, some try to add container trucking, yellow equipment tracking, or service trucks into their fleet. Although some basic time and location tracking may be all someone needs with these vehicles, some of the more nuanced requirements of these vehicles may be unusable with these tools.
The Impact
Construction companies should see a few key benefits in adopting this type of solution in their business:
Dispatchers should experience a more efficient dispatching and scheduling process and require fewer outbound calls to determine a hauler's status and location.
Truckers should always have all the information they need about a jobsite and what they should be working on next. No more calls to the site foreman asking where they should go or calls to dispatch to see what job should be worked next.
Back office staff will have access to tickets as loads are completed and data from those tickets should be accessible and importable to your accounting system.
Owners should have information available to them to determine their progress on projects and assess the performance of their trucking operations in a digestible form.
Overall Recommendation
Our recommendation is that your tools should be form-fit for your business. Trying to fit a piece of technology into your business that doesn't match can make your business worse - not better.
Before selecting fleet management systems, do an honest assessment of your business, understand the major components of your processes, who the key stakeholders are, and what you need to be successful. Also, take extra care to note what parts of your operation are working well, and where there are challenges. Do your best to determine the root causes of any existing challenges.
When going into the market to select a tool, compare how these tools work against how your business operates today. Be fully aware of the changes required to get the most out of your team and the tool you're selecting.
We've seen construction companies succeed with tools and platforms that are purpose-built for their business and have seen others try to fit a "square peg into a round hole" with more generic tools that have given them trouble. If you are looking for a tailor-made fleet management software for your dump truck business, connect with our team. TRUX was designed with you in mind.