6 min read
How Dump Truck Dispatch Software Impacts Construction Projects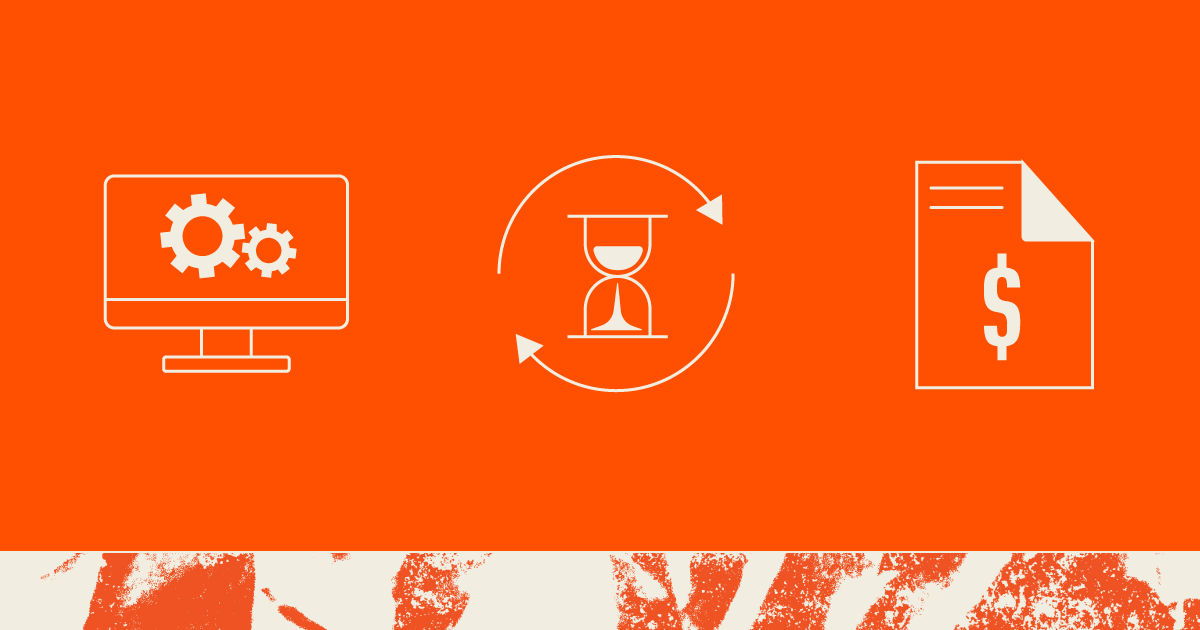 Warren Buffet is credited with saying, "In a chronically leaking boat, energy devoted to changing vessels is more productive than energy devoted to patching leaks." In the construction world, adopting dump truck dispatch software is akin to changing vessels. To stay afloat and ride the wave of growth coming in the next few years, you're better off putting energy and effort into finding and implementing a dispatch management solution.
Up until the last couple of years, construction professionals had few resources to do anything other than "patch leaks." Traditionally, construction businesses run on manual processes that slow things down and are prone to error. Blindspots (lack of visibility) across operations hinder the ability to increase trucking capacity. And they're vulnerable to changing conditions on a daily basis that disrupt plans.
Because of inefficiencies that have largely become acceptable as the way of doing business, the majority of construction and dump truck companies aren't able to quickly react to most changes in order to prevent projects from getting off track.
But staying on time and on budget is critical to preserving your profit margins, positioning your business for growth and establishing a new level of customer satisfaction.
It's Time to Take Control with a Dump Truck Dispatch Solution
One area that is significantly impacted when you add dispatch software to your operations is dispatching. Let's take a look at how the dump truck dispatcher works before and after adding this powerful technology.
BEFORE
The dump truck dispatcher spends an inordinate amount of time creating a schedule by using spreadsheets or a whiteboard and assigns jobs by making multiple phone calls or sending text messages to haulers.
A dump truck dispatcher then has to wait for haulers to respond before finalizing the day's plan. Haulers begin their shifts, but inevitably a change order or an unexpected situation like a jobsite closing due to severe weather throws a wrench in things. The dump truck dispatcher frantically tries to intercept haulers before too much time (and fuel) is wasted and the whole schedule is off.
AFTER
With the ease of drag and drop technology, the dump truck dispatcher quickly creates a schedule and assigns haulers. Haulers see all the details of a job and simply click to accept it without having to directly contact the dump truck dispatcher, who is no longer in wait mode but free to move onto more value-producing tasks.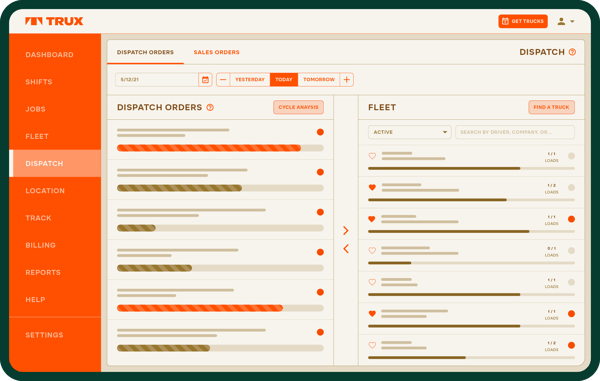 Haulers start their day, following the optimized route that the solution suggests. If a change order or some other event occurs, the dump truck dispatcher–who has a big picture view of all active trucks–can quickly adapt and send a message to everyone who needs to know.
Dispatching software streamlines operations which results in time savings and reduced delays.
Another way dump truck software works to keep your teams on time is with GPS tracking. When a dump truck dispatcher, haulers and jobsites are all connected in real-time and on the same page, less time is wasted.
BEFORE
Crews at the jobsite have two options when they're expecting a delivery. They can keep working until the dump truck arrives which forces the hauler to wait on them as they prepare the site, or they can get ready for a truck and then end up waiting because the truck encountered traffic, road work or a line somewhere along the way.
AFTER
The jobsite foreman can see exactly where a truck is and its ETA. This visibility allows them to coordinate work at the site and time it so the crew is ready when the load arrives. In this scenario, every minute is spent productively.
GPS tracking allows jobsite crews to be ready for a truck's arrival, eliminating wasted time.
Dump truck software and GPS tracking work together to give you the data you need to have accurate cycle times. Even better, you can leverage that data to identify bottlenecks, implement changes and optimize your cycle time.
BEFORE
Often trucking companies and the dispatch office are in the dark about exactly what happens between the time a truck leaves with a load and then returns. You know the total time and may suspect that you could shave minutes off but you don't know where the slow downs occur. Is it during delivery at the jobsite? Or maybe the truck is taking too long to load. All you can do is take a guess at where you need to make corrections.
AFTER
With the data from your dump truck dispatch software you see that there's a bottleneck at the jobsite. Your truck is idling in line waiting to unload. By staggering arrivals at the site you reduce the time your truck waits and regain valuable minutes.
Accurate data allows you to pinpoint problems so you can make the right changes to optimize your cycle times.
BEFORE
You find yourself in the position of having to turn down a job unless you can locate extra haulers. In fact, you realize you're in this position more frequently these days because of the labor shortage, but you really don't want to add new employees right now.
Calling new haulers takes time, and then you have to wait for someone to accept the work. After an unproductive amount of time, you resort to searching the job boards or talking to a broker. All these traditional ways of finding hired haulers are time-consuming, frustrating, and often fruitless.
AFTER
You get the opportunity to take on a new project. You're not worried about being short on trucks. You log in to Trux Find, post the job details and move on to other tasks on your to-do list. Within the hour, you've connected with the haulers you need. You know you can trust them to have the necessary experience, skills and compliance documentation.
Using a marketplace enables you to easily expand your trucking capacity and asset utilization so you're poised to take on whatever work comes your way.
Dump Truck Dispatch Software Helps You Stay on Budget
The second challenge you face with each and every construction project is staying on budget. One of the easiest ways to attack this issue is by replacing your paper-driven manual processes with digital ones. Dispatch software transforms the back office processes that matter the most.
BEFORE
Haulers go through their day hopping in and out of their cabs, collecting paper tickets that have critical information scrawled on them. At the end of the day, they turn all of them in–hopefully–to the back office where they are sorted and batched - it requires a lot of manual data entry.
A missing ticket is a costly mishap. Either you pay for the time it takes to track it down, which can sometimes take hours. Or if it's never recovered, you could miss out on a payment. There's also the problem with discrepancies between accounts receivable and accounts payable.
AFTER
Instead of keeping up with paper load slips throughout the day, haulers simply upload a digital load slip that captures the accurate information for each load. In addition to providing a single source of truth, the information is immediately accessible for invoicing your typical customers. Instant digital invoices are a complete game changer for everyone involved including accounting departments.
Eliminating much of the manual data entry allows jobs to be closed out much faster because you're not waiting on, verifying or trying to locate the information you need.
Protect your profit margin with a single source of truth.
Another one of those leaky areas you have to deal with is the traditional way of paying haulers. Whether you pay by the hour or the load, there's always potential for loss either in terms of dollars or with unaccounted for time that could be used to deliver another load.
BEFORE
For as long as anyone can remember haulers have rounded up to the next quarter hour. That practice does simplify things, but it also means contractors end up paying for time not worked. Even if you pay by the load, you could be missing out on the potential to increase the number of deliveries if a hauler is taking an unauthorized route or a break that's not approved.
AFTER
Dump truck dispatch software should mean your haulers are punching in and out digitally. It's fair, accurate, and haulers like how easy it is to record their time. You'll like paying for the time worked–and not a minute more!
When haulers use digital punch in/out, you're saved from overpaying.
Trux: Dump Truck Dispatch Software To Help Stay on Time and Save Money
As the construction industry is about to enter an exciting time of growth dispatch software will be a differentiator for businesses. Companies that want to stay on time and on budget, will do well to take Warren Buffet's advice and change vessels by adding cloud based software to manage dispatching and trucking operations.
Taking Trux's quick logistics assessment is a good place to start, and if you have questions please give us a call – we're happy to help.