16 min read
The Infrastructure Bill: What Does It Really Mean for Construction?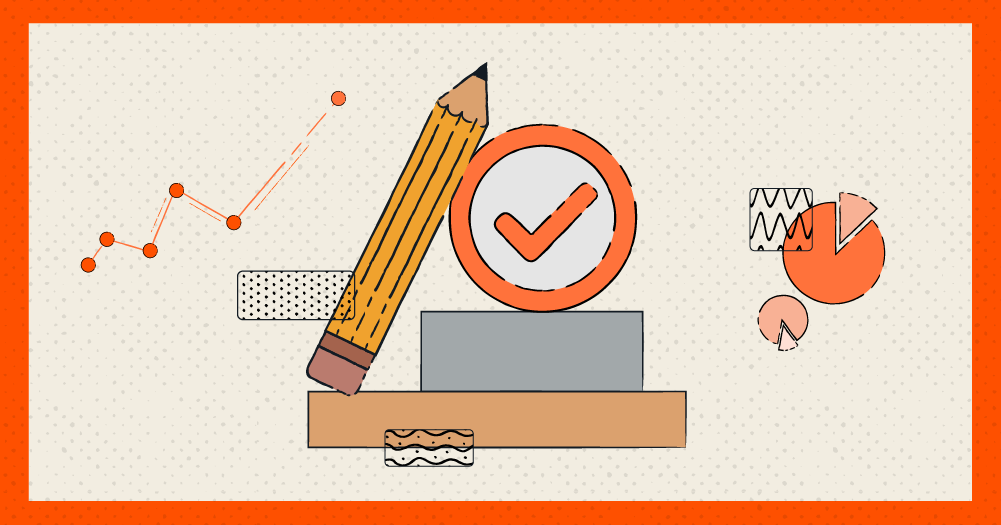 Note: This article was updated on August 10, 2021 to reflect the latest news.
At the end of March 2021, President Joe Biden served up the first version of his massive $2.3 trillion infrastructure bill. Republicans returned with their counter proposal coming in at a cost of $586 billion, about a fourth of the president's plan. May 21, 2021, the president lobbed an updated version of his infrastructure bill, cutting $550 billion from the initial plan. And less than a week later, Republicans increased their offer to $928 billion.
The back and forth negotiations surprise no one. It was never likely that either version of the infrastructure bill in its original form would become law. Because the president's plan came with a hefty price tag and included investments in a number of areas that many don't consider to be infrastructure, the GOP put together a much less costly blueprint more focused on traditional infrastructure.
Subsequent versions of an infrastructure bill were being volleyed back and forth with the hopes that some agreement would be made before Memorial Day. However, as of the timing of this publication, that has not happened. Still, if only a portion of either of the plans is enacted into legislation, the outcome would be an abundance of new projects and the creation of jobs, most of which would be in the construction industry.
An infrastructure bill of this size would certainly be a boon to the construction industry.
In this article, we'll first break down what the two plans--President Biden's and the Senate Republican's Infrastructure Plan--initially included and the changes each side made in updated offers. Then we'll examine the major differences in the infrastructure bills and also discuss the impacts of an infrastructure bill on construction. Finally, we'll wrap up with a look at some of the other proposals and bipartisan policy recommendations that are currently circulating in the halls of Congress.
What's in the President's Infrastructure Bill?
Aptly titled, the president's American Jobs Plan is presented as an investment in our nation that will create millions of jobs, rebuild the nation's crumbling infrastructure and put the United States in a solid position to compete with China.
The multiyear American Jobs Plan would focus on traditional infrastructure categories like roads, bridges, ports, airports and other transit systems. It would also address drinking water, energy and high-speed broadband infrastructures. In addition, it includes investments in public schools and community colleges, affordable housing, childcare facilities, veteran's hospitals and clinics and other federal buildings.
There are many items included in this infrastructure bill that aren't typically found in infrastructure spending plans: investments in research and development, manufacturing supply lines, climate change issues, gender and racial equity, the creation of half a million charging stations for electric vehicles, in-home care, improved and expanded job opportunities for care workers and a focus on increasing the amount of goods and materials produced in America and shipped on U.S. vessels.
The president's amended version removes investments in research and development, manufacturing and supply chain from the infrastructure bill, but notes that those areas will be addressed separately, probably through reconciliation.
In tandem with the American Jobs Plan, the president put forth the Protecting the Right to Organize (PRO) Act. The Pro Act is nothing new--it had already passed in the House in early March 2021 and back in 2019. Neither time, however, did it advance to the Senate. By including the Act in his current infrastructure bill, the president increases the likelihood that the Senate will have to at least review it. We'll get into the impact the PRO Act will have on the construction industry later, but just know that it could mean big changes to labor laws--some good, some not so good, depending on your perspective.
The American Jobs Plan would be funded largely from corporations. The president projected that about half of the cost would come from raising the corporate tax rate back up to 28%. That hike along with a global minimum corporate tax rate of 21% would generate a total of $2 trillion over the next 15 years.
To help pay for the spending, the plan identifies several changes:
Raise the corporate tax from 21% to 28%
Increase the global minimum tax to 21% for multinational corporations
Prevent U.S. corporations from claiming tax havens
Disallow expense deductions for offshoring jobs
Eliminate the loophole for intellectual property
Establish a minimum 15% tax on large corporations
Remove tax incentives for fossil fuel producers
Increase the IRS enforcement of tax laws for large corporations
Here's a more detailed look at how the proposed spending is allocated:
Biden's first plan: Total cost $2.3 trillion Biden's updated plan: Total cost $1.7 trillion
$621 Billion for Transportation $582 Billion for Transportation
Modernization of 20,000 miles of highways, roads and bridges ($115 billion). Modernization of existing public transit ($85 billion). Improvements for road safety ($20 billion). Investments in passenger and freight rail service ($80 billion). Building electric vehicle charging stations ($175 billion). Renovations of airports ($25 billion). Improvements for ports, inland waterways and ferries ($17 billion). Reconnection of urban neighborhoods ($20 billion). Funding projects ($25 billion). Improvements for infrastructure resilience ($50 billion).
$111 Billion for Water & Sewer
Replacement of lead pipes and service lines ($45 billion). Upgrades and modernization of the nation's drinking water, wastewater and stormwater systems ($56 billion). Monitoring and remediating PFAs in drinking water ($10 billion).
$100 Billion for High-Speed Broadband $65 Billion for High-Speed Broadband
Building of high-speed broadband infrastructure for 100% coverage nationwide. Encourage competition among providers of internet services. Lower cost of internet service and promote widespread adoption.
$100 Billion for Energy
Building of a more responsive electric transmission system. Modernization of systems to generate clean electricity. Plugging orphan oil and gas wells and cleaning up abandoned mines. ($16 billion). Remediation and redevelopment of Brownfield and Superfund sites ($5 billion. Creation of jobs in public land and water conservation ($10 billion).
$213 Billion for Housing
Production, preservation and retrofitting of over 2 million affordable and sustainable homes to include tax credits for rehabilitating or building 500,000 low and middle class homes ($20 billion). Improving public housing system infrastructure ($40 billion). Investing in clean energy upgrades for homes and businesses ($27 billion).
$100 Billion for Schools
Upgrading and building new public schools ($50 billion direct grants and $50 billion leveraged through bonds). Investing in community college infrastructure ($12 billion). Upgrading and building new child care facilities ($25 billion).
$28 Billion for VA Medical Facilities and Federal Buildings
Modernization of Veterans Affairs hospitals and clinics ($18 billion). Purchasing, building or renovating federal buildings ($10 billion).
$300 Billion for Manufacturing Removed from plan
Strengthening critical goods manufacturing supply chains ($50 billion). Semiconductor research and manufacturing ($50 billion). Investing in countermeasures for protection against future pandemics and prevention of severe job losses ($40 billion). Manufacturing of clean energy ($46 billion). Investing in regional hubs for innovation and a Community Revitalization Fund ($20 billion). Investing in domestic manufacturers ($52 billion). Creation of a national small business incubator and a network of innovation hubs ($31 billion). Partnering with rural and Tribal communities for job creation and the support of economic growth ($5 billion).
$180 Billion for Research and Development Removed from plan
Upgrading the nation's research infrastructure ($40 billion). Promoting collaboration and building on government programs ($50 billion). Creation of jobs in R&D ($30 billion). Creation of jobs and technology in clean energy ($35 billion). Climate-focused projects and research ($20 billion). R&D investing at historically black colleges and universities (HBCUs) and other minority serving institutions (MSIs) ($25 billion).
$100 Billion for Workplace
Creation of a new Dislocated Workers Program and training in sector-based programs ($40 billion). Focus on career development for underserved communities ($17 billion). Increasing the capacity of current workforce development and worker protection systems ($48 billion).
$400 Billion for Elderly and Disabled Care
Expansion of access to community-based care or affordable homes to include better access to Medicaid long-term care services. Creation of well-paying caregiving jobs.
So that's the nuts and bolts of the president's infrastructure bill known as the American Jobs Plan. There's no argument that our nation needs to upgrade infrastructures that are in disrepair and address sustainability and resiliency issues, but critics of President Biden's infrastructure bill feared it was too ambitious and expensive to quickly pass into legislation.
What's in the GOP Infrastructure Bill?
Believing that the president's plan went far beyond the definition of infrastructure, Senate Republicans led by Sen. Shelley Moore Capito, R-W.Va. proposed a 5-year plan with a much narrower focus to the tune of only $568 billion. The group who authored the plan sit on the committees that oversee infrastructure policies and hope their proposal will serve as a jumping off place for bipartisan negotiations.
The framework of the first Republican infrastructure bill (a two-page proposal) breaks down like this:
$454 Billion for Transportation
Modernization and repair of roads and bridges ($299 billion). Modernization of public transit systems ($61 billion). Investing in rail ($20 billion). Investing in ports and waterways ($17 billion). Upgrading the nation's airports ($44 billion). Investing in safety ($13 billion).
$65 Billion for Broadband Internet
(The plan does not give details on exactly how these monies would be spent.)
$49 Billion for Water Infrastructure
Improving drinking water across the nation ($35 billion). Investments in water storage ($14 billion).
The GOP infrastructure bill would be paid for largely with user fees including those for electric vehicles and repurposing unspent federal dollars. They also emphasized the importance of state and local governments partnering in the funding as well as private-sector financing and investments.
The Republicans' most recent offer is $360 billion higher than their first plan, coming in at $928 billion. The new proposal increases funding in almost all the original categories and adds $4 billion for electric vehicles; however, the way the spending would be funded remains unchanged.
What are the Differences in the Infrastructure Bills?
There are many differences between the two proposals. We'll start with just the sheer size and scope. The American Jobs Plan costs about four times the GOP plan and is far reaching in its components. Both plans cover transportation, water and broadband internet, but President Biden's first plan included housing, schools, research and development, elder care and workforce development.
It's important to note that the GOP plan includes more than twice the funding towards roads and bridges than the president's first proposal but doesn't specifically address any sort of "green" spending.
Another major difference lies in how each plan would be financed.
The president would have most of the funding coming from corporations by increasing their tax rate and eliminating many of their tax benefits. The Republican plan rejects any undoing of the corporate tax cuts from 2017 and any increase of corporate or international taxes.
As the negotiations continue, neither side has changed its position on issues they feel strongly about. Neither side shifted on how they would fund an infrastructure bill. The president stands firmly on including funding for clean energy and the care economy. The GOP believes those items have no place in a bill for infrastructure.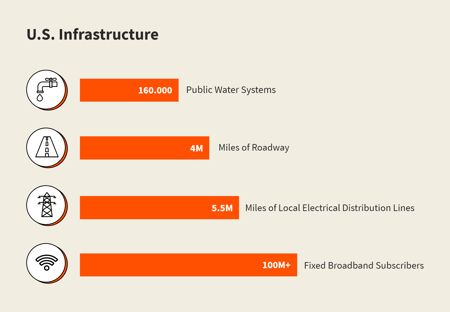 What are the Impacts of the Infrastructure Bill on Construction?
It's more than safe to say that whenever an infrastructure bill is passed it will have a positive impact on the construction industry. How could it not? Whether it's the American Jobs Plan or another package, with so many civil construction jobs on the agenda the long-term outlook is promising.
According to Moody's Investor Services February Report, future versions of any infrastructure bill will include spending which should boost growth in the construction industry 9 to 12 months after passing by about 200 basis points. If lawmakers are able to get a bill passed by the end of the third quarter 2021, the experts project that the total construction spending in the U.S. would grow by 5% in 2022 and by 5.5% the next year.
What does an infrastructure bill mean for material producers?
They will benefit substantially--primarily because half of the demand for aggregates comes from public infrastructure. The other half is divided between residential and nonresidential construction. Due to a variety of factors, right now supply is meeting demand in the aggregates industry. If the current conditions continue, Moody's projects volume and price to increase by 3% per year. But if a sizable federal infrastructure bill passes, they predict both volume and price to increase another 2%.
Although lumber won't benefit as much from a bill passing because it's used mostly in residential construction and remodeling, other building materials like copper, steel, cement and ready-mix suppliers can also look for gains.
What About the Pro Act?
As mentioned earlier, the president included the PRO Act in his infrastructure package. Here's a summary of the major items in the Act:
Institution of joint employer liability to prevent unfair labor practices
Redefining what constitutes a supervisor and independent contractor so more workers are considered employees
A change to a handful of union election rules such as being able to have quick elections and prohibiting employers from making meetings mandatory
Eliminating right-to-work protections
Expansion of rights to picket and strike
Revoking the right of an employer to prohibit lockouts and replace workers who are hired during a strike
Allowing arbitration panels a say in collective bargaining contracts (after 120 days if an agreement hasn't been reached)
Expansion of access to liquidated damages and other remedies for retaliation and discrimination
Most industry leaders and groups are not in favor of these provisions of the PRO Act and fear the cost of public projects could go up because of anti-employer restrictions. Also the Act calls for wages to be tied to federal investments and stricter labor standards. Proponents of the Act believe it supports the right of workers to organize and unions.
Although unions are common in construction, other sectors like transportation and telecommunications might see the benefits in organizing.
The PRO Act could be voted on separately from the American Jobs Plan if the Senate gets enough support to call a vote.
Bipartisan Ideas on an Infrastructure Bill
In April, pretty much smack dab in the middle--appropriately--of the release of the president's plan and the Republican plan, the Problem Solvers Caucus Infrastructure Working Group published its report of bipartisan recommendations for building a stronger infrastructure network for the country.
The new, and officially endorsed, report outlines policies and serves as a bipartisan framework to address the critical need for rebuilding and investing in the nation's highways, roadways, bridges, public transit, rail, ports and airports, energy systems, the power grid, water and sewer systems, and broadband and telecommunications networks. The bipartisan caucus has 58 members, 29 from each party. In order for a report to be officially endorsed it must have the support of 75% of its members.
The purpose behind the creation of the Problem Solvers Caucus was to discover common ground, points that both parties could agree on when it came to priorities for new infrastructure projects and also how to address the huge backlog of maintenance that's been deferred for way too long in the U.S.
Surface Transportation Infrastructure
Our nation has enjoyed a longstanding competitive advantage in the global economy due to our extensive surface transportation infrastructure; however, legislators have failed to meet increasing demand for over a decade. They've also let a growing list of deferred maintenance turn into an overwhelming backlog of projects.
The result is that businesses struggle to compete, Americans waste more hours each day stuck in traffic and much of our infrastructure is not safe due to deterioration.
The caucus prioritized measures to restore the state of surface transportation infrastructure, chiefly on how to fund it.
Historically, the federal government's Highway Trust Fund, which is primarily funded through a user fee on gas, has paid for a good portion of the surface transportation infrastructure. But spending exceeded already declining revenue in 2008 for three reasons: the user fee on gas had not been increased since 1993; because of the way it's indexed, the user fee's purchasing power was 40% less than in 1993; and vehicles increasingly became more fuel efficient, so less revenue was generated.
So how has the trust been funded since 2008? Congress has supplemented it--at a cost of $157 billion. And those funds are coming from the U.S. Treasury general fund and other federal funds.
The Problem Solvers Caucus emphasizes the need to fund the Highway Trust Fund through sustainable means for the long-term. It provided some viable solutions:
To modernize the user fee system:
In the years after 2021, adjust the rates of excise taxes on petroleum and petroleum products, alcohol-based fuel, diesel fuel and other fuels by indexing them in more relevant ways.
Stop transfers from the general fund by phasing in a federal gas user fee that's sustainable. This could be accomplished with incentives to transition to a vehicle miles traveled (VMT) program. Another solution could be implementing a mileage-based user fee on automated vehicles.
Develop alternative user fees that reflect changes in technology and fairly distribute the costs of constructing and maintaining transportation infrastructure. For example, there could be an annual registration fee on fully or hybrid electric vehicles. (As it is right now they contribute nothing to the Highway Trust Fund.) There could also be a user fee based on freight assessed through waybill taxes.
In addition to the Problem Solvers Caucus, there are a handful of more moderate legislators who have met to discuss alternative ways to address infrastructure issues. Some believe that the way to expedite the process would be to break out the parts of the bill that are more likely to receive bipartisan support and leave the more controversial items for later.
"We HAVE A DEAL"

The president announced on June 24th that the White House and a group of bipartisan senators have reached an agreement. President Biden said, "None of us got all that we wanted. I didn't get all that I wanted. But this reminds me of the days we used to get an awful lot done up in the United States Congress."
So, what is included in the new framework?
$579 Billion in New Spending
$312 billion to transportation ($109 billion for roads, bridges, and other major projects, $66 billion in passenger & freight rail, $49 billion in public transit)
$15 billion to electric vehicle infrastructure (including electric buses and transit)
$266 billion for nontransportation infrastructure
$73 billion for power
$65 billion for broadband
$55 billion for water
House Passes Surface Transportation Bill
On July 1, 2021 the U.S. House of Representatives considered and passed the $715 billion surface transportation reauthorization and water infrastructure bill. The vote was 221 to 201, with two Republicans voting in favor. However, the passage of the INVEST in America Act by the House does not mean there is not more work to be done.
Key Takeaways For Construction:
Historic funding of $547 in surface transportation (over a 5 year period)

Includes: $343 billion for road, bridge and highway projects
Includes: $32 billion for much-needed bridge repair and reconstruction
BIPARTISAN EFFORTS HIT A ROADBLOCK
On July 19th lawmakers in Washington announced that plans to pay for a roughly $1 trillion infrastructure package, in part, by boosting tax-collecting enforcement at the Internal Revenue Service is off the table. With deadlines coming up, this is a blow to the bipartisan infrastructure efforts.
Democrats and Republicans are still working together in an attempt to hit mid-week deadlines. However, it is unclear whether the bipartisan coalitions will be able to make that happen.
Sen. Rob Portman (R., Ohio), the lead GOP negotiator on the infrastructure deal, said they shouldn't have a Wednesday deadline. "It's more important to get it right than to meet an arbitrary deadline." The bipartisan groups are already looking at alternative means to fund the bill.
Moving forward
Bipartisan efforts from key U.S. senators and the Biden administration are set to move forward. This announcement has been marked with praise by key industry associations in the construction industry. However, the Senate vote is just the first step towards a final vote on the package.
What is included?
According to the White House, the deal includes $550 billion in new federal investment. They have also stated this should include the creation of around 2 million jobs per year, over the course of the next decade.
What does that mean for roads, bridges, and major projects? Well, it means $110 billion of new funds for roads, bridges, and major projects and a 5-year reauthorization of the surface transportation program. It also includes $40 billion of new funding for bridge repair, replacement, and rehabilitation and $17.5 billion for major projects. For a full list including safety, and passenger/freight rail you can refer to the White House briefing statement.
Why this matters for construction
Deadlines are quickly approaching for the current surface transportation programs on September 30th. Ensuring the new infrastructure measures are set in place prior to that deadline means that roads, bridges, and transportation will be able to continue the vital work needed.
We will continue to keep this article up to date with important updates coming out of Washington.
Senate Passes Infrastructure investment and jobs act
The Senate has passed the bipartisan Infrastructure Investment and Jobs Act. The vote was 69-30. This legislation will now move to the House when they are back in session, starting September 20, 2021.
So, what is ultimately included?
- $550 billion in new spending over the next 5 years (roads, bridges, highways, and water infrastructure).
We'll be sure to update this article when the house is back in session in September!