Learn how you can be part of a growing industry
As an independent dump truck driver, it can be overwhelming finding dump truck work. Many times you rely on companies that you've previously done business with to get jobs. If business starts to slow down, you may find yourself making endless calls or searching on job boards which ultimately may not lead to an ideal flow of work or income. The good news is that according to a recent report, "The U.S. dump truck service market is expected to grow significantly owing to the rise in the expenditure in the construction industry." In this article we'll show you how you can be a part of this industry growth as a truck driver.
How Current Industry Trends Affects Drivers
The current demand for dump truck services is high, as construction and infrastructure needs continue to rise. Dump trucks are an important piece of the puzzle when it comes to the construction industry. They move materials to and from construction sites while conducting local and long-distance hauls. It is estimated that the competition in dump truck services will continue to grow with the rise of construction.
The use of GPS technology in dump trucks is also on the rise. This addition gives contractors and foremen control in tracking their materials, while also overseeing the loading and offloading. However, a supplementary benefit of using GPS technology is the ability to order dump trucks in real time. This gives contractors and drivers the ability to increase productivity and fulfillment of more jobs.
STAY UP-TO-DATE WITH TRENDS!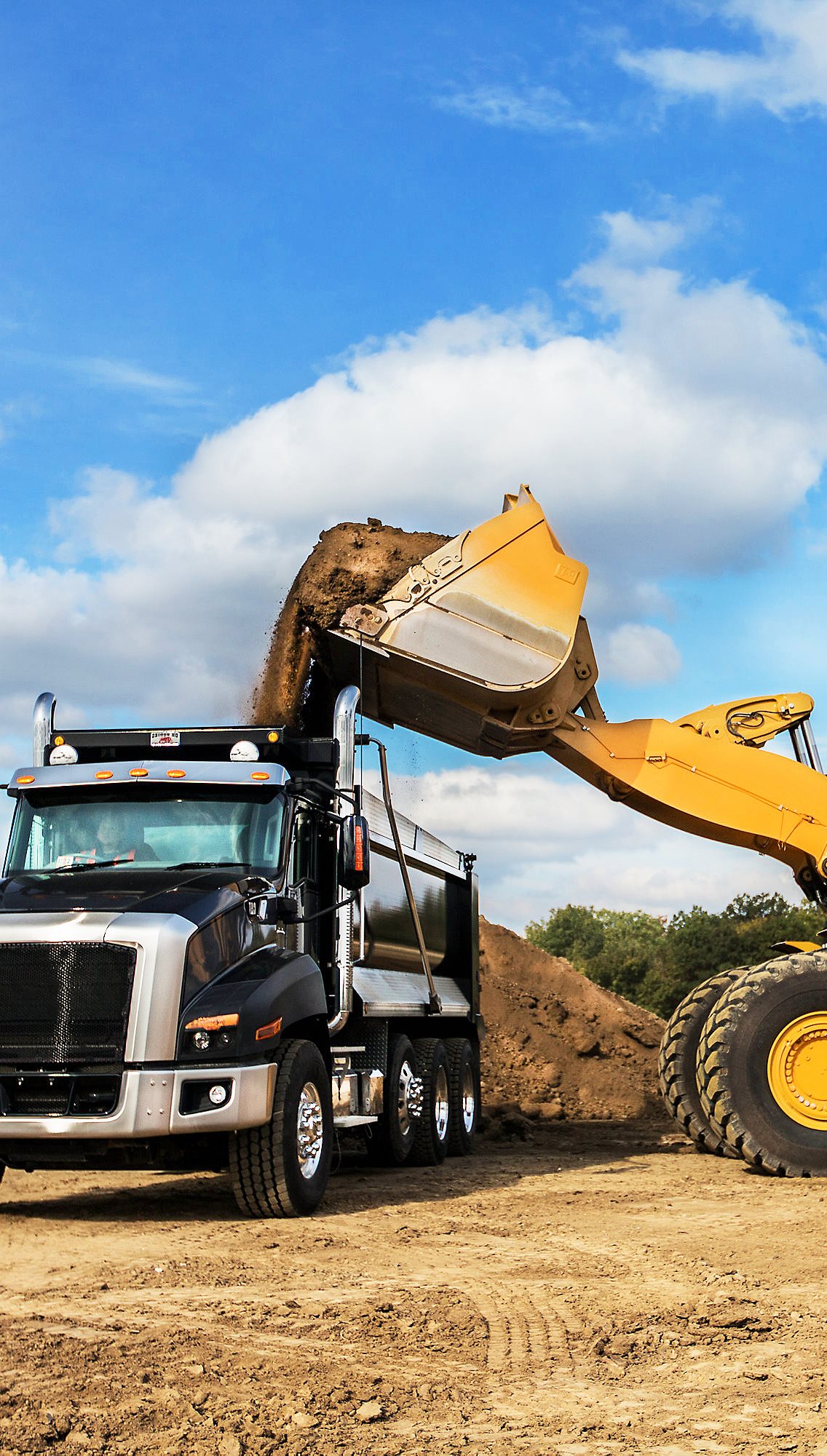 There are various steps that an individual must take before operating a dump truck and picking up their first job. This includes learning to operate a truck, obtaining one along with a commercial driver's license, or CDLs.
Steps To Take Before Looking For Work
LICENSE AND CERTIFICATIONS
Typically, local departments of safety issue CDLs which are required to operate a dump truck in all of the U.S. The CDL exam will include a driving portion, so many complete local driving courses or truck driving school. Many truck driving schools provide job placement assistance, which may make it easier to transition into the world of dump truck work. As far as CDL licenses go, a Class B CDL is required to drive straight dump trucks that tow less than 10,000 pounds of Gross Vehicle Weight Rating (GVWR). Class A CDLs allow you to tow more than 10,000 pounds of GVWR and are good for tractor trailer dump trucks. Some additional certifications that dump truck drivers get include "dump truck operations CBT certificate and dump truck tailgate removal and installation CBT certificate." Many drivers also benefit from endorsements such as HAZMAT or passenger.
OBTAINING A TRUCK
When searching for a dump truck, consider models that are big and powerful enough to guarantee you different types of jobs. Like any vehicle, consider the advantages and disadvantages of buying new versus used dump trucks. Before purchasing a truck, review your credit information and finances. Will you be providing a down payment? Additionally, conduct research to get the proper amount of commercial insurance as well as the best rate for your coverage.
TAX INFORMATION
As an independent truck owner, or if you're planning on starting your own dump truck business, you'll need to get a tax ID or EIN. Find out more information by visiting the IRS website.
How to Get Dump Truck Work
BUILD YOUR CLIENTELE
One way to get dump truck work is to market yourself and find work by word-of-mouth, handing out fliers, and/or making calls. Much of this will depend on finding companies and local jobs that need dump trucks, so building connections and networking will be important. Become reliable and dependable for contractors so they continue to offer you jobs in the future. As an independent driver, you may need to make bids for jobs. To charge competitive rates and get jobs, find out quotes for various types of jobs and figure out fees and additional requirements to get the money you deserve.
TARGET YOUR LOCAL MARKET
Consider contacting local landscaping suppliers, builders, and transportation providers to get jobs such as hauling rocks, and dirt, as well as winter snow removal if you live in a state that gets snow.
GET A CONTRACT
Departments of Transportations (DOTs) offer government contracts to individuals and dump truck fleets. Many DOTs have a bidding process for construction projects, so check with your local DOT to find out more. Subcontracting is another way to gain experience with contract work without having to actually bid yourself.
JOIN DUMP TRUCK APPS AND JOB BOARDS
There are several job boards that post trucking jobs in local communities. Additionally, apps are revolutionizing the way in which truckers find jobs. Apps such as TRUX connect truckers, contractors, and material providers to build an efficient system for completing dump truck jobs.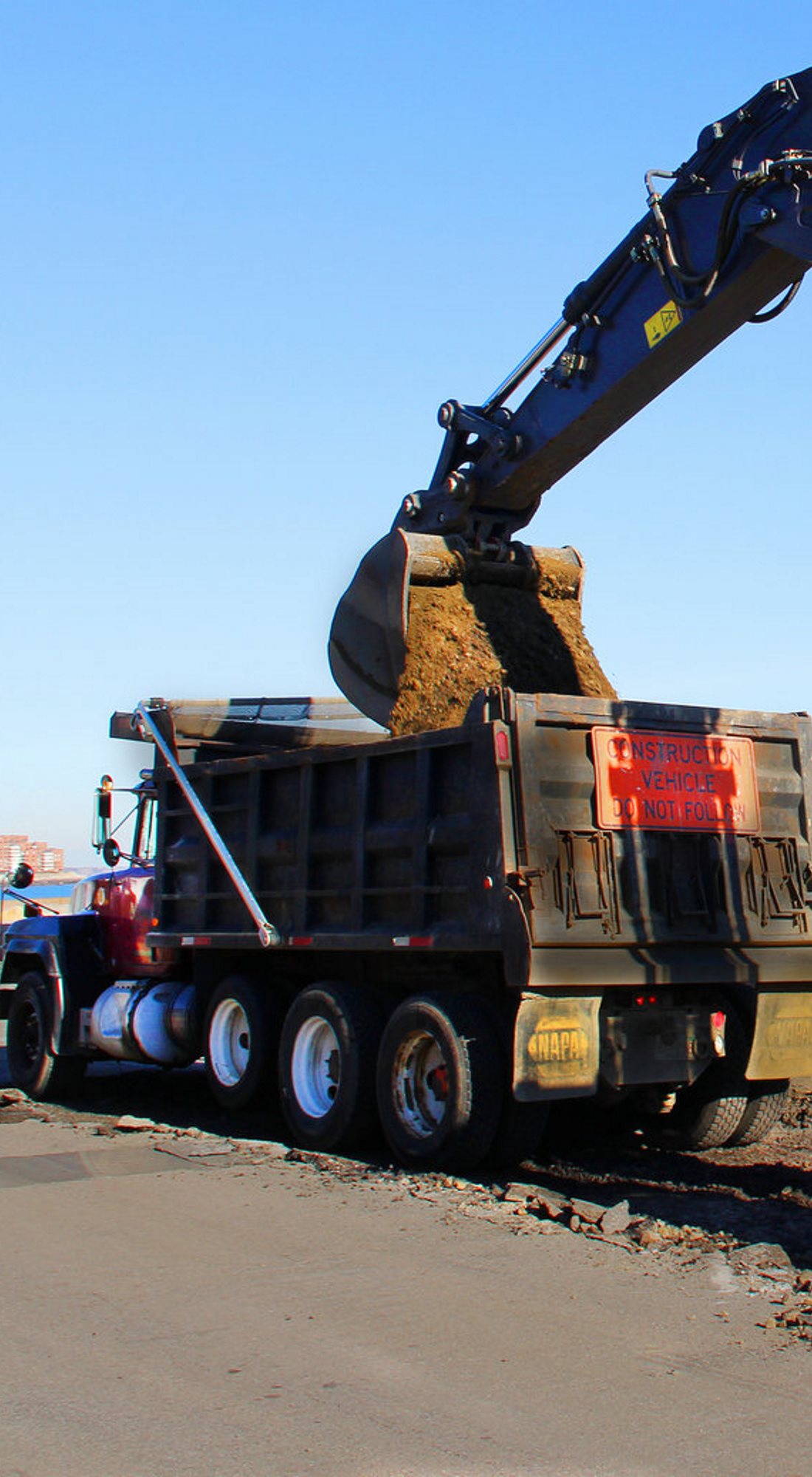 Growing Your Dump Truck Business
TRUX is helping haulers, like you, across the country kick their business into high gear. Our technology connects haulers with contractors and material producers near them, making it easier than ever to get your business off the ground.
One of the biggest challenges, as you are starting out or
growing your business, is finding the right truck at the right price. That's why we have partnered with Ritchie Bros.
Financial Services to provide you with preferential rates from their LeaseFlex TM and PurchaseFlex TM Financing options.
Maybe you don't need a vehicle but could use a loan to cover equipment-related or business expenses like:
Registration/Licensing/Taxes
Maintenance, Repairs, Upgrades
Loan Down Payments
Payroll
Ritchie Bros. offers Working Capital Loans to help cover your start up costs, and build credit at the same time!